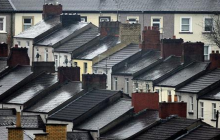 Factors that affect property prices preoccupy many sellers and buyers - and sometimes their estate agents too.

First things first:

Asking price does not equate selling price
Any estate agent has a stock of stories about sellers whose property price expectations were not realised (and, in some cases, were never going to be realised). Similarly, many buyers have run up against a seller who refused to lower their asking price. Sometimes, the seller's decision was justified and the property later sold for a higher amount but, in many cases, the properties concerned were still on the market months or even years later.

Location
It's true that a property's value depends heavily on its geographic location: this is, after all, why a small terraced house in London can cost three or four times the price of a much bigger detached home in, for example, Lincolnshire. However, that's not to say that all London terraces will automatically fetch a similar amount. Of course they won't. Partly, price differences are down to the desirability of different neighbourhoods but there can be further differences within the same neighbourhood. Tiny school catchment areas are a particular driver of house price differences but proximity to public transport, the threat (or promise) of imminent development and the je ne sais quoi of an "up and coming neighbourhood" can all also make one home worth more than another that may be only a stone's throw away.

Size
Number of bedrooms is the traditional measure of property size used by the majority of UK sellers and buyers. However, increasing numbers are now cottoning on to overall square metres (or footage) as is more commonly used in continental Europe and the US. In many ways, this provides buyers with a more useful gauge of a property's size, suitability and potential for extension.

It will come as no surprise to hear that, once again, it is London (and specifically parts of the "W" postcode) where the price of a single square metre is highest: an average of over £10,000. Meanwhile, prices in parts of north-east England are around £9,000 less for the same measurement. Figures such as these have more to tell us than what we already know about price differentials across the country. They also help potential sellers and buyers alike assess the financial impact of adding an extension to a property. If a home, when relating its size in square metres to average local asking prices, is already at or very near the ceiling price for the area, it makes much less sense to contemplate an extension. This knowledge can be a deciding factor in whether or not to sell or buy, and how much to ask for or offer.

Condition
Self-evidently, a property that has been correctly maintained will cost more than one with draughty windows, a leaking roof or lurking asbestos. However, cosmetic issues are not as relevant to sold property prices as structural ones. Partly this is because of the subjective nature of what amounts to desirable décor and partly it is because it is remarkably easy to overspend on doing up a property and so take it over the local ceiling price.

Layout
At its most basic, a "good" layout means a living space that is in proportion to the number and size of bedrooms. Beyond this, much of what qualifies a home as having an attractive layout is, once again, subjective. Currently, open-plan living is still much in vogue and many buyers are prepared to pay at least a small premium for a home that has been "opened up" downstairs. However, indications are that the tide of opinion is beginning to turn, with some homeowners reinstating walls and actively searching for a new property with more than one living space.

While a good estate agent will be able to advise on the layout that is currently seen as most desirable in that area, having a home to sell with the "right" layout may not secure as much of a premium as a seller may hope.

Competition
Aside from the financial markets, those interested in property talk about buyers' and seller's markets almost more than in any other industry - and with good reason. It's the law of supply and demand: selling a home at a time when there is a glut of other similar properties on the market and / or scarcely any prospective buyers is almost sure to guarantee you a lower selling price than had you sold the same home when the market was flooded with buyers and / or few other similar properties were up for sale.

To some extent, professional property owners can plan buying or selling to fit the vagaries of the market. This is much harder for the residential owner, whose need to sell or buy is more likely to be dictated by personal circumstances. As a result, competition (or lack of it) from others may be one of the biggest influences on the price a property fetches.

Time
Certain times of the year are well-known as being "better" for selling property. Spring is always seen as representing the height of the annual selling opportunity with autumn offering a second, smaller, peak. With more buyers around at these times of year, many sellers see the opportunity to secure higher selling prices.

Economy and interest rates
Many column inches (and website pieces) are devoted to attempting to understand and predict the effects of shifts in the economy on the property market. Clearly, seismic events such as the 2008 crash can have a significant effect on supply, demand and average selling prices, but this knowledge will be of little comfort to those attempting to steer a path through current events. That said, of necessity, the property market is remarkably buoyant: there is always someone who needs to buy and someone else who needs to sell, and it would be fallacious to suggest that the industry is set to come to a grinding halt.

Marketing
Choosing an estate agent with the right knowledge and client base, and the wherewithal to tap into both, can make an appreciable difference in both time taken to sell and sale price, particularly in challenging market conditions.
Nethouseprice newsletter
You can sign up to our newsletter and join Nethouseprice's community of over 190,000 members who get regular property tips, relevant offers and news, click here http://nethouseprices.com/auth/user-register
Source: Nethouseprices.com 29.04.20