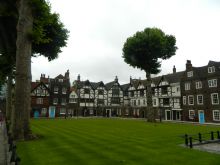 The Covid-19 crisis has impacted life in many ways and, with the better weather arriving almost simultaneously as the Government imposed stringent lockdown measures, spring would have been the perfect time for homeowners to market their properties to achieve a quick sale. However, with most estate agents closed and sales negotiators unable to visit clients' homes, the pandemic has forced a drastic rethink about how homeowners can find out how much their properties are worth.
The importance of an accurate valuation
Of all the factors you need to consider when marketing your home, the valuation is arguably the most important.
Few homeowners are keen to accept an offer that falls short of their expectation, but this may not be the main reason why you should avoid marketing your home at a low price. Opting for a low asking price can mean that buyers fail to spot it; most house hunters rely on online property portals and restrict their searches to a narrow band determined by a minimum and a maximum price. If your property falls outside these parameters, it may be missed by many potential purchasers. Also, a property that is priced well-below expectation may raise suspicion, as buyers will automatically assume that a low price tag is symptomatic of endemic problems behind the front door.
Conversely, a price that is too high may be discouraging for your target audience and your home will most likely be ruled out by potential buyers before they even arrange a viewing.
Obtaining an accurate, evidence-based valuation is, therefore, essential to give your home the best chance of achieving a quick sale. But in a global pandemic where the work of estate agents is not defined as 'essential', preventing them from visiting your home, how do you arrive at a realistic valuation for your property that isn't going to lose you money or viewers?
The factors that influence the value of your home
To a degree, the value of a property is determined by the amount that a buyer is prepared to pay for it. Unfortunately, with mortgage lenders sending in professional valuers to assess whether their investment is justified, the sky isn't the limit when deciding about how much properties are worth!
Foremostly, a property's value is dictated by several key factors:
Its size, predominantly calculated through square footage but also the number of bedrooms and bathrooms.
The age of the property.
The condition of the property (one in poor condition will attract fewer buyers, making it more difficult to sell at a high price).
The scope for improvement or expansion.
In addition, property values are affected by external factors, many of which are beyond the control of the homeowner, including:
The number and price of similar properties on the market locally.
The standard of local schools and the number of available places.
The proximity of transport hubs and major road systems.
The range and variety of amenities or facilities in the local area.
This information will be central to obtaining an accurate price for your property, by comparing similar properties or requesting an online or remote valuation.
Compare the price of properties that are similar
Comparing your home with other similar properties is a valuable tool to help to inform you of your home's value. There are several ways of doing this, such as using online property portals or estate agents' websites to find properties that are in your locality and of a similar style. This is particularly informative because a property that is on the same estate will have access to the same schools, transport network and amenities – those vital external factors that influence prices.
Bear in mind a similar property is not necessarily identical: check the number of bedrooms or reception rooms and whether there are additional features such as a conservatory, en-suite bathroom or landscaped gardens, and bear in mind these will probably mean your own property's value may be higher or lower. However, as a general guide, this method can be invaluable.
Request a remote or online valuation
With estate agents currently unable to attend properties in person, the industry is instead seeing increased interest in both remote and online valuations. These types of valuations are conducted using a number of variables such as:
Current comparable property prices
Estimations of how much your property would have increased / decreased by since it was last sold
Sold prices in your area (available from online property portals)
A floor plan of your home, if available (for example, from a previous sales brochure)
In terms of remote valuations, you don't need a specialist camera to take photographs or video of your property, but you'll need to capture as much of it as you can, both internally and externally. An effective strategy can be to conduct a video call using Facebook video chat, WhatsApp or Skype (or a similar platform) so you can 'walk' the estate agent around your home in person, and they can make sure that they see everything they need to make a sound judgement about your property's value.
Obtaining a valuation under lockdown
While it may require a slightly different approach, obtaining a valuation for your home is definitely possible under lockdown! Remember to pay attention to the same aspects of your property as if the estate agent were visiting in person – think about kerbside appeal, tidy up religiously and address any minor cosmetic issues that can be easily rectified. Above all, working in partnership with your chosen estate agent is vital to ensure you agree on a realistic price for your home that will have purchasers flocking to view it once the UK's restrictions are eased.