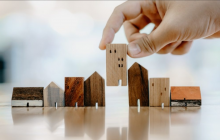 Now that the government has given the property market in England the green light, all sorts of interested parties are re-examining pre-pandemic plans and attempting to assess whether they still represent a sensible decision. This is as it should be.

In a sense, the title to this article is optimistic at best and misleading at worst. Despite the relative lack of unanimity in what we can expect - from the virus, from the government, from medical advances, and even from ourselves - over the next few months, most agree that the possibility of facing subsequent waves of infection is not something that can be dismissed out of hand. As a result, it would be a very bullish individual indeed who did not take account of this chance in making future plans or checking existing ones. This is as true of property investors as it is of anyone else.

Regular reassessment of a property investment strategy is crucial under any circumstances. At the outset of investing, it's important to determine whether one is investing for capital gains, income or a mixture of the two. It's equally important to recognise that these aims may change over the years. Building in regular reviews - annually is sensible - is a good way of ensuring that the investment strategy remains sound, responsive and fit for purpose.

While few if any investors will have factored a global pandemic into their property investment plans, it's fairly safe to assume many will now do so going forward.

So, what conclusions might they come to?

If we exclude those who will do nothing, there are two main options: exit the market or re-think the portfolio.

1. Exit the market altogether

Initial reports suggest that many renters have found the last three months particularly tough. Perhaps furloughed or out of work altogether, they may have struggled to make their rental payments. Pragmatic landlords with a little financial flex in their system may have attempted to meet them at least halfway. However, some landlords, even if they have been able to take advantage of the Chancellor's mortgage holiday scheme, may have struggled just as much. While it's too early to gauge how many of this group have now resolved to opt out of the property game altogether, it's sensible to assume that this is the decision some will reach.

2. Re-think their portfolio

In many ways, this is the "big one", offering multiple ways of varying or tweaking an existing portfolio, or of designing a new one.

Even before the pandemic hit, many investors and developers alike were beginning to turn away from central London in favour of peripheral areas of the capital and / or regional areas of the country. The reasons for this are not hard to understand. Well-trailed stagnating sold property prices across the capital plus average rental yields that compared less favourably with those available elsewhere diminished London's attractions in the eyes (or at least the property investment strategies) of many.

For some, the diminishing returns available in London will have come as a disappointment or even a shock. Following years of almost exponential growth, the slowdown over the past decade has been hard to reconcile, particularly for those whose own lives are based in the city. However, a willingness to adapt and look elsewhere has proved a successful strategy for many. Other major cities - and particularly Birmingham, Liverpool and Manchester, with their thriving economies and growing student populations - have proved to be attractive and profitable markets.

The inward investment still being pumped into these cities plus house prices that, on average, are continuing to hold their own, are likely to ensure their continued popularity among those who have already invested in the areas. These investors may now expect to be joined by others. They will come lured both by asking and sold property prices that are far more likely to be in reach than are those of London, and by the prospect of a ready pool of relatively prosperous prospective tenants.

For those keen to head the pack of investors, it may pay to investigate other markets. Industry analysts highlight Wolverhampton, Doncaster and Bolton as attractive possibilities for investors. These three towns, and other like them, share several common features:

- Thriving local economies
- A sizeable pool of would-be tenants
- Good local employment opportunities and, often also, proximity to other larger centres of employment, such as Birmingham, Sheffield and Manchester.
- A good stock and variety of housing that is attractive to varying demographics of tenants.

The importance of rental yields

When choosing a location to make new property investments, rental yields is now assuming an importance like never before. With house prices in flux and trickier to predict than ever, it makes a great deal of sense to focus on the "knowns". In property investment terms, this amounts to rental yield.

This is not to dismiss the importance of capital growth. Rather, it is to encourage an acceptance that it may be a long way into the future but that, in the meantime, focussing on the bigger picture can bring its own rewards.

Of course, determining rental yields is a job in itself - and certainly not an exact science. Some investors may prefer to look at a city as a whole although a more satisfactory and accurate method may be to look at postcodes. Totallymoney produces an annual and very useful roundup. In recent years, postcodes in Liverpool have headed the list, with the L1 area at the pinnacle, boasting average annual rental yields of 10 per cent. LS2 (Leeds) and S1 (Sheffield) are not far behind.

Looking beyond the city

Although rental yield predictors such as that produced by Totallymoney have an inevitable focus on cities, it's sensible not to rule out investing in more rural areas. There is a well-reported increased interest across much of the population in moving somewhere more rural. Although many people will be looking to buy their own properties, others will be renters - and many of this group will be the sort of long-term tenants highly valued by landlords.
Nethouseprice newsletter
You can sign up to our newsletter and join Nethouseprice's community of over 190,000 members who get regular property tips, relevant offers and news, click here http://nethouseprices.com/auth/user-register
Source: Nethouseprices.com 01.06.20