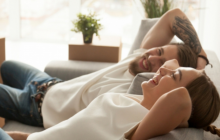 Rarely can there have been a more uncertain landscape for first-time buyers to navigate. In many ways, if you know you are still some way from being in a position to buy, you have less to worry about than someone who is ready to proceed. Here are five important considerations.

1. Check the reality gap

Less a decision and more the equivalent of a pre-flight safety check, the gap between expectation and reality is often significant. Bridging it satisfactorily is essential.

Research from 2017 found an average £45,000 gap between what a first-time buyer expected to spend on buying their first home and what the transaction actually cost. And it isn't just a question of researching both asking and sold property prices. It's also essential to factor in stamp duty thresholds, estate agent fees, legal costs and the expenses incurred by the move itself.

2. Buy alone or wait for a partner

The cost of buying alone is insurmountably high for many would-be first-time purchasers. They have no choice but to wait for a suitable partner or, alternatively, to buy with a friend or sibling.

Deciding to buy with someone else has several obvious advantages. It can make the difference between affording to buy a home and not being able to do so. It can also draw more expensive properties into your orbit. Finally, it can ease the ongoing financial burden of homeownership. However, despite these obvious advantages, buying with someone else is not necessarily problem-free.

Two or more co-buyers may find it hard to agree on where to buy and how much to spend. They also need to decide what will happen if, at some point, one of them wants to sell up but the other does not.

What these issues boil down to is the importance of deciding whether to buy as joint tenants or tenants in common. Legally-speaking, joint tenants own the property as a single entity. This means that if one dies the other automatically inherits the whole property. If you own a property as a joint tenant, it is not possible to leave your share to anyone other than your joint tenant. For this reason, joint tenancy is often best suited to spouses or those in a civil partnership. Buying as tenants in common allows you to own unequal shares of the property, which can be a good way of reflecting differing financial inputs into the purchase.

3. Alternatives to buying with a friend

If sold property prices mean you can't afford to buy alone but, equally, you don't want to buy with a friend or partner, you may conclude that property ownership has to go on the backburner. Fortunately, this isn't necessarily true. You may still have options.

Applying for a guarantor mortgage is one way of receiving a leg up onto the property ladder. It's not an option that's available to everyone as it depends on the availability of a willing and suitable guarantor, as well as your own willingness to have someone else potentially financially liable if you default on your mortgage.

A possible alternative to a guarantor mortgage is to consider a shared ownership scheme. Available only to first-time buyers or to those who used to own a house but who now can no longer afford to do so, these schemes also impose a maximum income cap on applicants. The cap changes from time to time but applies jointly (so is not doubled if you are looking to buy with someone else) and is slightly higher for anyone hoping to buy in London. Your local authority's housing team or a local housing association can provide further details.

Aside from the obvious advantage, many people like the idea of shared ownership schemes because they usually allow you to increase the share of the property that you own as your income rises. Known as "staircasing", it's a means of increasing your equity without having to sell up and move. However, many shared ownership schemes restrict the amount that you're allowed to buy or how many times you are permitted to make an additional purchase.

Finally, if you're contemplating shared ownership, it's also important to gauge how easy it might be to sell the property in the future. Bear in mind that your housing association will have first right of refusal before you can put the property on the open market. Moreover, any prospective buyer will have to meet the same ownership eligibility criteria as were imposed on you.

4. A foothold on the ladder or a forever home?

The idea of a forever home is something of a fallacious one. Our housing needs and desires inevitably change throughout our lives and depend on many factors, including number and age of dependents and our own state of health. Despite this, many people understandably continue to focus on the idea of a forever home. Perhaps they are influenced by memories of their parents or grandparents who bought their first home as a young married couple and continued living in it throughout the subsequent decades. However, no one needs reminding that house buying in 21st century Britain is an expensive game. Although it makes good financial sense to avoid moving more times than necessary, a good proportion of first-time buyers can only afford a so-called starter home.

If your financial resources do stretch further, it's worth considering whether to buy a property with more longevity. Equally, if they don't, it's worth thinking about whether you can future-proof any property you do buy. For example, if you're planning children, can you afford a home with a garden or at least one that's near a park? Also, check whether a property has scope for a potential extension.

5. Buy now or wait to see what the market does?

Yes, it's the $64,000 question and, no, it won't surprise you that we don't have the answer. That's really because there isn't one. The annals of property selling are littered with examples of those who bought when the market was at his height but also with those who waited too long.

Most experts generally agree it's currently a buyer's market. That suggests that bargaining hard and buying now is a good thing if you can. Of course, that doesn't answer the vexed question of whether the market has further to fall. If you decide to buy, all you can do is try to protect yourself by taking the long view. That might mean perhaps reconsidering a purchase if you intend to sell again within the next couple of years.
Nethouseprice newsletter
You can sign up to our newsletter and join Nethouseprice's community of over 190,000 members who get regular property tips, relevant offers and news, click here http://nethouseprices.com/auth/user-register
Source: Nethouseprices.com 01.06.20