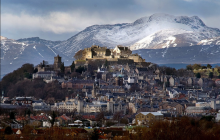 The areas surrounding both Edinburgh and Glasgow have long enticed city-dwellers. With the Scottish property market due to start moving again shortly, after lockdown, and reflecting the rising interest in moving out of cities across the UK, we take a look at some of the property possibilities for those who might be considering relocating from one of those two cities.

1. Dunfermline

The Fife town of Dunfermline is currently considered the most affordable location for commuters into Edinburgh when both average annual mortgage costs and railway season tickets are taken into account.

With over 50,000 inhabitants, Dunfermline is Fife's most populous town. As such, it obviously doesn't qualify as a rural location, which is what many estate agents are reporting highest interest in. However, excellent rail links (it has two railway stations: Dunfermline Town and Dunfermline Queen Margaret), some well-regarded schools, one of Fife's most popular shopping centres and its collection of historic ruins mean that it boasts other attractions. Add to this its stock of handsome stone Victorian and Edwardian villas - some of which are converted into flats but others still function as family homes - and a healthy collection of new-builds, it's easy to see why people choose to move here.

House prices are a little higher than the Fife average and sold property prices currently stand at £165,364. As one would expect, that figure hides considerable variation. The town's most expensive properties tend to be the grand, unconverted Victorian villas in places such as Broomfield Drive, Viewfield Terrace and Park Avenue. Many of these properties have impressive bay windows, original stone staircases and tiled floors, up to six bedrooms and large gardens. Terraces from the same era offer similar period character and, depending on the property in question, offer anything from two bedrooms upwards. West Nethertown Street and Elliott Street offer some of the best of the town's terraces.

Period properties converted into flats tend to be located in the town centre while new builds are found at various locations in the suburbs, particularly Duloch.

Falkirk, Linlithgow, Airdrie and Coatbridge are all popular and relatively affordable alternative locations for Edinburgh commuters.

2. North Berwick

Edinburgh commuters looking for a more rural and / or coastal location have a number of options, but few can be more enticing than North Berwick. Loved for its sense of community as much as its sandy beaches, excellent pubs and restaurants, and highly-regarded seabird centre, the town also hosts a number of annual independent festivals. Needless to say, its popularity is reflected in its property prices, which are routinely higher than the majority of other locations across the Central Belt.

The current average value of a North Berwick home is £415,885. This figure is correct for May 2020 and represents a slight fall of 0.66 per cent of the value from February this year. Flats sold for an average of £332,172, while the average terraced home fetched £334,208. The higher overall average selling price reflects the higher selling prices of the area's semi-detached and detached homes, which easily tip towards the seven-figure bracket.

Edinburgh commuters can reach the city in just under 30 minutes by train; car journeys take a little longer, depending on traffic.

3. Greenock

If affordability is the top consideration for someone moving out of Glasgow, Greenock is a top contender for the new location. Average property prices stood at £142,933 in May 2020, which is a fall of 0.81 per cent on the figures from February 2020. The majority (just over 50 per cent) of properties for sale have two bedrooms, while those with three or more bedrooms make up less than a quarter of the homes on the market. Perhaps reflecting the demographic most likely to move to (or within) the town, four-bedroom properties are currently selling quickest.

4. Stirling

Once described as "Edinburgh in miniature" by the Guardian newspaper, Stirling is actually closer to Glasgow. It's only around 35 minutes by train although, with average journey times of just under one hour, Edinburgh is also within reach for commuters. No wonder then that Stirling is an unsurprisingly popular location for some of those looking to move out of both Glasgow and Edinburgh.

Although perhaps best known to outsiders for its castle and strong sense of history, it's also very much a town for living in. Families like the fact that several of its primary schools have received particularly good recent inspection reports while (when not under lockdown) the Tollbooth arts centre regularly features live music and other arts events. The proximity of so much countryside is another obvious draw.

By and large, sold property prices in the town reflect demand. King's Park, a conservation area, is home to some of the largest, oldest and most desirable properties. This is where you'll find large, stone-built detached villas, many of which easily fetch well over £1,000,000. These homes distort the average property value for the town, which currently stands at £182, 571.

Elsewhere in Stirling, would-be home buyers can hope to choose among a selection of flats, terraces, semis and, yes, somewhat cheaper detached properties. However, competition can be fierce, as befits the town's popularity.

5. Fintry

19 miles north of Glasgow, the village of Fintry has strong links to Stirling. Its enviable location between the Campsie Fells and the Fintry Hills make it an excellent choice for anyone who enjoys spending their leisure time in outdoor pursuits. Perhaps unusually for a place of its size (fewer than 7,000 permanent residents), there's also a sports and leisure centre.

The average property sold in Fintry over the last 12 months fetched £282,068. This makes the village one of the region's more expensive property locations but many of the homes are large with spacious private gardens. Current properties for sale include a five-bedroom detached house, available as one lot including three plots for residential development for offers over £740,000 or as a single lot for just the house at offers over £510,000.
Nethouseprice newsletter
You can sign up to our newsletter and join Nethouseprice's community of over 190,000 members who get regular property tips, relevant offers and news, click here http://nethouseprices.com/auth/user-register
Source: Nethouseprices.com 01.06.20