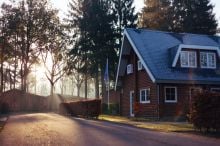 Finding the right way to advertise your properties has become essential in an ever-growing market that is fighting for customers. The National Association of Realtors (NAR) conducted a study concerning real estate statistics. It demonstrates effectively, how important the role of brokers became over the last years. 89% of homeowners bought their property through a real estate agent or broker compared to the 69% in 2001, whereas 89% of sellers were assisted by an agent as well.
Increase your web presence
Nowadays everyone expects you to have a professional website. If you want to be known, make your online presence an asset and manage your website accordingly. A great way to build on that aspect is content marketing for example. Social media presence, free eBooks, or educational videos show your work philosophy and make you appear more human and not just like a distant businessperson. This helps to give your industry a face instead of only cold facts!
Additionally, use platforms that are free and effective methods, such as Facebook or a Google Business page to further spread your reach. You should also realise the potential of the several local and national directories to place your listing.
Make your website as informative as possible
We tend to spend increasingly less time on websites, if they do not quickly offer what we desire. A homepage should contain all the necessary information in a quick to view manner. This format helps you to make a good first impression and lets the customer know who they are dealing with. Don't forget to add easy to find customer support and contact details to be available if someone gets interested.
Spread your name through local real estate events
The digital world is turning into the primary stage of marketing, yet there are consumers experiencing digital overload. Instead, they prefer old fashioned methods such as local events. Make use of the occasion and get in touch with potential clients in the real world. Considers events such as:
Staying up to date
It is important to make use of both online and offline channels of marketing and communication. Follow contemporary trends and think outside of the box to link those movements with your marketing strategy. Never forget the strong impact of sympathy on a customer's decision. Meet buyers and sellers with a smile and empathy to ensure that they will not forget you.