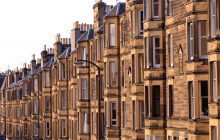 The Scottish property buying system is quite unlike that of England and Wales. A crucial element of this difference is to do with its reliance on Home Reports. Although it is commissioned by the seller, the Home Report is the Scottish property buyer's Bible. This is thanks both to its impartiality and to the range and extent of the information it contains. This always includes a fair market value and the cost of rebuilding the property for insurance purposes. As a rule, the information contained in a Home Report is far more extensive than anything included in a survey in England and Wales.

Basic components
There are three essential elements to any Home Report:
-a property questionnaire
-an energy report
-a single survey
If you haven't seen a Home Report before, the Scottish Government has a useful Home Report website with plenty of further information and examples.

Property questionnaire
If you're more used to buying property elsewhere in the UK, the property questionnaire section of the Scottish Home Report may come as a pleasant surprise. It contains much of the information that buyers in England and Wales (or their legal advisers) have to tease out of sellers or local councils. For example, you can expect to find out:
-whether any alterations have been made to the property
-the council tax band
-any parking arrangements
-any associated extra costs such as landscaping of communal gardens or cleaning.

Energy report
As you might expect, the energy report assesses the property's energy efficiency and gives it an overall rating. A higher rating corresponds to higher energy efficiency and, hopefully also, to lower fuel bills. As well as examining the property's heating systems and existing insulation, the energy report also assesses its wider impact on the environment in terms of its carbon dioxide emissions and looks at how the owner could improve the property's energy efficiency.

Survey
Just as there are three components to the Home Report, there are also three elements to the survey. As well as the to-be-expected assessment of the physical condition of the property and a list of any obvious defects, the survey also includes an accessibility audit. This means it looks at whether and to what extent it is accessible to, for example, someone who relies on a wheelchair or someone who is visually impaired. Finally, the survey also includes a valuation, known as a "fair market value". When assessing fair market value, the valuer will draw together all the elements contained within the Home Report as well as an assessment of the property's place in the wider market. Where relevant, this will involve taking account of economic fluctuations and trends in sold property prices.

Seller bias?
Contrary to popular belief among those unfamiliar with the Scottish property system, Home Reports are not biased towards the seller. More pertinently, they are not biased towards any party. The guidance under which Chartered Surveyors (who are responsible for producing Home Reports) operate states that: '[they] owe a duty of care to potential buyers, sellers and lenders". Any Chartered Surveyor whose Home Reports are found wanting can expect to suffer reputational damage and consequential loss of business.

Fair market value
As already discussed, an integral part of any Home Report is the fair market value. While some sellers might hope for a higher valuation, this may be counterproductive. A higher valuation will almost always translate into a higher asking price (usually phrased as "Offers Over"), which will not necessarily drum up sufficient interest from prospective purchasers. A realistic asking price is more likely to attract the interest of serious buyers and to shorten the length of time (and associated costs) needed to market the property.

The Home Report and your mortgage lender
It isn't just the prospective buyer who's interested in the Home Report. Mortgage lenders also use them when determining how much to advance as a loan, albeit with an important caveat: if a Home Report provider is not on a particular lender's panel, that lender (or a prospective buyer) may need to commission their own valuation. This is cumbersome and not what the system is designed for, but it represents a potential stumbling block that is hard to avoid as a buyer. If you're selling as well as buying, it is usually sensible to choose a Home Report provider that has a place on every major mortgage lender's panel. It is also prudent to choose a provider with relevant experience of the local market.

Valuations
For a buyer, the valuations contained in the Home Report are an excellent starting point when assessing how much to offer. However, it pays to do your due diligence (or ensure your solicitor does it for you). In some areas, sold property prices are routinely higher than the valuations given in the Home Report. In other areas, they are far more in line with each other or even slightly below. This obviously changes with the economic climate, but also with factors such as the perceived advantages or otherwise of particular school catchment areas. Your solicitor is best placed to advise you on how to pitch your offer.

No guarantee
As useful as a Home Report undoubtedly is, it is still important to understand its limitations. It is an assessment of the parts of the building that were visible or accessible for inspection at the time the surveyor visited. The surveyor has no right to cause damage to the property by forcing access to particular areas and no obligation to put themselves at risk of injury. However, if they suspect a potential issue in an inaccessible part of the property, the surveyor may ensure that the Home Report contains a recommendation that further investigations are conducted by appropriate specialists. Consequently, a Home Report does not and cannot act as a guarantee against either all future defects in the property or any existing but inaccessible ones.

Comparing valuations
As a buyer, it is tempting to compare the valuation for one property with that of another similar property. Sometimes this is a reasonable approach to take but it pays to proceed with caution. Every property is unique. Location, floor space, room size, condition, décor, outlook, outside space, parking, school catchment, transport links and dozens of other variables mean that even two homes in the same row of terraced houses can have very different valuations.
Nethouseprice newsletter
You can sign up to our newsletter and join Nethouseprice's community of over 190,000 members who get regular property tips, relevant offers and news, click here http://nethouseprices.com/auth/user-register
Source: Nethouseprices.com 29.06.20