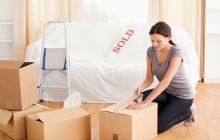 1. Travelling light

If you have plenty of notice of a move, it makes sense to do as much clearing out as possible. This is of particular relevant to downsizers: after all, you don't want half your furniture left in the garden of your new place for want of space!

If the idea of clearing, sorting and throwing away makes your shoulders sag, the idea of paying somebody to move something you don't want (or of having to pack and unpack unwanted items yourself) may help focus your mind. Some movers with a lot to get rid of like to hire a skip (provided they have somewhere to put one, of course). Others with fewer items to dispose of might choose to leave them outside their house with a sign inviting passers-by to take them. If you decide to take this approach, be wary of falling foul of laws prohibiting fly-tipping; it may be best to leave items just inside your own property's boundary.


2. Postal redirection

Redirecting your post is easy to set up online. Prices currently start at £33.99. You'll need to give Royal Mail at least 5 working days' notice but you can make your application up to six months before or after your move date. You can also extend an existing redirection.


3. Removal firms

While some people choose to pack and move their belongings themselves, this can be both tiring and time-consuming. The archetypal (wo)man with a van might do the job for you but most movers look to a traditional removals firm. Get several estimates and you'll see that prices vary wildly. Availability also varies, and the more notice you can give of an intended move, the more likely you are to secure your firm of choice. Don't forget to read the small print, particularly as it concerns breakages (many firms require you to notify them of any damaged goods within a very short window of time - 7 days after the move is common) and what happens to your possessions if your move is to be conducted over more than one day.


4. Packing

Most professional removals firms also offer packing and unpacking services. These are a potential godsend for a whole range of people: parents of young children, older people, those with mobility issues, someone trying to work as well as move house, and anyone who simply dislikes packing. The best packing and unpacking services also offer dismantling and rebuilding of furniture.

If you decide to do your own packing, try to save old newspapers for wrapping items. And always begin packing sooner than seems necessary. The contents of cellars, attics and sheds, out-of-season clothes, books, knick-knacks and rarely used kitchen items are all good places to start. Take care to label boxes with their intended destination in the new home as well as a few words to give you some idea of their contents.


5. What not to pack

As important as deciding what to pack is knowing what not to pack. Your kettle, a few mugs, tea, coffee and sugar might be obvious, but also think ahead to what you'll want easily accessible for your first night in your new home. As well as a small overnight bag, you might also want to keep essential paperwork and precious or sentimental jewellery with you (although check that valuable items are appropriately insured).


6. Meeting the neighbours

You might think that meeting the neighbours is a job for after you've moved in. However, putting a note through their letterboxes to introduce yourself, announce your moving in date and apologise in advance for any disruption (particularly if, for example, you're requesting a parking bay suspension) might go down well.


7. Children and pets

Unless they're older and especially helpful, the presence of your children on moving day is likely to be a hindrance. If school or nursery isn't an option, perhaps a friend or relative can take care of them on the big day. You'll also want to ensure any pets are safely out of the way in kennels, a cattery or similar.


8. Cleaning

If it's difficult to clean before moving out, the realities of completion timings can make it impossible to clean afterwards. Some people manage to clean each room themselves as it's emptied, others employ cleaners to do the job. Whatever solution you choose, make sure the place is left clean and tidy in accordance with your contractual obligations.


9. Meter readings

The last thing to do before closing the door for the last time on your old house is to take meter readings. Equally, this should be one of the first things you do at your new place.


10. Regrets? I (might) have a few…..

There's no right way to feel about moving home. Some people are euphoric, some find the experience bittersweet, and others are regretful. Whatever your emotions, give the move a chance. Now is not the time to be second-guessing your decision and frantically checking new listings to see what you've missed out on or analysing the latest sold property prices to see whether you've overpaid on your new place or not. If necessary, give yourself time to fall in love with your new location. Explore the area if it's new to you. Unpack and make your surroundings feel like home. Plan for the future: for example, if you have decorating plans, why not set up some Pinterest boards to keep track of your ideas?

Sometimes, of course, a move turns out to be wrong or unsuitable for all kinds of reasons. If yours is one of those, make sensible plans to move again. With stamp duty and legal fees being what they are, you may need to accept losing money on the move even if sold property prices have risen in the time since you completed on your purchase. Additionally, if you've only been in your home for a short while, you'll need to be prepared to explain to prospective buyers why you're marketing the property again so soon. A good estate agent can help you with this, although it will help if you can point to positive reasons for making another move (a new job elsewhere, a need to relocate near family, etc.) rather than anything negative (e.g. traffic noise).
Nethouseprice newsletter
You can sign up to our newsletter and join Nethouseprice's community of over 190,000 members who get regular property tips, relevant offers and news, click here http://nethouseprices.com/auth/user-register
Source: Nethouseprices 30.06.20