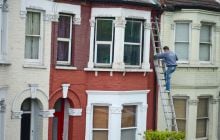 Doing up a property with an eye to a future onward sale is often a challenge, especially if you're planning to live in the house for a while before selling. Should you satisfy your own tastes? Do you attempt to gauge those of a particular type of potential purchaser? What about creating a neutral palette designed to be as inoffensive as possible? Are you guided by what sort of decor tends to go hand-in-hand with the highest sold property prices or the homes that sell the fastest?

While there's no one right answer, it's fair to say that most advice tends to centre around choosing decor that appeals to as many would-be buyers as possible. This approach has two main advantages. First, it caters for the unimaginative purchaser who struggles to see past anything a little different and picture themselves in the property. Secondly, it reduces the risk that buyers will make lower offers in order to offset what they might regard as urgent and/or necessary redecoration.

However, the shortlist for Scotland's Home of the Year 2020 (which is the subject of a popular BBC Scotland TV series) suggests another option: that of renovating and decorating with a close eye to the style and period of the building itself, while also remembering that the property is now a contemporary home. Let's take a closer look at five of the contenders and at how they were styled.


1. A former manse
There's no shortage of these former clergyman's homes in Scotland, and they're in high demand among buyers. Usually period properties that often date back to the eighteenth century or beyond, they tend to be solidly built and frequently have instant kerb appeal - even if there's no actual kerb anywhere near them! As with any older buildings, manses almost always come with a certain amount of necessary maintenance but they are also very forgiving of a variety of interior decor schemes. The owners of the former manse that made it into the Home of the Year shortlist used the spacious proportions of their rooms to produce several elegant formal living spaces that nonetheless also incorporate a nod towards more contemporary designs via features such as bold wallpapers.


2. A Georgian townhouse
Colour schemes from the early Georgian period were darker and more dramatic than many people today realise. Burgundy, darker blue-greys and strong sage green were all popular choices. Over time, tastes changed and colour palettes lightened to include the Wedgwood blue that came to become synonymous with the period, as well as muted shades of pink, grey, green and stone. The colour scheme in the Georgian property in the Home of the Year shortlist embraces the tastes of this second half of the period, and does so with great effect. The owners have also opened up some of the rooms to create, for example, a spacious and luxurious master bedroom suite. The property is located in Edinburgh's New Town, which offers happy hunting grounds for anyone looking for a similar home. The National Trust for Scotland owns a restored Georgian townhouse in the heart of Edinburgh New Town, which is the perfect place to soak up authentic Georgian architecture and decoration.


3. A contemporary home with sea views
The Art Deco seafront homes popularised by dramatisations of Agatha Christie novels are in high demand across the UK and sold property prices for such houses tend to be high. While Scotland has fewer of these properties, many owners have absorbed some of their architectural and decorating tricks. The sleek and linear look suits many sea view homes well, including one of the finalists in the Home of the Year 2020 competition. Its open-plan interior and extensive use of glass ensures that the sea views take centre stage.


4. A fisherman's cottage
Estate agents with properties in the Orkneys and Shetlands are reporting increased levels of interest among would-be buyers, seeking a more remote home as well perhaps as the romance of living by the sea. The home that won the Orkney and Shetland heat is one that would doubtless tick the boxes of many people. Previously derelict, this small Stromness one-time fisherman's home has been cunningly renovated to incorporate all the mod cons anyone could desire while also recalling the living quarters on board a boat. The standout feature is a wall intricately fashioned from driftwood. (There are, of course, few native trees on Orkney and even fewer that are well-suited for building purposes.)


And the winner was......?

5. A Victorian conversion
For period drama, it's hard to beat the Victorians. A dramatic converted Victorian flat in Glasgow's West End was the eventual winner in the Home of the Year 2020 competition, thanks to the meticulous attention to detail that went into its renovation and decoration. Built by the renowned Scottish architect, Charles Wilson, and once owned by the shipbuilder William Pearce, media interviews with the current owner reveal that he has loved the original interiors of the homes in the area since childhood. Highlights in his winning property include a glass-roofed rotunda, hand-gilded cornicing and elegant dark wood panelling in one of the bedrooms. This replication of original features is carefully offset by paint shades that are sometimes lighter than those typically favoured by the Victorians (dark reds, maroon, brown, etc). This property is a good illustration of how it's possible to adapt the designs of an earlier era to modern tastes. Another owner looking to inject some traditional Victorian ideas of decor might choose to make judicious use of one or two of the Victorians' favourite colours alongside some of the complementary lighter shades currently in vogue.


While there's never any guarantee that any particular decor scheme will win you a buyer or fetch a good sale price, there's little doubt that thoughtfully decorated homes attract more interest among buyers, particularly in a crowded market. And, if you need more inspiration, plans are already afoot for the 2021 competition and accompanying TV series.
Nethouseprice newsletter
You can sign up to our newsletter and join Nethouseprice's community of over 190,000 members who get regular property tips, relevant offers and news, click here http://nethouseprices.com/auth/user-register
Source: Nethouseprices 23.07.20