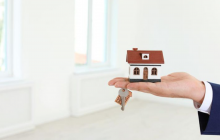 Certain properties are always going to be more desirable than others, and asking and sold property prices understandably reflect this. However, what - if anything - can a hopeful seller do about it?

First, let's differentiate between what cannot be changed and what can be changed. The second category could be subdivided further into easy changes and those that are more difficult and / or expensive, although it's worth remembering that one person's easy might be another's impossible - and vice versa.

Factors that can't be changed

1. Location
Perhaps more than anything else, it is location that drives trends in sold property prices. However, this means more than a particular city, town, village or even street. It could include a nearby river, a pub opposite, a school further down the street or a busy road outside. It might also include factors such as school catchment areas although this is not always a deal-breaker because catchments can change in size, a school's popularity can alter and, of course, not all potential buyers will have school-age children.

2. Plot size
This is a tricky one that, in some situations, might squeeze into the category of factors that can be changed. However, in the absence of neighbours amenable to selling off a portion of their land, it's best to regard plot size as immutable.

3. Neighbours and their properties
There's a good reason why it's sensible for a buyer to find out about their potential neighbours before deciding to buy a house - and that's because, unless those neighbours are doing something illegal, their behaviour and care of their own property is out of anyone else's control. Yes, a would-be seller has to declare any disputes with neighbours. However, if a seller has never complained to anyone in authority or written to the neighbour to raise a point of contention, potential buyers are unlikely to discover that the neighbour has noisy children who play in the garden at 6am or likes to hold all-day barbeque parties every fine weekend.

Some potential neighbour issues are apparent on viewing a home. For example, children running up and down an adjoining hallway or an unkempt front garden. Visiting a property and driving or walking past it at different times of day can uncover other potential sticking points. Sellers can try and remedy certain issues: for example, they might offer to pay for and oversee the clearing and tidying of a neighbour's front garden or the repair of a fence. Ultimately, however, a seller lumbered with less than ideal neighbours may need to adjust their asking price or hope that they attract a buyer who is unperturbed by the trampoline close to the boundary fence or the piano teacher who gives lessons at home.

4. Easements and covenants
Many would-be buyers are deterred by easements over a property, particularly where they relate to rights of access. This can mean anything from a neighbour's right to access part of the land in order to take their bins out or a footpath accessible to the general public. Easements are extremely difficult to extinguish and need to be regarded as lasting in perpetuity. In some cases, it is possible to apply to reroute a footpath but success is far from assured.

Although automatically passed on from owner to owner, restrictive covenants can sometimes be amended or removed altogether. Generally, this requires the agreement of the individual or individuals who have the benefit of the covenant and may involve paying them compensation. In other cases it is sometimes possible to apply to the Upper Tribunal (Lands Chamber) to remove or modify the covenant. This approach is most feasible when the covenant is an old one and the purposes for which it was established are no longer applicable.

5. Age and period
Many buyers are happy to pay more for a period property. There's little the owner of a more modern home can do apart from ensure that they or their estate agent highlight the advantages of buying a non-period house or flat. Generally lower maintenance costs are an obvious benefit. Lower energy bills may be another. Better-proportioned rooms might be a third.

Factors that could (or might) be changed

1. Room size
This won't be possible with every property as it's dependent on plot size and obtaining the relevant permissions, as well as finances, but altering a property's layout is one way to make an unsuitable home more suitable. A seller who has not done this themselves might decide to apply for planning permission that a buyer could then take advantage of or they might have an architect draw up plans to show what could be done with the property.

If nothing else, someone trying to sell a property with small or awkwardly-shaped rooms should ensure their estate agent takes accurate photographs. Lenses that distort the picture can be particularly unhelpful if they result in a room appearing larger than it is in reality. They should also check that the floor plan includes room dimensions.

2. Living space that is out of proportion to number or size of bedrooms.
This is a common complaint among buyers looking at new-builds but can also be a criticism levelled at some renovation projects. Many buyers do not like homes with, for example, four or more bedrooms but only one living space.

3. A poorly-designed kitchen or one with no room for a table.
Although this will not entice someone looking for a "turnkey" property, reflecting a kitchen's shortcomings in the asking price can help push through a sale.

4. Downstairs bathrooms, no downstairs toilet or no bath
Room size, plumbing and finances can make relocating a bathroom or installing a separate downstairs toilet problematic. Again, reflecting this in the asking price may be the best way forward. Similarly, as a property with no bath is an automatic no for many buyers, a seller may need to reflect the cost of remedying this (assuming that is possible) in the asking price.

5. Conservatories
Love them or hate them, there's little doubt that conservatories can be problematic. Prone to leaks and damp and, depending on their orientation, too hot in summer and too cold in winter, many people find the reality of a conservatory does not live up to the hype. Replacing a conservatory with a proper sunroom or brick-built extension can make the space both more usable and more enticing.
Nethouseprice newsletter
You can sign up to our newsletter and join Nethouseprice's community of over 190,000 members who get regular property tips, relevant offers and news, click here http://nethouseprices.com/auth/user-register
Source: Nethouseprices.com 05.08.20