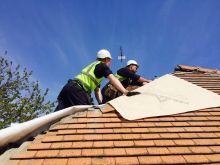 If you are about to sell your house, it's only natural to not want to spend any more money on it than is necessary. Unfortunately, herein lies the conundrum; how much of the renovation work can actually be considered necessary? What defines that limit? More specifically, with respect to the subject here, does a roof replacement or refurbishment qualify as a necessary expense before selling the house? Let's try and find the right answer because there really is only one, variable as it maybe.
If You are Considering It, the Roof Replacement Might be Necessary
There is a very simple perspective that can answer all of these questions, and it is more or less applicable in most situations! If the homeowner is confused regarding whether they should repair/replace the roof or not, generally the answer is an affirmative.
People only think about replacing or repairing the roof on a property that they are about to sell if:
The roof is in a really bad condition
The price of the property can be raised significantly enough to cover expenses and earn a profit
The very fact that you are considering it is most likely a sign that you have something to gain from the expense. In the worst-case scenario, you might even lose out on the profits a bit by replacing a damaged roof. However, that cannot even be considered a loss given that no one would even buy a house with a damaged roof in the first place! Even if they do, they will expect a heavy discount after calculating how much it would cost them to replace or repair the roofing on your property. It would be much cheaper to get the necessary repairs completed before calling in any potential buyers and showing them the property on sale.
Note that mortgage companies probably won't lend on a property that needs a new roof.
A New Roof Can Raise the Value of Your Home Significantly
This is where you will need the expertise of a trusted estate agent and a roofer because the following calculations must come through in the seller's favour.
How much is the market value of your property at the moment
How much will the roof replacement cost you?
Is it possible to completely replace the roof and earn a higher profit than before?
If the roof replacement project turns out to be an expense instead of a price booster, then there is no point in going through with it. That is, of course, provided that your roof is in a fairly good condition. If there is significant water damage and visible leaks in the attic, you will need to attend to those damages first.
Consider Cost-Effective Options
It should be obvious by now that roof refurbishments and/or replacements are not always optional. However, you should try to keep the costs as low as possible, without sacrificing the actual quality of the roofing or the legal requirements. Understand that anyone who is spending a small fortune on buying a place where they will be living for a long time to come will not be buying it without a proper, professional inspection first. If the roof is not in a good condition, or even if it has been repaired/replaced with cheap, low-quality materials, the buyer will either leave or negotiate for a much lower price than your home's perceived market value.
In order to sell the home at market value or even above it, the homeowner needs must find a cost-effective option that does not sacrifice on quality either. This is precisely the sweet spot in which EPDM rubber roofing solutions hit. Properly trained roofers can lay down the rubber membrane in a lot less time than more traditional roofing options.
EPDM is the Most Cost-Effective Option
Consider the fact that rubber roofing can last for as long as 50 years or more (depending on the supplier and quality of installation) while costing less than most other options. It should now make sense why rubber roofing has gained so much recognition recently among both professional roofers. Roofing companies and DIY enthusiasts can order EPDM supplies of the highest quality from Rubber Roofing Direct, and book EPDM installer training sessions from the website itself. Most importantly for homeowners looking to find a cost-effective roofing solution, Rubber Roofing Direct also has a very handy EPDM Kit calculator for them to make the necessary calculations.
A New Roof Sells a House Much Faster
Potential buyers know that plumbing, electrical work, and roofing are the three most common problem areas in old homes. Therefore, they are likely going to be checking these three aspects out first. When the homeowner is in a hurry to sell the property, it makes sense to ensure that all these three aspects are taken care of first.
The problem with roofs is that unlike electrical wiring and plumbing, it does not really take an expert to notice leaks, stains, and water damage! This means that you will not get the chance to get the roof repaired or completely replaced after a showing of your home since most buyers will prefer not to buy a house that needs too much work, even if you are willing to give them a heavy discount. As a result, the homeowner will lose all buyers who need that proverbial roof over their head immediately.
To avoid all the bargaining, negotiations, renegotiations, and delayed decisions, just get the necessary roof work done as soon as possible and as cost-effectively as possible. You will find that even if you make a slightly smaller profit, the time saved and the hassles avoided will be more than worth the expense. Besides, there is always the chance to turn your roofing expenses into a bigger profit during the sale.
As mentioned during the introduction, the answer is variable. Despite that, you should be able to find a clear answer to your question now since we have already discussed the variable aspects in detail. Pick the best course of action depending on the condition of your roof, the price difference, and everything else we just discussed above.