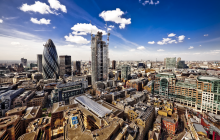 The streets may not be paved with gold but London's attractions have never failed to lure newcomers. Whoever you are and whatever you want to be, England's capital city almost certainly holds some appeal. This is as true for the property investor as it is of anyone else. A continuous inflow of students, young professionals, tourists and those simply looking to try their luck provides an almost ceaseless supply of people looking for rental properties.

Of course, the city's historically high sold property prices put investment opportunities beyond the reach of many. However, even those who can afford the asking prices should ensure they think carefully about where they choose to buy and what they want from their investment. Addressing each of these points is the best way of ensuring that any property investment purchase really works hard for its buyer and that there's no better alternative.

Capital increases

One of the key drivers for many London property investors is the prospect of lucrative capital growth. ONS statistics show that the average residential London property cost £115,000 in 1998. This figure more than doubled in the following decade and, by 2018, it stood at £671,412.

Inevitably, given that these figures represent a London-wide average, the city's various boroughs perform differently, with sold property prices in some areas far outperforming those in others.

Rental yields

As any seasoned investor knows, capital growth does not always go hand-in-hand with strong rental yields. In many ways, the London property market is the perfect illustration of this: since the mid-2010s, a year-on-year decline in average rents has resulted in reduced rental yields that have hit many investors where it hurts. Currently, with the growth in home working and a national increase in demand for properties outside major cities, many investors are understandably concerned about potential difficulties in attracting future tenants and about having to make possible compromises as regards rent payments in order to secure those tenants. Investors who have purchased off-plan development properties may be the most apprehensive: with average yields of a little over 3.5 per cent, rental yields for this type of London property are already lower than in most other parts of the UK. This, coupled with what some regard as an over-supply of such properties in recent years, could make it harder for some investors to get their sums to add up.

Sellers hold firm

Despite property values that have, on average, fallen, 2020 Q2 figures from Coutts provide interesting reading. They suggest that many sellers are holding firm and are declining to sell rather than gifting buyers knock-down sale prices. Some of those sellers may be looking to global investors as alternative buyers. Contrary to some current press reports, the global investor is not entirely absent from London. Thanks to worldwide low rates of interest and Sterling's lacklustre performance when measured against the Euro or US Dollar, London properties continue to hold some attractions to the overseas buyer.

Stamp duty

Although the stamp duty holiday does not apply to buy-to-let purchasers, many industry experts are already predicting that the boost it offers to the lower end of the residential property market will reverberate further up the ladder. In encouraging sales of owner-occupied homes worth under £500,000, it may prompt more activity in other sectors of the market. This is likely to be good news for most property investors.

Beyond central London

It is Central London where property prices - and associated rental yields - have struggled the most in recent years. For example, in Belgravia and Knightsbridge, prices are currently 23 per cent down on those from 2014. However, neither Belgravia nor Knightsbridge is reflective of the London property market as a whole. A little further out, both Highgate and Hampstead have suffered far less from the falling market: the average home in both these areas has dropped in value by far less, experiencing an estimated 6.6 per cent fall. Other areas also more commonly associated with large if pricey family homes, such as Islington and King's Cross, are actually bucking the trend and are now seeing a rise in property values per square foot.

Looking at London property prices from a wider perspective, figures from 2017 and 2020 show that the average flat, terraced house and detached home in central London all lost value. Over that same three year time period, among central London properties, only semi-detached ones held their value. Over to the east of the city in Dagenham, while the borough's terraces and semi-detached homes also lost value, the average flat and detached house both saw their values increase - and, in the case of the average Dagenham detached home, they did so by around 60 per cent.

Inevitably, when looking at figures and statistics, there is always scope for interpreting them in such a way as to corroborate existing plans and prejudices. While in some respects this is a danger, it is also an opportunity for the investor who is prepared to accept a degree of risk and ride out what is undoubtedly set to continue being a bumpy few years ahead. The ability to do this will depend partially on finances and liquidity but also on strategy. For instance, properties in areas currently enjoying regeneration projects, such as Croydon, are in high demand with buyers and renters alike. Getting a discount on asking prices in these areas is less likely than in traditional prime high-end neighbourhoods such as Mayfair, Pimlico and Westminster but renting out a well-maintained property in, for example, Croydon should present few difficulties. Moreover, it's worth remembering that as employers slowly begin to take staff back into offices and other workspaces, it is frequently the most junior employees who are going back first. This is also the group most likely to rent and least likely to consider - or find it feasible - to move out to commuter land.

Where to find out more

At the time of writing, the Property Investor Show 2020 is due to go ahead on 2nd - 3rd October 2020 at ExCel London. Billed as the nation's biggest get-together of property investors, landlords, homebuyers and industry professionals, it's a good opportunity to gather know-how, share stories and get closer to reaching an investment strategy decision.

Closer to the time of making a new purchase, estate agents with a strong management presence in the area of interest are worth cultivating. They will know better than anyone about renter demand for properties in the area, average rents and typical void periods.
Nethouseprice newsletter
You can sign up to our newsletter and join Nethouseprice's community of over 190,000 members who get regular property tips, relevant offers and news, click here http://nethouseprices.com/auth/user-register
Source: Nethouseprices.com 26.08.20