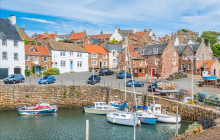 Scotland's weather rarely qualifies as hot but its property market, on the other hand, is definitely moving up the temperature scale.

In fact, Scotland's thriving residential property market, with high demand from buyers, plenty of new homes coming onto the market and some solid sold property prices, is no new phenomenon. Midway through 2019, when many UK regions were bemoaning falls to both demand and price, industry reports were highlighting Scotland's successes - with particular emphasis on the Edinburgh and Falkirk property markets. Not only did these two localities boast Scotland's fastest-moving markets but, with the average property in each area taking just 27 days to sell, they also topped the UK league. And, not content to be left behind, snapping at the heels of the race-leaders, Glasgow property was taking an average of 31 days to go under offer and nearby Stirling just 32 days.

'Aha,' the observer might say. 'That's all well and good but that was before 2020. What about the pandemic? What effect has that had on Scottish property sales?'

Well, here are a few recent quotes from Scottish property professionals:

'The market is turbo-charged!'

'Demand for homes here has gone through the roof.'

'The phone doesn't stop ringing.'

'Buyers are looking to move out of the city and into more rural areas.'

'Everyone wants a garden.'


The lockdown effect?

It's easy to over-hype the so-called lockdown effect, but it's also easy to miss the unique set of circumstances that the property market is currently operating within. Specifically, these are:

1. A surge in demand.
Lockdown paralysed the property market, putting all moves on hold. Once lockdown lifted, all those on hold transactions whirred into action. More than this, new entrants to the market who'd spent the previous months contemplating their current circumstances and concluding that they wanted to move, boosted the numbers of active participants in the market. These newcomers might have reached the same decisions in due course anyway, but lockdown undoubtedly accelerated many of them. The result was something akin to a storm surge. An influx of highly-motivated potential buyers has, in turn, generated an influx of highly-motivated sellers. Those sellers able to offer the properties most in demand are, of course, currently doing best.

2. A temporary reduction to the Land and Buildings Transaction Tax (LBTT)
Mirroring incentives in England and Wales, the Scottish Government has announced a temporary increase to the LBTT. Until 31 March 2021, anyone buying their main home in Scotland will benefit from a new threshold of £250,000. The real-life implication of this is to gift buyers bigger deposits. This, for many, will make mortgages more affordable and more easily attainable.

What do buyers want?

Luckily for sellers, not all Scottish buyers want the same thing. Although rural properties or those with gardens are more popular than ever, local agents are also reporting strong demand for two-bedroom flats in Edinburgh and Glasgow. Perhaps it's the second bedroom that's key here, with canny buyers keen to secure a homeworking space that isn't a hastily cleared dressing table in their bedroom or a corner of the kitchen table. Others, possibly less keen on the idea of full-time working from home, might have an eye on the coworking spaces already springing up in many cities and towns across the UK.

Large family homes with, yes, gardens, have always been hot property (no pun intended). As ever, those in catchment for the most desirable schools lead the pack, although one recent detached Edinburgh home up for sale in Morningside had the added inducement of a resident 70-year old tortoise.

Currently, homes in rural or seaside areas but that are still within commuting distance of the country's major cities are attracting some of the strongest interest and resulting in many of the best sold property prices. Particular hotspots include flats in Portobello and the ever-popular North Berwick. Further afield, buyers continue to express interest in purchasing homes on some of Scotland's many islands. Someone looking for complete isolation might be tempted by a 63.75 acre private island off the coast of Shetland's Mainland. Closer to Norway than Edinburgh, the island is definitely not a turnkey property unless the new owner is happy to camp. Its current buildings include a pair of derelict cottages, although there's planning consent for a range of new ones as well as a pier, solar panels and a windmill.

Overseas' buyers, foreign visitors and domestic tourism

Although the market contains its usual regular quota of sporting estates, castles and the like, some industry analysts are cautioning that many of the buyers who gravitated most naturally towards these properties are currently absent from the market. The absence of wealthy overseas buyers is being felt particularly keenly, although there's optimism that they will return in due course.

A similar absence of foreign visitors is also reportedly affecting property sales in tourist hotspots such as Pitlochry and Aviemore. This is not because those absent tourists would have bought holiday homes themselves, but the inevitable consequence of their missing dollars, yen and euros on local economies.

More encouragingly, some press reports at the end of August shone a spotlight on domestic tourism to Scotland generally and to Edinburgh in particular. As lockdown lifted but holidays abroad remained off the table for most, Scotland became the vacation destination of choice for many UK visitors. Some of them were first-time visitors and all of them - or at least those quoted in the press - enthused about their visit. Several focussed on the few live Fringe events happening on the streets of Edinburgh and said that they intended to come back (hopefully next year) when the Festival was in full swing. One woman, visiting for the first time after the cancellation of her holiday to Ghana, told a reporter how much she liked Edinburgh and how she was now inspired to return and venture up into the Highlands. These visitors, and others like them, could well be an important part of the engine that drives Scotland's economy - including its property market - forwards and well beyond the effects of Covid-19.
Nethouseprice newsletter
You can sign up to our newsletter and join Nethouseprice's community of over 190,000 members who get regular property tips, relevant offers and news, click here http://nethouseprices.com/auth/user-register
Source: Nethouseprices.com 07.09.20