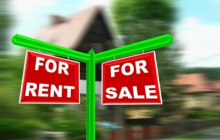 The peculiarities of the English property system frequently places pressure on both parties to a transaction. As a seller, one of those pressure points can be when you have a buyer for your current home but no new property to move into. While it may be tempting to delay completion on your sale for as long as possible, this ultimately risks the buyers going elsewhere. In a hard-won sale, this might seem untenable. "Breaking the chain" and moving into a rental property could save the sale. Of course, there are risks to this approach: for instance, how long will it take you to find somewhere to buy and could average sold property prices increase while you're out of the market?

You'll need to evaluate those risks and decide if it's worth taking them. If it is, it's time to look for a rental property. And, if you're new to renting or haven't done so for many years, it's helpful to go armed with a checklist when viewing a property.

Look out for damp
To begin with, check the exterior of the property, particularly the guttering. A loose section of guttering might allow water ingress that could cause dampness or mould inside the property. Any black mould on walls, ceilings, curtains and blinds is usually fairly obvious. However, don't forget to check inside fitted cupboards, especially those in bedrooms and bathrooms. Even if it's not possible to check underneath them, pay particular attention to carpets, especially the sections adjacent to outside walls. Finally, trust your nose: if a property smells damp, there's a good chance it is damp. And, on a similar note, if there's a strong smell of bleach, particularly if it's in a bedroom or living area, consider whether the bleach might have been used to remove evidence of mould.

Check the heating
1. Make sure you know what type of heating the property uses and, assuming it has a boiler, ensure the landlord or their agent gives you an up-to-date gas safety certificate. You could also ask when the boiler was installed if only to give yourself some peace of mind that it's unlikely to fail just as winter hits. Obviously, the cost of any repairs would fall to your landlord, who should have budgeted for such expenses. However, you may also want to find out whether the landlord has taken out boiler cover.

2. If the property relies on electric storage heaters, make sure you find out how to use them most efficiently and cost-effectively. The cheapest way to recharge them is generally to use an off-peak tariff, typically in the middle of the night. You may need to change provider and /or tariff to achieve this. Tenants often question whether or not they can change supplier but provided you are responsible for paying the fuel bill, a landlord cannot unreasonably forbid you from doing so.

3. If the property has open fireplaces or stoves, check whether the chimneys are unblocked, when they were last swept and, in the case of stoves, whether it's a multi-fuel or a wood-burner. Remember, too, that in some areas, there may be legal restrictions on what you can burn.

Fixtures, fittings and furniture
Unless you're selling the contents with your property, you'll obviously have all your own furniture. It makes sense, therefore, to look for an unfurnished rental home. And, to complicate matters slightly, if you're leaving your white goods for the new owners, you might prefer one with its own washing machine, fridge-freezer and dishwasher. Fortunately, rental properties with this sort of set-up are usually in reasonable supply, particularly in the family home market, although you may need to be prepared to put some of your furniture and belongings into storage if your rental home is not as big as the home from which you're moving.

Décor
On the basis that you hope to buy and move into your own property in the near future, you're unlikely to want to decorate your rental property. On the off-chance that you do, make sure you get permission first and find out whether you'll be expected to return the décor to its original state at the end of the tenancy. More pertinently, you might want to ask whether you're allowed to hang pictures, mirrors or noticeboards.

Pets
This is a real sticking point for many tenants. Finding properties with landlords who'll accept pets can be very tricky. Unsurprisingly, it's easier if you have a tank of fish than if you have a dog or cat. Even rabbits kept outside are potentially problematic if you have a lease that prohibits you from exercising them in the garden. However, even if a property listing states that no pets are allowed, many landlords are more flexible in person. You're more likely to be lucky on this point if you're looking in a "tenants' market" or if you're happy to pay a larger deposit to cover any potential damage done by your pet. Some landlords and tenants also agree that a pet-owning tenant will pay for a particular standard of end-of-tenancy cleaning. Although pet references can be helpful for some tenants, they're obviously less likely to be relevant to someone moving out of an owner-occupied home.

Tenancy length and notice periods
Less an issue for viewings and more one for negotiations with the landlord or their agent, these are still important points. Although you'll be hoping for as little overlap as possible with the properties, you should anticipate paying rent as well as a mortgage for at least a month or two. The trick is keep this period as short as possible. The most common type of tenancy in the UK is an assured shorthold tenancy (AST), and these can work well for tenants looking for a stopgap home before buying a new property. Most ASTs last for a minimum of six months, although tenant and landlord may agree a longer period. However, in a buoyant market, an AST of any longer than six months risks you suffering from the effect of rising sold property prices. That said, if you're not ready to move out at the expiry of your AST, you and the landlord can either agree a new fixed period or the tenancy can become a periodic tenancy. Periodic tenancies continue on a month to month basis, and can be ended by either party giving the prescribed notice.
Nethouseprice newsletter
You can sign up to our newsletter and join Nethouseprice's community of over 190,000 members who get regular property tips, relevant offers and news, click here http://nethouseprices.com/auth/user-register
Source: Nethouseprices.com 14.09.20