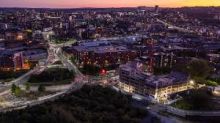 It's reasonably rare to find a location that offers what Sheffield does. It has attractively-priced properties in a region that appeals to a wide range of people - whether they are potential renters, owner-occupiers, hands-on landlords or investors. Indeed, such is the city's attraction that many of those who intend to make it their home for a certain period of time end up staying permanently and moving from renter to homebuyer and perhaps also to landlord status.

So, why is Sheffield so appealing?

Geographical location and transport links

South Yorkshire's southern-most city is considerably more centrally-located than its county name might suggest. The M1 connects it south-wards to Nottingham, Leicester and London, and north to Leeds. Westwards, the A57 connects the city to Manchester and Liverpool and, includes scenic stretches en-route past Ladybower Reservoir and over the Snake Pass through the Peak District. Fast train links provide connections to major cities across the UK while nearby air links come courtesy of Manchester airport and the smaller Leeds-Bradford and Sheffield-Doncaster.

The city in the countryside

One of the biggest attractions of Sheffield, cited frequently by those who live there, is its proximity to some of England's most scenic countryside. The Derbyshire Peak District is literally on the city's doorstep and is not only visible from most of its neighbourhoods but is even walkable from many of them. Walkers, climbers, fell-runners and geo-cachers have some of the best natural resources close enough to make even an after-work trip a possibility. Those who prefer more leisurely pursuits can enjoy exploring some of the area's rich heritage, such Chatsworth House, the Blue John mines and Eyam, the village famed for its selfless response to a major outbreak of the Black Death in the 1660s.

Property prices

Despite the city's significant attractions, its asking and sold property prices remain more attainable than you might think. Certainly, if you're looking for million-pound plus properties, the region has its expensive areas, notably Whirlow in S11, Dore in S17 and Fulwood in S10. Elsewhere, however, prices are less stratospheric than comparable areas in, for example, much of Leeds or Nottingham, although almost anywhere in the west of the city is going to be more expensive than comparable property elsewhere.

Areas close to the city's two universities, the University of Sheffield and Sheffield Hallam, and to the two teaching hospitals (the Hallamshire is close to the University of Sheffield but the Northern General is further away), are perennially popular. Properties there tend to hold value and largely did so even following the crash in 2008. This is partly due to their popularity with students but significant numbers of young professionals (themselves often ex-students at one of the universities) and families also choose to make their homes there. Broomhill, Crookesmoor, Crookes, Walkley and nearby areas all enjoy excellent local amenities in the form of shops and restaurants, as well as easy access to the Peak District and the city centre (whether on foot or via bus or tram).

Across the whole city, the average sold property prices currently stand at £175,000 (compared to an England and Wales average of £298,000.) Even this average is skewed fairly significantly by property in some of the hotspot areas already mentioned. Buyers looking in the east of the city can expect to pay much less.

Those hoping to make money on a purchase need not assume that lower-than-average asking prices automatically translate to lower-than-average gains. Statistics show that average prices have risen by around 33 per cent since 2008, making Sheffield one of the UK's most profitable locations to have invested in property over the past decade or so.

Rental incomes

Similar to property prices, rental incomes in the city are also encouraging. Properties in S1 and S2 offer some of the country's best average yields, at 6.85 per cent and 8.16 per cent. Although always popular, the honeypot neighbourhoods of the S10 postcode offer lower average yields thanks to their higher average selling prices.

Property licensing schemes

Would-be landlords and investors should note that Sheffield has a Selective Licensing scheme that covers London Road, Abbeydale Road and Chesterfield Road in the inner city centre. It applies to all rental properties that do not fall within one of a number of listed exemptions.

Affected landlords must:

Ensure that every rental house or flat is covered by a licence obtained from Sheffield City Council. This includes properties that were already rented out when the scheme began.
Demonstrate that they or their managing agent are "Fit and Proper." This means, for example, that they do not have any relevant criminal convictions and have drawn up arrangements to ensure that their properties are repaired and maintained and that any tenancy problems, such as anti-social behaviour, are dealt with promptly and appropriately.

Licensed HMOs

One of the exemptions to the Selective Licensing scheme outlined above concerns licensed HMOs. The City Council has applied Article 4 Direction, which means that would-be landlords of HMOs must apply for planning permission. The aim was to control the number of single dwellings being converted into homes for groups of between 3 and 6 unrelated individuals in an attempt to address the concerns of some permanent local residents that certain areas were becoming "student ghettos."

Because private lets for between 3 and 6 students make up much of the private student rental market in Sheffield, Article 4 Direction is something that most landlords have simply had to accept if they wished to continue in the business. However, rental properties for more than 6 unrelated people, which are subject to more stringent requirements, have dwindled significantly in supply.

Purpose-built student lets

In recent years, purpose-built student accommodation blocks have sprung up throughout the city centre. Aimed largely at second and subsequent year students (first years tend to be catered for by the universities' own housing), they have relieved some of the pressure on the private rental market. The city's popularity with students also makes these attractive and relatively secure investment opportunities.
Nethouseprice newsletter
You can sign up to our newsletter and join Nethouseprice's community of over 160,000 members who get regular property tips, relevant offers and news, click here http://nethouseprices.com/auth/user-register
Source: Nethouseprices 28.09.20