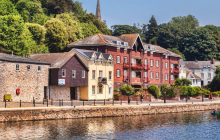 As three historic British cities enjoying international profiles, Exeter, Winchester and York have never been short of those who want to make them their home. However, in recent months, demand has begun to outstrip supply, particularly when it comes to rental properties. What does this mean for landlords and investors, and for tenants themselves?

First, let's look at what's driving the recent rise.
The chief answer needs no crystal ball. The much commented-upon increase in home working is the obvious reason. And, with no end in sight for many professional office-based jobs, the interest in having more space in which to work from home seems unlikely to diminish. This inevitably means falling demand for smaller properties in cities such as London and Birmingham. Moreover, the restrictions on traditional city leisure activities (bars, restaurants, galleries, theatres, etc.) give additional impetus for potential movers to look at locations that offer either smaller, greener urban environments and / or those that provide easy access to the countryside or seaside. As a result, it's no surprise that all three of the cities currently experiencing skyrocketing demand for rental properties fit neatly into both categories. Of course, some of those relocating intend to buy, especially in light of the temporary stamp duty holiday. However, others prefer to "try before they buy" (or, in other words, before they commit permanently to a new area) and renting is perfect for this.

Exeter
As with other locations in the south-west, as well as London commuter towns, sold property prices in Exeter have risen by an average of five per cent over the last twelve months. Given that this time period encompasses both a pandemic and a global economic slowdown, this is undeniably impressive. Rental properties in the city are now shifting at a similar rate to those up for sale. Homes with outdoor space, whether that's a garden, balcony or terrace, are going fastest, with landlords and letting agents enjoying the relative novelty of finding many ground floor flats and conversions much easier to rent out than previously.

Although much of Exeter's rental stock is geared towards the strong student market, landlords with family homes and those suitable for singles or professional sharers are enjoying strong demand for their properties. Average rents range from around £650 for a two bedroom flat to beyond £3,000 for a stylish family home in highly desirable areas such as the estuary port of Topsham in the wider district of Exeter.

Winchester
England's ancient capital has enjoyed popularity with London émigrés for some decades now. Families with at least one wage-earner still wedded to a job in the capital have spearheaded the exodus thanks to fast, regular trains into London Waterloo. Some home-grown Wintonians have looked a little askance as areas within easy walking distance of the station have sky-rocketed in both popularity and prices. St Cross is the most desirable area with Hyde, Fulflood and Highcliffe hot on its tail. A little further out, the suburbs of Abbots Barton, Badger Farm and Olivers Battery are still within easy reach of the railway station for those who cannot afford the pricier areas.

Estate agents in Winchester are currently reporting unusually high demands for rental homes, particularly from Londoners. The local rental market is now experiencing a shortage of properties, especially for family-style homes. The demand for properties ripples out beyond the city proper to its surrounding villages, where spending power tends to go a little further in terms of square footage and outdoor space.

Well-known for its high sold property prices, Winchester's landlords likewise command good rents even if their yields are sometimes affected by those higher selling prices. Typical rents for a two-bedroom home start at around £1,300 per month. And, in addition to a strong family rental market, Winchester's large student population also provides opportunities for landlords. Multi-occupancy student properties are most prevalent in Stanmore and Winnall.

York
According to Adzuna, the job search website, York is currently the UK's fourth most expensive rental location after Brighton, London and Oxford when measured in terms of percentage of income spent on housing. The average renter in the city spends 53 per cent of their salary or wages on their rent. This figure is not enough to deter the high numbers currently enquiring about rental homes in the city; estate agents are reporting enquiry levels that are 26 times higher than last year. Some of this interest is obviously coming from those who already live in the north of England to tally with new research by Hamptons International that suggests an increased willingness among home movers to move further away from their original location. This willingness is replicated across the country although it is Londoners who are happy to move the furthest: a median distance of 49 miles this year compared to 33.5 in 2019. Hence, it's unsurprisingly that a significant proportion of those interested in renting in York are from London. A two hour fast train service between York and London apparently makes an occasional commute seem both palatable and possible for many.

With average rents starting at around £350 for a flat suitable for a single professional or couple, York is significantly cheaper than either Exeter or Winchester. As with the other two cities, York's sizeable student population means that many landlords inevitably focus on them. Whether this will change if demand from professional renters continues at present levels remains to be seen, but the city already offers a range of options. As well as a good selection of serviced apartments, current available rental stock encompasses everything from Grade II listed family homes to one bedroom apartments.

Cheaper rental locations
In contrast with pricey York, a little over 40 miles away in Bradford, the average renter spends just in excess of 9 per cent of their salary on rent. Hull and Carlisle offer similarly low relative rents at an average of 9.3 per cent and 10.4 per cent respectively, while Derby stands at 10.9 per cent. Over the border in Scotland, Perth provides decent value, with renters expending an average of 11 per cent of salary on rent. In Wales, Newport is a good place to look for attractively-priced rentals, with properties fetching an average of 11.2 per cent of salary.

Those looking for cheaper rents in south-east England might, for once, look at London. With letting agencies and landlords reporting average rent reductions of as much as 20 per cent on figures from this time last year, there are some bargains available for those prepared to look.
Nethouseprice newsletter
You can sign up to our newsletter and join Nethouseprice's community of over 160,000 members who get regular property tips, relevant offers and news, click here http://nethouseprices.com/auth/user-register
Source: Nethouseprices.com 12.10.20