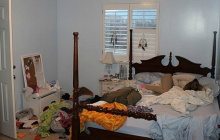 It's easy enough to find tips on how to sell a property. What estate agent to use, when's the best time to market your home, guidance on pitching your asking price, the relevance of data on sold property prices to your own property, and how best to present your home for sale: it's understandable that would-be sellers, especially if they're new to selling, want advice on these areas. However, it can sometimes be just as illuminating to look at a particular issue in terms of what not to do - and one of the commonest areas to make mistakes concerns the photographs that accompany the property listing.

For most potential buyers, photographs are absolutely key. Get those photographs wrong and you can be sure you'll deter otherwise excellent buyers. More than that, however, produce and publish inaccurate or misleading photographs and you can be just as sure that viewers through the door will not translate into offers to buy.

So, what are the commonest property photograph mistakes?

1. A sequence of photographs that does not begin with the exterior of the property
In rare cases, it may be acceptable to begin with a photograph that does not depict the exterior (and, by that, we specifically mean the front) of the property that's for sale. By and large, those rare cases can be restricted to homes enjoying outstanding views or flats in large communal blocks. In most other circumstances, a series of photographs that does not begin with the property's frontage is a red flag to viewers that this is a home without kerb appeal. Now, that may be true but as the vendor, you want a potential buyer's interest to increase as they click through your property's photographs rather than have their hopes quashed as images of your well-decorated living room, carefully-planted garden or spacious kitchen give way to a lacklustre frontage.

2. A photograph that makes it difficult to tell which is the property for sale
Photography angles matter - and never more so than when choosing exterior shots. You don't want buyers puzzling over which in a line of terraced houses is the one for sale or struggling to see past a parked car and a couple of dustbins.

3. Photographs that don't move sequentially through the property
As far as possible, you want the photographs of your property to mimic an in-person viewing. This means organising the pictures to recreate the most logical way of walking through the home. For example: front of house, hallway, living room, kitchen, etc rather than back of house, master bedroom, living room, etc. Sequential ordering of the photographs helps viewers form a mental map of the property and allows them to calibrate their interest more accurately. This also means that those who decide to book a viewing on the strength of the particulars are less likely to have their expectations dashed when they see the property in person.

4. "Arty" photographs that focus on the vender's own furnishings
It's surprising how many photographs that are intended to showcase and hence to sell a particular property actually focus on items belonging to the vendor that will almost certainly move with that vendor. Elegant pieces of furniture are a prime candidate as are garden displays of moveable pieces such as pots and planters. On the other hand, there may be a case for including photographs of particular fittings such as wood-burning stoves or made-to-measure fitted shelves, but their inclusion should not be at the expense of photographs that give an accurate gauge of room sizes and aspects.

5. Too many photographs
It's tempting to include as many photographs as possible. However, there's always a balance to be struck. As a general rule, ask yourself why you want to include a particular photograph and what it says about the property. Remember not to oversell; you want to tempt a viewer enough to come and see your property in person, not convince them that they've seen enough without ever stepping through the door.

6. Omitting crucial rooms
If your property listing doesn't include a picture of the kitchen or bathroom, potential buyers will wonder why. The omission is unlikely to deter all viewers but you'll almost certainly lose some. While it's not always necessary to include photos of every room and every nook and cranny of the garden, it's a good general rule to include shots of major rooms such as the kitchen, main bathroom and the living room. Equally, if there's any outside space at all, you want to include a photograph of it.

7. Lenses that distort a room
Use of fisheye lenses is a common trick. Unfortunately, it's also one that buyers are either wise to or that is bound to see them disappointed when they do view the property.

8. Poor lighting
Bad lighting can make even the most handsome house look dreadful.

9. Pets and people
Pets are best excluded from photographs, as are their beds, cages, water bowls and other evidence of their existence. This is partly because their presence in a photograph risks being a distraction and partly because you don't want someone dismissing your property without viewing it because they think a cat means that the carpets will be hairy or that a dog means that the home will smell. It's less common for people to feature in property photographs but it's always sensible to avoid it happening. As well as being a distraction, some viewers may perceive it as slightly creepy while others may struggle to see themselves living in the property in the face of such blatant evidence that it's currently someone else's home. Finally, when ensuring that the photographs exclude people, remember to ensure that there's no inadvertent capture of the photographer's own image in mirrors or windows.

10. Clutter and dirt
It goes without saying that any property is best presented for sale after it's been decluttered and cleaned. When it comes to photos, no matter how skilled the photographer or how good the lighting, it's hard to present a room well if it's cluttered or obviously dirty.

While there's no magic bullet to putting together the strongest selling package, homes with carefully taken photographs are likely to sell faster than a comparable property with less good images as well as more likely to measure up favourably against current sold property prices. For most sellers, this means using a professional property photographer and organising the results carefully and logically.
Nethouseprice newsletter
You can sign up to our newsletter and join Nethouseprice's community of over 160,000 members who get regular property tips, relevant offers and news, click here http://nethouseprices.com/auth/user-register
Source: Nethouseprices.com 19.10.20