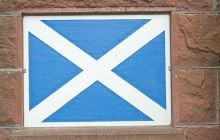 Each a Titan in their own right, both Edinburgh and Glasgow are vibrant, exciting cities with national and international draw. Excellent transport links, strong economies, varied employment opportunities, plenty of sport and leisure activities, and easy access to some of the UK's most beautiful countryside mean that neither city suffers from any shortage of people wanting to make their home there. Consequently, both have thriving property investment and rental markets. However, given their many shared advantages and relative geographic proximity (less than 50 miles and around an hour by train), it can sometimes be difficult for the new investor to decide which city to focus on. We take a look at five of the most common questions. While we don't necessarily promise to come down on one side of the fence or the other, we do aim to help you decide which city best suits your aims (whether short, medium or long-term) and finances.


1. Where are the cheapest property prices: Edinburgh or Glasgow?

This is relatively easy to answer: with average prices around 50 per cent lower, it's Glasgow. However, even this bald answer hides nuances that may be worth considering in more detail. Just as Glasgow also has its more expensive areas (for example, the West End and Bearsden) so Edinburgh has cheaper ones (for example, South Queensferry and Kirkliston). You may also want to consider expanding any property search beyond the city limits. As widely expounded on in the press, increasing numbers of people are looking for homes with more space both indoors and outdoors. As private outdoor space is something which is often at a premium - and therefore costs a premium - in Edinburgh and Glasgow alike, it's little surprise that home hunters are expanding their searches across the Central Belt. Access to the city - for work and sometimes also school - frequently remains a key consideration so is also something to factor in if you're looking for investment properties. Around Edinburgh, North Berwick and Linlithgow are popular, highly desirable and, frankly, usually commensurately pricey locations, but there are also cheaper options. For instance, check out Livingston and Dunbar or, for Glasgow, Motherwell and Greenock.


2. Which city offers the highest rental yields?

Pound for pound, the majority of investors see a greater return on their investment in Glasgow. This is largely a consequence of Glasgow's cheaper property prices. Although Glasgow's average rents are also lower than Edinburgh's, the difference is not as pronounced as it is for selling prices. This means that, when dividing average rental income by the initial investment, the average Glasgow landlord benefits from a higher rental yield than their typical Edinburgh comparator.


3. Is it easier to find tenants in Edinburgh or Glasgow?

There's definitely no one answer to this question. As we've already noted, demand for rental homes is buoyant in both cities. Large, well-established universities ensure a continually replenished pool of student tenants (although investors may choose to act with greater caution while the pandemic persists and some students choose to study from their family homes instead of taking up student accommodation). Meanwhile, a wide range of employment opportunities draws in young professionals from across Scotland, the wider UK and beyond. Family homes are also in demand from both long-term renters and relocators looking to test out an area before they buy. Whatever demographic you are thinking of targeting, it's always worth speaking to local estate agents and landlord support networks to sound out the rental potential of properties in specific areas before committing to a purchase. Finally, holiday lets and, in particular, Airbnb, may offer additional rental opportunities. That said, it's worth noting that tighter restrictions on Airbnb lets are likely to be forthcoming due to concerns over both the sector's effect on the local housing market and its impact on previously largely residential neighbourhoods.


4. I want to buy a property and hold onto it in the short term before selling it once sold property prices have risen. Is Edinburgh or Glasgow best for this?

Arguably, this is a risky strategy in either city at the moment and certainly not one for someone looking for guaranteed returns. There's no crystal ball but many experts caution that a price correction could be on the horizon, especially with Brexit imminent. This, in the short to medium term could make cashing in on rising equity difficult or impossible. As ever, those willing and able to ride out any storm by holding on to a property into the long term may find their approach pays dividends when sold property prices do eventually rise again. Someone set on selling quickly may decide to chance their hand with Edinburgh given that annual house price growth is more pronounced there than in Glasgow (3 per cent for Edinburgh and 2.3 per cent for Glasgow). However, set against this is the fact that, on average, homes in Glasgow are currently going under offer - and selling - slightly faster than those in Edinburgh. In both cities, it is three-bedroom homes that are currently in highest demand. At the time of writing, the average such property has a selling time of just 24 days.


5. Which is the best city in which to buy a property, renovate it and sell it on straightaway?

On the whole, Edinburgh's higher average prices lend themselves better to this approach than do Glasgow's. This is because although there's little or no difference in the baseline costs of identical renovations in both cities, if the work increases the property's value by, say 20 per cent, this will amount to more money in Edinburgh due to that city's higher average selling prices. This logic also works for extensions.

Ultimately, the decision you make may come down to something else entirely and that's which city is your "patch". In other words, it may seem easier and more straightforward to take an investment risk in the city that you know best, either because you live or work there or because you have an existing network of contacts.
Nethouseprice newsletter
You can sign up to our newsletter and join Nethouseprice's community of over 160,000 members who get regular property tips, relevant offers and news, click here http://nethouseprices.com/auth/user-register
Source: Nethouseprices 23.10.20