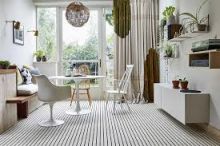 Received wisdom is that homeowners who install new kitchens or bathrooms shortly before marketing their property rarely recoup the cost of the work in the sale price. However, is the same true of more basic decoration? Are there other advantages? For example, do recently decorated homes sell faster than those with tired paintwork? In other words, how much does décor - paint schemes, wallpaper choices and the like - affect sold property prices?

Mortgage comparison professionals also have a vested interest in answering these questions. Consequently, shortly after the residential property market opened up again earlier this summer, staff at Bankrate, the financial website, categorised some of the most popular current décor choices and analysed what they meant for a property's selling potential.

Scandinavian chic
With its clean lines, neutral colour schemes, unfussy and clutter-free rooms, and luxurious use of differing textures, Scandi chic is the unsurprising winner in the UK's home décor stakes. According to Bankrate's findings, homes decorated in this style sold for an impressive average of £340,224 more than the average UK house price. Obviously, this finding could reflect the possibility that Scandi chic is more common towards the higher end of the housing market but it's nonetheless a prompt for aspirational sellers everywhere. Hygge sells - and perhaps never more so than in 2020.

Farmhouse style
A close runner-up to Scandinavian chic, farmhouse style homes also generate impressive sold property prices. Homes styled in this way fetch an average of £289,543 more than other properties. Although perhaps less easily classified than Scandi style, farmhouse-inspired properties make good use of wooden furniture, mixing and matching styles and shades for that lived-in, well-loved look.

Other interior design styles
Rustic, bohemian, vintage, contemporary, mid-century modern, minimalist, industrial and traditional all have their fans. Consequently, properties decorated in these styles all have ready-made markets of potential buyers and their sellers can hope to achieve higher than average selling prices. Of course, ease of sale and ultimate selling price are also influenced by other factors, not least a property's location. Street, neighbourhood, county and wider geographic area are all potential influences and, as ever, the old advice about "selling ceilings" still holds (a certain amount of) water. Furthermore, sellers who decorate with respect for their property's particular vintage and exterior style are more likely to find a buyer. For example, someone selling a flat in London's Barbican is perhaps more likely to find a buyer if that flat is decorated in a style that reflects the Brutalist architecture of the whole development than if it is inspired by a French chateau or a Cotswolds cottage. Similarly, any estate agent specialising in rural properties will have more than one story of buyers failing to offer a premium - or even declining to make an offer at all - after viewing a cosy country home with décor more reminiscent of an urban loft conversion. Interestingly, many estate agents consider that choice of kitchen is more crucial to a rural home than it is for more urban properties. This isn't to say that a seller can expect to recoup the cost of their handmade, in-frame wooden Shaker-style kitchen but it does mean that a buyer may be more likely to look elsewhere if they spot stainless steel, glossy slab-style fittings.

Décor up-close
So, bearing in mind the styles most likely to help you sell your home, let's take a brief look at some specifics.

1. Appealing to the widest slice of the market.
Yes, this may seem to run counter to what we've discussed above but, unless your home really is a flat in a 50s-era Brutalist block or a genuine Cotswolds cottage, it's usually best to temper your décor ideas with a touch of caution. In other words, while you might choose, say, bohemian, as your overall design ethos, you also want to ensure that your home appeals to as many potential buyers as possible. Choosing décor that's particularly vivid, bright or difficult to return to a more neutral appearance can be off-putting, especially to buyers who struggle to visualise themselves living in a new place or to those who are worried about the cost of redecorating. This is why you so often see the advice to decorate in calming, neutral shades.

2. Think about the flow of your property
Smaller or open-plan homes often benefit from an overall theme. This could extend to the use of similar colours in paintwork and flooring. As well as helping to make a property feel more harmonious and "together", décor that flows naturally can also make the home feel brighter and more spacious.

3. Kitchens
More than any other room, a kitchen can make or break a property sale. Yes, many buyers anticipate (and even look forward to) putting in their own choice of kitchen as soon as possible after completion, but that's not to say that the original kitchen isn't a factor in their decision to buy. Moreover, given that, as a seller, you cannot predict a buyer's plans for your kitchen, it makes sense to decorate and stage it with a great deal of care. Top of the list has to be cleanliness but storage runs a close second. Lighting is also important as is seating, especially if yours is a kitchen designed to be the "heart of the home".

4. Furniture
It can surprise would-be sellers to learn that rooms over-stuffed with too much or disproportionately large furniture can be very off-putting to buyers. As well as thinning out unnecessary pieces and placing them into temporary storage (preferably off the premises), it's sensible to ensure that your furniture is positioned carefully. This means making sure that there's room to walk around the room easily and that chairs are situated so as to facilitate conversational groups as much as television viewing. It's worth noting that a pet hate of many house viewers is rooms that act as corridors to other rooms. While this can be difficult to avoid, thoughtful placement of furniture can minimise the effect.

5. Lighting
Harsh overhead lighting, bulbs that are too dim, or simply insufficient lighting can all be deeply off-putting. Although rewiring might be an expense too far, judicious use of free-standing lamps can be very helpful, as can updating existing lighting fittings.

6. Somewhere to eat
Homes with no table and apparently no space for one often fail to attract viewers. If you do nothing else, it's well worth adding in a dining table - even the smallest one.
Nethouseprice newsletter
You can sign up to our newsletter and join Nethouseprice's community of over 160,000 members who get regular property tips, relevant offers and news, click here http://nethouseprices.com/auth/user-register
Source: Nethouseprices 29.10.20