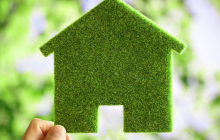 Choosing green (or greener) investment options has become the norm for many who invest in the stock market. The shift in mindset has now reached property funds, as illustrated by several industry reports earlier this summer that highlighted the FP Foresight Sustainable Real Estates Securities (REITS) fund. This fund, managed by Foresight Capital Management, centres on sustainably-focused real estate investment trusts and uses the UN Global Compact 10 Principles to do so. Initial estimates are that investors can expect annual income yields of 4 per cent plus capital growth, which would put the fund on a par with many traditional alternatives.

However, what about those investing not in funds but in bricks and mortar properties? Is there a place for a green mindset when it comes to starting, managing or disposing of a property portfolio?

The Green Homes Grant

Available to homeowners and buy-to-let investors alike, the Green Homes Grant is one of a raft of measures announced by the Chancellor in September this year. The grant allows property owners to apply for a share of a £2 billion pot of funds in order to conduct work that will improve the property's energy efficiency. Each grant will cover "at least two thirds" of the overall cost, up to a maximum of £5,000 per household. The government's own website suggests that relevant work might include:

-double glazing
-heating
-insulation
-draught-proofing
-renewable energy generation e.g. heat pumps or solar panels.

For further details and to help assess eligibility, property owners (including buy-to-let landlords) in England and Wales should talk to Simple Energy Advice on 0800 400 202. Those in Scotland should contact Home Energy Scotland on 0808 808 2282. The scheme is not currently available in Northern Ireland. Across all three eligible countries, access to the scheme depends upon the results of a Green Deal assessment - and this assessment is not necessarily free of charge.

One word of caution: as is often the way with new initiatives, various scam merchants are moving in to take advantage of unsuspecting applicants. Before commissioning work, a homeowner should check whether their chosen operative is "Green Deal Approved".

Specific benefits of greener properties for landlords

In today's financially uncertain climes, even with Government help, it's understandable if landlords are wary of committing potentially sizeable sums of money towards green improvements. However, aside from the obvious wider environmental plus points, a landlord might benefit directly in other ways.

1. Energy-efficient homes and green mortgages

In a trend already welcomed by many owner-occupiers, green mortgages are gaining popularity. Mortgage lenders, such as Barclays, are starting to offer more competitive rates and deals to homeowners with the most energy-efficient properties. At the moment, the Barclays Green Home Mortgage product is limited (a) to properties purchased from one of a discrete list of partner house-builders and (b) to purchasers intending to live in the property themselves. However, with more and more lenders indicating their interest in entering this market, a mortgage adviser may be able to assist a buy-to-let purchaser find a similar product.

If you're hoping to apply for such a product, you should look for as many as possible of the following features in the property you're looking to purchase:

-efficient construction methods that result in minimal waste

-building materials chosen so as to result in minimal carbon emissions

-quality insulation of walls and roof

-double or triple glazing filled with argon gas

-boilers that produce hot water only when needed

-sustainable drainage systems.

Even landlords who find they are not currently eligible for a green mortgage on a new property purchase should bear in mind that improvements of the type listed above might enable them to remortgage on greener terms in the future as more products come onto the market.

The Energy Savings Trust is a useful source of further information on green improvements and adjustments to properties.

2. Attracting and retaining tenants

In a crowded rental market, attracting tenants has never been more important, as is attracting tenants of the desired demographic. With green issues rightly more prominent than ever, it's unsurprising that increasing numbers of tenants are putting a property's green attributes high up their list of expectations. While this will not necessarily translate into higher rents, it may mean that a property lets more quickly (and hence a landlord swerves unnecessary void periods) and potentially attracts a tenant who wants to stay long-term (again, reducing the cost of void periods and also of the time and administration of finding a new tenant). Specific "selling" points from the perspective of a would-be tenant might include lower energy bills (particularly relevant for tenants working from home for some or all of the time) and less need for external upkeep (so fewer tradespeople needing access to the property).

3. Time to sell

As well as utilising traditional means of selling, an investor with an eco property may also wish to use the services of one of the property-finders that specialise in green homes. The standard of such homes frequently goes beyond those allowed for by the Green Homes Grant. For instance, properties may have:

- a high level of natural materials in the building construction e.g. wool insulation
- low-impact decoration e.g. organic, VOC-free paints
-greywater collection for garden use
-rainwater harvesting for flushing lavatories
-composting toilets
-southerly orientations to gain maximum benefit from free solar light and heat.

While it's too simplistic to state a home with green improvements or even a purpose-built eco-property will fetch higher than average sold property prices, interest in such properties is undoubtedly rising. In some instances, this may mean that a particular property attracts a premium. That said, those properties may be the exception rather than the rule, particularly when it comes to newbuild eco properties, where the build costs are frequently lower than those of a comparable non-eco home. However, before landlords write off the possibility of benefitting from capital growth in their putative investment, they should note that all indications are that eco homes tend to hold their value well - and this may serve them well in a stagnating market when average sold property prices are less than sparkling.
Nethouseprice newsletter
You can sign up to our newsletter and join Nethouseprice's community of over 160,000 members who get regular property tips, relevant offers and news, click here http://nethouseprices.com/auth/user-register
Source: Nethouseprices.com 02.11.2020