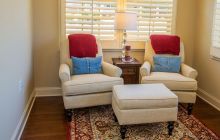 When it comes to selling your property, it's widely thought that people make up their mind within the first few minutes of either seeing it online or coming to your home. So it should come as no surprise that not only do first impressions count but they also make the most significant and long-lasting impression.
With a property market still benefiting from an overwhelming post lockdown surge in activity if you want to make sure your home stands out from the crowd it is more important than ever to grab the attention of house hunters for all the right reasons. Just a few simple tweaks will help to add value, giving buyers confidence that your home is worth the asking price that your estate agent has set, and ultimately allow you to make your move to your desired dream home.
Stand Back and Take a Look for Yourself
By taking a moment to stand on the kerb and having a really good look at your home, you'll be able to see exactly what potential buyers will see when they arrive for their appointment. It might sound obvious, but making sure that wonky gates are fixed, the garden is tidy, and doorbells work, are all little things that let a buyer know that the property is cared for and therefore has been well-maintained.
You'll be surprised at what a difference taking the time to give your front door a new coat of paint can make and how little it will cost.
Window Dressing
One of the biggest selling points for period properties is the impressive height and stature of the windows; however, for some people, they also present a quandary on how to make them look stylish. Whether your home is hugely contemporary or traditional in its presentation, bay window shutters are a great way to make these elegant period features the star of any room. Sympathetically designed and made to measure, they add a tremendous amount of appeal from both inside and out, adding plenty of privacy whilst also allowing a lovely amount of natural light to tumble in.
Versatile Space
Storage space is always high on any potential buyer's tick list but nowadays many people also want a new home that offers them a great work from home space. By moving sofas, adding storage and incorporating even a small desk area will allow people to imagine how they could make the space work for them.