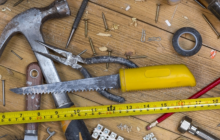 Whether you're looking to sell or simply to give yourself a more pleasant home environment, here are five ways of transforming your home (or at least part of it). Some cost little more than your time and imagination; others are more expensive. However, any of them could spark your imagination - and who knows what you'll come up with!

1. Add a fireplace
The fireplace is the traditional focus of many British rooms. Unsurprisingly also subject to the vagaries of changing fashions in home décor, many original pieces have been removed or renovated far beyond their original appearance. If you have a chimney breast without a fireplace, the cost of reinstating one can come in at under £500. While this is unlikely to buy you a show-stopping marble affair (although if you're prepared to frequent reclamation yards, you never know), it should get you a cast iron surround. The cost will inevitably increase if you have an existing, unsuitable fireplace that first needs removing but it could well be worth the expense: a fireplace that fits the age and design of the property can give the home real cachet in the eyes of prospective buyers. While this may not translate into an uplift to sold property prices, it can certainly help make your home stand out among the competition. And, if you're not in the market for selling, it's a lovely focal point for an evening at home.

2. Carpeting and other flooring
Getting the right flooring in your home is vital. Warmth, ease of cleaning, and surface grip are all considerations that are at least as important as appearance. Then there's cost. Carpets are notoriously expensive. So too, despite (or perhaps because of their popularity), are traditional wood floors. And, if you add underfloor heating, you can expect the zeroes to mount up. However, before you give up and make do with what you have already, make sure you've investigated cheaper alternatives. Carpet shops sometimes offer bargain prices on ends of rolls, which can be a highly cost-effective way of re-carpeting smaller areas. Equally, often for less than the price of carpeting a larger area, you could add a stylish stair runner and perhaps paint the treads in a toning colour. Similarly, to get the look of a wood or tiled floor at a fraction of the price, look at some of the contemporary vinyl floorings now on offer. Hardwearing, practical and available in an almost bewildering choice of styles and colours, many of them can even be laid over existing hard floors. Another alternative, if you already have decent wooden floorboards hiding under your carpets, might be to use what you have. You can hire industrial sanders to prep the floor before varnishing or polishing.

3. Shelves and storage
Lack of storage is a common complaint, particularly for newer builds, which tend to be built on smaller plots and have smaller footprints than older homes. However, even older properties, particularly if they've been vigorously renovated in the past, can lack storage. For instance, it's a rare 1930s home that still has its original walk-in larder or floor-to-ceiling pantry cupboard, while built-in wardrobes and shelves in homes of all vintages have frequently gone in a quest for minimalist décor or a more open-plan style of living. Unsurprisingly, adding custom-built storage is now a thriving business opportunity for many craftsmen. Only a quick google will bring up a dizzying array of understairs' storage units, handmade shelving for living room alcoves and purpose-built walk-in wardrobes. As ever, cost can be a real barrier. If you're handy or remember your school woodworking lessons, you might be able to produce what you want yourself. If you're not, you might be able to find someone who can produce what you want at a price you can afford. A third option is, of course, to buy ready-made or flat-pack storage. Plenty of well-known chain stores offer several options at a variety of price points and in-store or online showrooms can be a real source of inspiration if you're not yet sure what you're looking for.

4. Give your furniture the 3 Rs
By this, we mean reupholster, repaint and restore. Tapping into the growing eco-awareness, upcycling furniture has never been more popular. More and more people are turning to the likes of Ebay and Etsy to find good, solid if possibly old-fashioned furniture that can be reimagined and restored to accord with today's trends. However, lots of us already have furniture that, with time, attention and cash, can become something quite different. Whilst reupholstering is a specialist job that can often mean a financial outlay not dissimilar to buying a new piece of furniture, repainting or revarnishing can cost much less. And, if you're not confident in your own abilities, you can even attend workshops (or watch YouTube videos) to learn the basics. Granted, renovating your furniture will not directly affect the value of your home, but you'll have the pleasure of using it and, if you are thinking of selling your property, good décor can only help when attracting viewers.

5. Move the bathroom
Did you know that bathrooms can have a significant effect on sold property prices? And it's not all about installing fancy, expensive designer bathrooms (although in the right properties, this can be important). Rather, it's to do with access. Think about it: how much do you want to live in a property where the only bathroom is off the kitchen? Or, although this is less common, where the only bathroom is effectively an en-suite, requiring anyone else who wants to use it having to go through someone else's bedroom? A third consideration, particularly for families with young children or those with mobility or other health issues, might be homes with no downstairs toilet. Although frequently not a cheap option, relocating a bathroom (or installing a downstairs toilet) is one of the most effective ways of increasing your home's value in the eyes of prospective buyers. An estimated three-quarters of potential purchasers are willing to offer more on a property with an en-suite (albeit, assuming there is at least one other bathroom). A similar number are happy to pay more for a home with a recently modernised bathroom, while around a third are thought likely to pay more for a place with more bathrooms.
Nethouseprice newsletter
You can sign up to our newsletter and join Nethouseprice's community of over 160,000 members who get regular property tips, relevant offers and news, click here http://nethouseprices.com/auth/user-register
Source: Nethuseprices.com 16.11.20