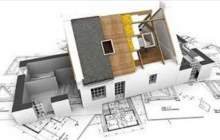 Surveys provide an assessment of a property's condition - and it's crucial not to underestimate their importance when planning to buy a home. This is because, despite the initial financial outlay, the survey has the potential to save you money.

When do you commission a survey?
In England and Wales, it's usual to commission a survey after making an offer but before proceeding to exchange. It is also possible, if less usual, to undertake a survey prior to making an offer.

What sort of survey do you need?
There are several different types.

1. A mortgage valuation
Not strictly speaking a survey, a mortgage valuation does pretty much what it says on the tin. Its function is to reassure a mortgage lender that the property is worth the purchase price and, therefore, that should the borrower default on the loan, the lender can be confident of recouping its loss from a forced sale.

The lender will instruct the valuer from a panel of approved professionals but the borrower bears the cost. Sometimes this takes the form of an additional charge but sometimes it may be subsumed into the mortgage itself.

A mortgage valuation will benchmark the property's proposed selling price against recent sold property prices of similar homes in the same area. It will also highlight any particular issues or features that may affect the property's overall value, although it will not provide a detailed assessment of that property's condition. The result is a short report of typically no more than 3 pages. What's more, lenders do not always automatically share that report with the borrower. To be sure that a survey has picked up relevant issues, a prudent buyer is likely to look for more than just a mortgage valuation. Note also that a cash buyer may have as much to benefit from a survey as someone who's buying with the help of a mortgage.

2. A condition report
Essentially designed to complement the mortgage valuation, most condition reports provide a traffic light assessment of a property's condition. For example, a condition report may give a green light to the building's roof, an amber one to its chimney stack and a green one to its windows. In addition, it should also provide a general summary of the property's defects and any issues - for example, nearby large trees - that may affect its future condition. However, it will not include a valuation or advice on how to tackle any issues identified.

3. Homebuyer report
The most popular survey, a homebuyer report provides additional comfort to the buyer that the property they plan to purchase is not suffering from major structural defects. The report will also contain details of any recommended repairs including their estimated costs. For many conventional homes of no great age, a homebuyer report may be adequate. It's also relatively inexpensive, starting at around £400. However, it's important to bear in mind that a homebuyer report is the result of a relatively superficial inspection of a property. For instance, the surveyor will not go into the attic or look under the floorboards. As a result, potential issues may go undetected.

Buyers can choose a homebuyer's report with or without a valuation and insurance reinstatement assessment (the former is obviously the more expensive option).

4. Home condition survey
Provided by the Residential Property Surveyors Association (RSPA), a home condition survey provides much of what's also offered by a homebuyer's report, with the addition of information relating to boundaries, broadband and damp.

5. A building survey
Conducted by a RICS surveyor, a building survey is a thorough and more comprehensive survey designed to give a would-be buyer detailed information on the property's condition. The surveyor will undertake a detailed inspection of the property's interior and exterior, and will provide a breakdown of issues identified and necessary or recommended remedial works.

Although more expensive than a homebuyer survey, a building survey is a very good idea for anyone contemplating purchasing an older home or one of atypical construction (for example, timber-framed homes).

6. A full building survey
This is the most in-depth option available. As well as providing information on existing defects and necessary or recommended repairs, it should also cover maintenance issues. It's a very sensible option for someone interested in a listed property, one that's obviously in a poor condition, a thatched property or one that's been previously altered.

7. Other types of survey
As well as the surveys outlined above, a buyer may wish to commission specific reports covering a property's gas and electricity appliances. Similarly, someone interested in a property with large trees nearby may want to seek an expert opinion as to the health and stability of those trees. Currently, this is particularly pertinent for properties with ash trees as a consequence of the prevalence of ash die-back.

How do you find a surveyor?
As already said, your mortgage company is likely to choose the mortgage valuer. However, for any other type of survey, you should not automatically go with the firm recommended by your mortgage company, estate agent or solicitor. Ask around for recommendations and ensure you get several quotes. Ensure that your chosen surveyor is a member of RICS or the RPSA and make sure you share any concerns you have with them.

How to respond to a survey
Many surveys make for chastening reading. Sometimes, the only sensible response may be to walk away from the purchase. However, before taking this decision, you may want to discuss the issues with your surveyor. This is particularly important if the survey document leaves you uncertain as to an issue's urgency. You may also want to take advice (and a quote) from an appropriate tradesperson. This can help you decide whether or not you can afford to proceed with the purchase. Of course, you may wish to use the survey to try and renegotiate the selling price. Some sellers will be more amenable to this than others, particularly if buyers are thin on the ground or average sold property prices are stagnating or falling. A property may be priced to take into account the issues identified in your survey or a seller may not be able to absorb the reduction you ask for; in these cases, you need to be prepared to walk away. As an alternative, some buyers and sellers agree that the seller will carry out necessary repairs prior to exchange. If you go for this option, you may want to ensure that the work forms part of the contract between you and the seller.
Nethouseprice newsletter
You can sign up to our newsletter and join Nethouseprice's community of over 160,000 members who get regular property tips, relevant offers and news, click here http://nethouseprices.com/auth/user-register
Source: Nethouseprices.com 21.12.20