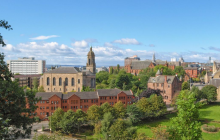 For those already in the know, Glasgow's appeal needs no explanation. However, if you're unfamiliar with the city or at least with its property market, here's a closer look at some of the reasons why it's well worth a second look by the Scottish property investor.

Why choose Glasgow?

'Why not Edinburgh?' you might say. 'Or St. Andrews? Or Dundee, or Aberdeen, or…..' Hang on! While we'd be among the first to admit that these other cities all have their own attractions, here are ten reasons why Glasgow is particularly impressive as an investment location:

1. Decades of inward investment and the hosting of internationally significant events such as the Commonwealth Games fuelled a regeneration that resulted in a city that has been able to recover from the slump in its traditional heavy industry that marred the 1980s.

2. An inflow of new employers across a variety of sectors, including healthcare, financial services, digital technology and green energy, which attracts professionals from across Scotland and beyond.

3. One of the largest student populations in the UK.

4. A vibrant city centre with shopping facilities that are the envy of the rest of Scotland, and nightclubs, bars and restaurants catering for all tastes.

5. An arts and culture scene that is home to dozens of museums and galleries, including the renowned Kelvingrove, and that hosts events such as the Glasgow International.

6. The largest urban population in Scotland and, moreover, one that the National Records of Scotland anticipates will grow by more than 36,000 (equating to 6 per cent of the current population) over the next quarter of a century.

7. Excellent existing transport links across the city and out to a wide belt of traditional commuter areas. In addition, the city's residents are set to benefit from a programme of transport infrastructure improvements that include an extension to the subway and alterations to Glasgow Central railway station that will allow access to high-speed trains to connect the city with London in only three hours.

8. Some of the cheapest sold property prices of any UK city. At around £120,000, average sale prices are currently approximately half that of nearby Edinburgh.

9. Impressive rental yields that average 7.9 per cent across the city. Particular hotspots go up to as much as 8.71 per cent.

10. A great selection of properties for sale that extend far beyond the traditional tenement building that so many people automatically associate with Glasgow. The city also offers plenty of new-builds (both apartments and houses), family houses and houses of multiple occupation (HMOs).

Postcode specifics

Glasgow is a big city and, as with any big city, knowing where to focus your investment property search can be tricky, particularly if you don't know the place well. On-the-ground advice from locals, existing investors and estate agents will always be invaluable. So, too, will knowing what sort of tenant (students, young professionals, families, etc.) you want to attract to your property. Finally, of course, there's budget: much as you might fancy an historic property with all original features in the West End, you'll need the finances to match the aspiration.

G51

Encompassing Govan, Ibrox and Linthouse, G51 borders the River Clyde's south bank. The area has several shopping centres, a hospital, one of the city's largest residential areas (in Govan), a plethora of new industries and employers (particularly digital start-ups), and good transport links to other parts of the city. The accommodation choices are just as varied, while average sold property prices of around £97,500 combined with an average monthly rent of £595 give rise to an impressive rental yield of 7.32 per cent.

G52

With an average rental yield of 8.71 per cent, G52 is even more appealing than G51. The housing stock is also varied although, overall, this south-western region of the city tends to have the greatest appeal to families, people working at the Queen Elizabeth University Hospital and those who need to make regular commuter hops from Glasgow airport. None of this is to say that G52 is unaffordable. Take Cardonald, for example, which is known for its good schools and excellent transport links, where average property prices currently stand at just below £116,000. Yes, it's pricier than G51 discussed above, but not by a significant amount. Meanwhile, those looking for easy access to outdoor spaces might be drawn to Mosspark for its proximity to Glasgow's largest park, Pollok Country Park (a previous holder of the titles of Britain's best park and Europe's best park).

If the postcode appeals but the price tags in the likes of Cardonald and Mosspark do not, it's worth taking a look at Penilee. First established back in the 1930s, this estate is currently the focus of a regeneration project so scope for snagging a bargain could be limited.

G32

Glasgow's East End is more popular than ever - and it's the G32 postcode that benefits from most of this interest thanks to its excellent transport links and wide variety of housing types. From an investor's perspective, with this popularity comes an inevitable trade-off: at 7.31 per cent, average rental yields in the postcode are lower than in hotspots elsewhere in the city although they still far outstrip those typically available in the West End. And a canny investor might just boost their yield by careful selection of property. This canny investor might start their search in Shettleston, where some landlords record yields of over 9 per cent. One-bedroom flats in this area are a good pick for someone looking to maximise rental yield, albeit with the caveat that demand for such properties is currently a little uncertain as a consequence of the pandemic and changes to working arrangements. Larger properties in Shettleston, including HMOs, often appeal to students. Despite the fact that the area's closest higher education provider, the University of Strathclyde, is 5 miles away, Shettleston's affordable rents and the oft-mentioned good public transport make it a magnet for a certain student demographic.

Bear in mind that however careful your property search and however well-targeted your ensuing quest for the right tenant, certain areas of the G32 postcode are highly unlikely to yield fruit. Mount Vernon is a good example. It's more popular with owner-occupiers than landlords for a reason: its higher average selling prices make capturing those enticing rental yields vanishingly unlikely. Far better to focus on Shettleston, Sandyhills or even Carntyne (especially the new Eastfields development).
Nethouseprice newsletter
You can sign up to our newsletter and join Nethouseprice's community of over 160,000 members who get regular property tips, relevant offers and news, click here http://nethouseprices.com/auth/user-register
Source: Nethouseprices.com 30.12.20