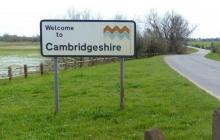 What do you know about Cambridgeshire? That it is the home of one of the world's oldest and most renowned universities - of course. That it has three cities (Ely, Peterborough and Cambridge) but that, despite the usual designation, one (Cambridge) has city status without actually possessing a cathedral - perhaps. Or that ice skating is an ancient Fenland way of commuting to work during the winter dating back to pre-Roman times - maybe not. What about as a place to live and buy property?

Cambridgeshire is increasingly popular with house hunters. Between 2014 and 2019, average sold property prices in the county's most sought after areas rose between 25 and 32 per cent. Inevitably, the last few months have seen both demand and prices stutter a little but properties are still coming onto the market and, especially in the most popular locations, continuing to attract buyers.

Let's take a look at some of the places currently drawing the most interest from prospective buyers.

1. Cambridge

The county town is Cambridgeshire's best-known location, and justifiably popular with residents of ll types, not merely students. Much of Cambridge's current popularity is a consequence of "Silicon Fen": the sprawling cluster of tech firms that proliferate in the area. With the tech firms have come venture capitalists, bankers and consultancy firms. Together, these organisations have resulted in what an international survey from MIT Skoltech Initiative dubbed one of the world's top "innovation ecosystems".

Little wonder that Cambridge is a place where buyers with seven figure budgets will have little trouble finding properties to spend them on while those with more modest resources may need to be fairly exhaustive in their property search and perhaps open to the prospect of taking on a renovation. Generally speaking, flats start at around £200,000 and terraced homes at approximately £300,000.

2. Ely

Home to the beautifully-named "Ship of the Fens", this cathedral city offers a rural lifestyle that's still within easy commuting distance of both Cambridge (20 minutes by train) and London. Average sold property prices are lower than Cambridge's, with 2019 figures suggesting that the typical home in the city went for just over £311,000.

3. St. Neots

Whilst not quite offering the rural dream, St. Neots offers pleasant riverside walks thanks to the Ouse that runs through the town, a selection of quaint tea rooms and the sort of schools and family-friendly facilities that attract parents. The town has its own nature reserve while the large reservoir, Grafham Water, is only six miles away, offering water sports and excellent walking trails.

Average property prices for 2019 in St. Neots stood at just over £307,000. St. Neots also has its own satellite villages, home to those who work locally, commute by car or who do not mind driving to the station. Buckden, location of the 12th century Buckden Towers, where, for a time, Henry VIII imprisoned Catherine of Aragon after their divorce is one of the most popular.

However, prices in the villages tend to be significantly higher than in St. Neots. In Buckden, for example, the current average selling price is just below £400,000 although, with the majority of homes in the village being detached properties, figures well in excess of £500,000 are common.

4. Huntingdon

The former county town of the erstwhile county of Huntingdonshire, Huntingdon is popular for its good rail links (around 50 minutes to London), excellent schools (that include Hinchingbrooke) and house prices that average around £213,000 for terraces, £290,000 for semi-detached homes and just over £400,000 for detached. Just across the river Ouse is the picturesque (and, on the whole, slightly more expensive) town of Godmanchester.

5. Commuter villages

Always in demand, during the pandemic, commuter villages with peak-time rail connections to London and average journey times of one hour 15 minutes have attracted even more interest from those looking to move out of more urban locations. Foxton, Meldreth, the Shelfords (which boasts two appearances in the Sunday Times' best places to live list), Shepreth, Waterbeach and Whittlesford all have their own railway stations and good services to both London and Cambridge. Some of the villages are smaller and more quintessentially rural than others but each has a long history and retains its own distinctive characteristics.

6. Peterborough

Twice holder of the worst place to live in Britain (according to the annual survey conducted by iLivehere.co.uk), Peterborough perhaps does not fulfil any of the "quaint" or "picturesque" criteria demanded by many of today's house hunters. That said, its revamped city centre, excellent shopping facilities and strong sense of its own long history mean that it still has plenty going for it, particularly for buyers priced out of other areas of Cambridgeshire.

A 31.21 per cent jump in its average property prices between 2014 and 2019 underlines its popularity. Currently, buyers can expect to pay an average of just under £206,000 for a home in the city. Terraces are fetching average prices of just below £162,000, while semis are going for an average of almost £197,000 and detached homes are fetching averages of around £283,000.

7. March

This market town has the accolade of being the Cambridgeshire location that saw the steepest rise in house prices in the five years to 2019. Good news for sellers, certainly - and buyers continue to be lured by the town's attractive Fenland setting. What's more, by Cambridgeshire standards, prices remain reasonable, averaging at £205,557 over the last twelve months. Buyers looking for a terraced home can expect average prices of less than £152,000, while those in the market for a semi-detached or detached property are looking at average selling prices of around £193,000 and £253,000 respectively.

8. Linton

Another commuter village, albeit one that's on the border with neighbouring Essex, Linton has become a popular place for house hunters. Although it doesn't have its own railway station, the one at Audley End is only eleven miles away (and the National Trust property of the same name is well worth a visit too) and provides direct services to London Liverpool Street.

This makes Linton a particularly good choice for City of London workers who don't want the hassle of taking a tube or bus once they reach the capital. Commuting to Cambridge by car is also relatively easy from Linton while some highly-regarded schools make the village a magnet for young families. As you might expect, average property prices tend towards the higher side: almost £400,000 overall, with detached homes selling for an average of over £562,000 and semis for more than £324,000.
Nethouseprice newsletter
You can sign up to our newsletter and join Nethouseprice's community of over 160,000 members who get regular property tips, relevant offers and news, click here http://nethouseprices.com/auth/user-register
Source: Nethouseprices.com 04.01.21