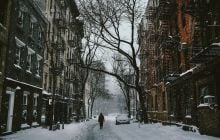 Home and property owners will know that this time of year is always a cause for concern. No matter how well you look after your property and how much you've prepared, the winter always brings the chance for serious damage as the UK is buffeted by storms, cold, wind and, of course, endless rain. It seems like the extreme weather gets a little more, well, extreme with each passing year, and the precautions that would have previously been more than enough to protect your home from the elements may no longer be doing the job like they used to.
As we head into the new year, it's important to keep an eye out on the classic problem areas while we hold out for spring, and there may be one or two that you hadn't thought of before. Let's take a look at some of the ways your home could be at risk, and some of the measures you can take to protect it.
Frozen Pipes
No one can really predict what the weather will do in any given year, and while you may not have had issues with your pipes freezing before, that's no guarantee that this is something that you can rule out. In fact, if your home was built on the assumption that sub-zero temperatures were never going to be a problem, you could actually be at greater risk as your pipes will not have any protection for this eventuality factored in. A sudden cold snap could be a serious problem for your home, as frozen water can not only block the pipes, but cause them to swell and potentially burst. An easy way to help prevent this is to run warm water through your pipes, and to make sure you have the heating on regularly to prevent things getting too chilly. If you want to take some extra precautionary steps, you can apply heating tape to your pipes, or add some proper insulation made of foam rubber or fibreglass.
Mould Build Up
This time of year, we all like to bundle up inside with the windows and doors firmly shut, and as we try and save on utility bills, it can be tempting to pile on extra layers instead of turning on the heating. Well, as experienced home owners know, these two activities are the fastest route to getting a mould problem in your property. Mould loves warm, damp spaces and once it has found somewhere to grow, it moves incredibly quickly. We're talking about bathrooms, kitchens, basements, not to mention bedrooms, anywhere that isn't properly ventilated.
To make sure that your home avoids a serious mould problem this winter, try to make sure you're opening the windows at least once a day to let fresh air in, and run the central heating to prevent moisture. Other easy, routine ways to cut out those problem areas include mopping up any excess damp (the wet surfaces in your bathroom are often the main culprit, as are condensation on your windows), and buying a dehumidifier to keep the moisture levels down.
Flooded Pipes
Frost isn't the only way your plumbing could break down this winter. The UK is hit harder and harder by floods every year, and it's so important to make sure that your plumbing can stand up to the pressure, and be ready to call in the professionals if you run into any problems. If your property doesn't have sufficient outdoor drainage you are going to run into trouble quickly, as all that excess water won't have anywhere to escape to. If you notice any outdoor flooding, it could be the sign of a bigger interior issue, so don't rush to blame it on bad weather.
Stormy weather will also cause a huge increase in the amount of debris floating around, and this can often find its way into your plumbing system. Soil, leaves, rubbish and even branches can be found clogging up pipes and causing havoc, as the usual household material that you're looking to flush down may well end up coming right back up. And then, of course, there's the issue of the pipes, which, again, may crack or burst under the strain of all that excess water. Should you find yourself in need of emergency drain repairs, it's always best to call in a professional without delay. Drain Detectives have a wide range of different methods for tackling any drain issue, and they use CCTV surveys to make sure they find the real route of the problem. You can read more about their services, including their free expert advice, at draindetectives.co.uk.
Your Boiler May Give Up The Ghost
It's the problem that no homeowner wants to have, but you can bet your last penny that your boiler will always pick the worst possible time to break. For most of us, that's the dead of winter when we're relying on it most heavily. There are a wide range of potential issues, from leaks due to something internal breaking, to kettling (when the boiler is making that low rumbling noise), but we should stress that any boiler issues should always be referred to a licensed professional. Most of the time, the reason for a boiler breaking is old age and poor maintenance, so if it's been a while since you last had someone out to look at your boiler, make sure that you make an appointment as soon as possible. Don't find yourself without central heating and hot water this winter.
Your Roof May Develop A Problem
High winds, heavy rainfall, ice and snow and fluctuating temperatures aren't the ideal conditions to keep your roof in good nick, and there's a good chance that you will be looking at some necessary repairs before the spring comes around. Snow isn't just a problem for homes with flat roofs, it can cause serious issues on slant roofs too as the extra weight builds up and that water turns to ice. And, when it melts, that's an awful lot of extra water for it to handle. However, tempting as it may be to get on the stepladder and try and sort out any problems up there yourself, it's always worth getting a professional in to have a look, especially in dangerous winter weather.
Your Gutters Could Struggle To Cope
We don't often think about our gutters until they have a problem, at which point they become incredibly important! During the worst of the winter there are several problems that they can face. As we mentioned, heavy snowfall can mean that there's a lot of water with nowhere to go, and if it freezes you could find that your gutters get cracked or burst. If they are old or poorly maintained, they may struggle to handle all the excess rain during the wet winter months. And, if it storms, they are liable to be clogged by all the debris that gets thrown around. It's really important to keep an eye on your gutters through the winter to ensure that the water is flowing smoothly down. If it's not, you could find that it's going somewhere else and creating a leak, or causing a damp problem in your walls, and you could find yourself facing a hefty bill.