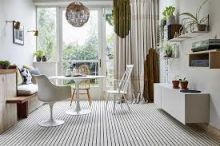 Among the four seasons, spring, summer, autumn, and winter, the most likable perhaps is springtime. The other three may have their fans, but the charm and invigorating warmth of spring brings a feeling of hope. You'll hear birds chirping and watch rabbits and squirrels frolic outside your window. In 2017, a UK study revealed that these animal activities have constructive effects on humans resulting in better mental health.
This is also the perfect season for home additions or renovations because of its ideal weather conditions, a good time to have indoor fun, and it increases the value of your home. Here are some home addition ideas to boost the aesthetic and functionality of your place, and add comfort while giving you more space to make the most of spring.
1. Building a Deck
A deck is a favorite home addition when spring is approaching. A deck will give you more space to entertain guests. It gives the homeowner and guests plenty of space to relax while enjoying a great view. If you decide to host a party or any small event, it's a perfect spot for barbeque and cooking. But if you simply want to unwind, there's no need to look for a place to enjoy green scenery, beautiful sky, and comfortable weather. You can experience all of these in privacy and seclusion in your deck. Take advantage of this season to show off your green thumb. Plant flowers and grow vegetables, herbs, and spices for your kitchen.
If you're planning to sell your house, the deck will increase your property's value. Decks are becoming a huge trend in house purchasing markets.
2. Expand the Kitchen and Living Room
There are good reasons why spring is the best season to renovate or remodel the kitchen. The warm weather and blossoming flowers urge you to open up your windows and invite the warm breeze to dwell in your home. Having a new kitchen is also a good way to implement the idea of rebirth and renewal. Kitchen renovation may sound costly but a few tweaks can eventually turn it from dull to fab in a short time. Expanding the kitchen will also create a new living space.
Extend your living room as well and add some fresh plants and flowers. If you don't have the opportunity to expand your living room, be creative to convert the space showcasing the view. There is no need to cover up your windows. Let your body and mind benefit from the fresh air. However, when you do so make sure to have fly screens for windows and door fly screens so you can still relax without being distracted by pesky flies and winged insects. The good thing about this type of screen is it comes in different trendy designs. Most homes are not bothered to keep their windows open because they are protected by this.
3. Utilize Budget-Friendly Window Treatment
If you are on a tight budget, and spending on new doors and windows will mean extra expense then you can transform your home with the refreshing colors of springtime. You can use blinds, shades, shutters, or elegant draperies. These are perfect pieces for beautifying our homes. Don't forget your screens if you decide to open your windows for longer hours to clear your home of indoor pollutants.
This technique has been practiced in the UK. Households release pollutants that are trapped in their homes, a good thing, https://www.premier-env.co.uk/ helps them with the designs and can be custom made to fit their windows and doors. If you don't want to have the screens installed, they have DIY kits. You're confident to open the windows to let go of the stuffy house smell that can hang in your curtain for a long time. You can get rid of air freshener that contains harsh chemicals.
4. Sunroom Addition
There are a few reasons why a sunroom is an excellent addition to your home. By sitting comfortably and appreciating the world around you, it provides a balance of both indoors and outdoors. It allows you to enjoy natural light with Vitamin D. One of the downsides of warmer temperatures is humidity, sweat, bugs, and mosquitoes. You can enjoy warm nights without bugs, mosquitoes, and other unwelcome visitors. Like the deck, the sunroom is an attractive asset to prospective homebuyers. It will give your home an edge for competition when it comes to property value.
These home additions and improvements are a great way to bring value to your home while giving you more opportunities to enjoy the outdoors. They may be costly but you can't go wrong with these ideas.