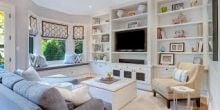 It can be tricky to fit all of your belongings into your home in a way that promotes a calm and relaxing environment. Whether you're a city dweller who's finding that their stuff is starting to encroach on living space or a new addition to the family is adding more clutter, there are a number of ways that you could try and give yourself more room to grow.
Read on for some of our favourite ingenious ways of creating more space at home.
Hallway
There are a few different space-saving ideas if you need more space in your hallway for shoes and coats. You could consider investing in a shoe rack that doubles as a bench for sitting on to take your shoes on and off. Layered coat hooks are also a great way of maximising space. If you own many coats, you could consider rotating your coats to have lighter coats at the top in summer and warmer coats in winter.
Shoe racks are a great space saver. You could get a shoe rack that includes drawers for scarves, hats and gloves so that you have all of your outerwear in one easy to find place.
Find Multi-Use Furniture
Multi-use furniture is excellent for freeing up space. You could consider getting a coffee table with drawers for books and magazines, or a compartment for remotes. A footstool that has internal storage is perfect for keeping blankets and extra cushions.
You could invest in a sofa with storage built-in or a bed with drawers to maximise space. These could be perfect for storing towels and bedsheets when not in use.
Consider Bunk Beds
This option is perfect for growing families. Bunk beds are a great way to give kids that share a room more space to play and store their belongings.
A raised bed could also be a great way to give a box room more space for your kids to enjoy. You could try out bunk beds that come with a desk or sofa underneath for a single kid's bedroom. This will allow them to have space to study, play and relax even in a small bedroom.
Outdoor Storage
If you have bikes and garden furniture, then good outdoor storage is a must. Ideally, you will want to look for secure outdoor storage if you keep things of higher value inside. Check out Shedstore.co.uk. There you can find for an idea of the incredible variety out there. Whether you are using a shed to store bikes, gardening supplies or garden furniture, you will find the ideal storage solution to suit your needs and taste.
You could also consider having a combined shed and summer house. This is a great way to save space in the garden while having a lovely area to sit and relax in the summer months.
Declutter
Setting aside time to declutter regularly can be a great way to maximise space in any home. We can all find ourselves with material items building up in our house at one time or another. A great way to tackle this could be to make a schedule of decluttering that you can stick to. For instance, one week you could focus on the kitchen, one week the living room and so on.
There are many methods you could use to declutter. You might want to consider throwing out or donating anything that you haven't worn or used in six months or a year. You could also consider having a one-in-one-out policy. This kind of approach can be handy for the shopaholics amongst us, as each time you consider buying something new, you could think about what you are willing to part with at the same time.
You might also want to consider paring down the amount of furniture in your home. Take stock and see which items of furniture you really need and use frequently. Donating even one or two pieces can do wonders to add more space to a room.
Make A Meal Plan
If you tend to buy a lot of things you don't necessarily need at the supermarket, one great way to keep on track with purchases is by having a set meal plan each week. You and your family can decide what you want to eat for the week ahead so that when you get to the shops, you know exactly what you need to buy.
Planning out your meals doesn't mean you have to give up spontaneity completely, but it will leave your kitchen cupboard full only of things that you know you will eat.
Make Use Of Mirrors
Mirrors are a great way to make a room look and feel larger. Having a mirror in your kitchen or living room can help give the appearance of extra space and add more reflected light into a room. Having mirrors on walls can also help save the space that a freestanding mirror or vanity would take up.
Utilise Shower Caddies
If you only have one bathroom, then fitting hair care products for all the family can be challenging. While sharing shampoo and conditioner is the ideal for both the environment and your bank balance, most of us don't have the same hair and skin needs, meaning that you will often require plenty of space for different products.
Fortunately, there are a number of storage options for the bathroom that you could choose from. Shower caddies are one great way to give everyone space for their shower supplies. Whether you choose a caddy that attaches with suction cups, one that you can hang from the shower or storage that can be built into the wall of your shower, you're sure to find something that will suit your needs.
Give Everything A Home
By giving everything in your house a place, you can help to decrease clutter and maximise space. This can also help ensure the kids tidy up after themselves and instil good practices in them at an early age. How you want to do this depends on your taste and what you have around the house. Putting items away where they belong will eventually form into a habit that will keep your home clean, uncluttered and relaxing.
Expand Upwards
It is essential not to forget to utilise all the space you can when considering storage. While many of us have plenty of storage at ground level, you should consider ensuring that you're making the best use of space above the ground too.
Shelves can be a great place for books and trinkets that will free up more floor space. In the bedroom, you could consider having wall to wall storage fitted. This will give you space to store your clothes, shoes and other items to free up lots of extra room.
Look Into Storage Organisers
Organisers are useful for any room in the home. You can choose from simple boxes that will slot easily under beds or sofas, to more complex desk and bedroom organisers. These can be great as storage for beauty supplies, hairdryers, toys – anything you can think of! You could choose clear storage so that you can easily find things that you're looking for, or consider investing in a label maker.