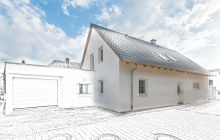 Buying a property is one of the most important investments you can make, which is why it's important to approach the process with an investor's mindset. While you might have your family or work commitments in mind when you think about location, transport links and property sizes, determining whether there is the potential to add value to the property is important too.
Although the property market rises and falls over time, most people consider property to be a relative safe investment. If you buy when prices are low and wait until the market is booming to sell, for example, you can make a significant return on your initial investment.
However, you don't need to be totally reliant on market changes when it comes to increasing the value of your home. By making changes to the property, you can increase its value and safeguard future returns. With this in mind, take a look at these six ways you can add value to your home:
1. Convert the Attic
An unconverted attic is typically wasted space, so why not make the most of it? By turning your attic into a functional room, you can increase the amount of useable space inside the property and add a considerable amount of value. In fact, an en-suite loft conversion can add around 20% to the price of your property, even though the work usually costs drastically less.
Attic conversions are popular for a number of reasons. As well as creating extra space, they're generally relatively low cost, which means you won't need a major budget to complete the work. Furthermore, planning permission isn't typically required for most loft conversions, which reduces the risk of delays. Converting an attic allows you to use the space in any way you choose. From an extra bedroom to a fully-functional home office, you can decide how to make the best use of your new room.
2. Build an Extension
Extending a property allows you to convert outdoor space into indoor space and significantly increase the square footage of your home. Depending on your requirements, a one or two-storey extension may be sufficient for your needs. However, larger, two-storey extensions will typically add the most value to a property.
If you want to get the most out of your extension, it's important to create detailed plans from the outset. Identifying the contractors you'll use, as well as the suppliers, will enable you to access top quality services at a cost-effective price. Most home extensions will require planning permission, so be sure to incorporate this into your plans and your timeline.
3. Add a Deck
Decking enhances the appearance of a property but it also provides valuable outdoor space. When you build a deck, for example, you can maximise the enjoyment of your garden. Additions, like exterior lighting, awnings and even outdoor kitchens only enhance its functionality and can add a surprising amount of value to your property.
When you're building a deck, the material you use will have a major impact on its visual appeal and its durability. While many homeowners use timber, composite decking can be far more long-lasting and robust. What's more – it requires very little maintenance, so you won't need to do much to keep it in great condition.
To maximise the value, use this composite decking calculator tool to determine exactly how much you'll need to complete the project. In addition to an accurate, easy-to-use composite decking calculator, Armstrong Supplies stock a wide range of decking materials. With online ordering and free delivery, you can get your project underway in no time.
4. Turn Your Garage into Living Space
If you have a garage on your property, consider whether increasing its functionality would suit your needs. Most homeowners use their garage for vehicle or general storage. However, if you park your cars on the drive or road, you may benefit from turning your garage into living space instead.
If your garage is attached to the main residence, you can open up the ground floor and increase its square footage by a considerable amount. Alternatively, you might want to retain it as a separate room and use it as a study, downstairs bedroom, entertainment space or playroom.
In some properties, the garage is set away from the residence, although still close enough to be a central element of the home. If so, it can easily be converted into a garden office, craft space, home gym or even just a quiet place to relax.
5. Update the Electrics
Updating the electrics may not offer any aesthetic gain, but it can certainly add value to a property. When you sell your home, potential buyers will be eager to see electrical certificates to confirm whether repairs or upgrades need to be carried out. If your property would benefit from rewiring, for example, this can affect the offers you receive and may put prospective buyers off.
By updating your electrics now, you can ensure that your property retains its value and keeps its appeal. Replacing an old consumer unit with a new residual circuit device can improve home safety, for example, while adding extra sockets can increase functionality. Similarly, installing new extractor fans, updating lighting and incorporating USB wall units into your property ensures it facilitates modern-day living.
6. Replace Windows and Doors
Upgrading the windows and doors on your property can have a positive impact on its value, providing you opt for the right style. Windows and doors should enhance the character of a property, so bear this in mind when you're deciding what materials and colours to use.
As well as boosting the kerb appeal of your property, the right windows and doors can increase security, enhance insulation and offer noise protection. Shatterproof glass can be ideal if you have young children in your home and want to maximise safety, for example, while triple or quadruple-glazing can maximise security and keep your home insulated from exterior noise.
In addition to this, windows and doors can increase the energy efficiency of a property, which is an important issue if you decide to sell your property. The coating on low-E glass reflects heat back into the property, while still allowing natural light to flow in from outside, for example. By using energy-efficient glass in windows and doors, you can increase your comfort will living in the property and boost its value when it's time to sell.
Protecting Your Investment
Regular maintenance and upgrades are an important element of property ownership. While it's easy to overlook minor issues when you're living in a home, they can escalate to bigger problems if they're left unresolved. By undertaking routine maintenance, however, you can ensure that your property retains its value over time.
Furthermore, planned renovations and upgrades give you the opportunity to add a considerable amount of value to your home. If you decide to sell or release equity in the future, this added value with certainly be advantageous. Of course, renovations and upgrades don't just add value to your property. By choosing to make changes that enhance your use of the space, you can create a more comfortable and functional environment for you and your family too.