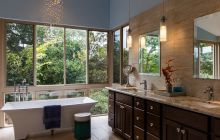 Over recent years the bathroom has had a resurgence. Once seen solely as a room to maintain your hygiene, it is now perceived as a room that can help you maintain your wellness by providing a tranquil space and one where you can relax, especially after a long day. This can be done via remodelling your bathroom to suit your needs better, decorating it in calm colours or placing accessories in it, such as soft lighting or candle, to create the ultimate relaxation experience. If you require inspiration, here are seven ways to make your bathroom cosier.
1. Remodelling
When we move into a new property, one of the first things we consider doing is redecorating, and the bathroom is no different. Unless there is a major issue, we do not initially think about whether our bathrooms' layout is really suited to our needs. They typically include a bath and washbasin. However, in recent years, wet rooms have increased in popularity and show no sign of dissipating at any time in the future. The Government has pledged £573 million in the Disabled Facilities Grant for 2021/2022 to cover home renovations, in which wet rooms are included. These rooms allow those with mobility or physical issues to retain independence when washing. This will also impact local authority expenditure on adult social care, as there is a reduced need for healthcare professionals to visit a person to wash them.
Wet rooms are not restricted to those with mobility or physical issues, however. They are also choosing to be a popular choice due to their ease of cleaning and style for society in general. Fully fitted wet rooms have a shower and shower seat, as Rise Adaptions include in their designs if requested. By providing a free online or onsite consultation, they are better positioned to determine what they can do and at what cost. Space is obviously a consideration, along with your budget, which makes this consultation vital.
2. Shower Types
Perhaps one of the most important decisions you will make, especially if you are opting for a wetroom instead of a bathroom. If you have a wet room installed for someone with mobility or physical issues, you may need to consider what is best for them. For instance, having a digital shower enables you to put the shower on before you're in the room and at the correct temperature. There is no change in temperature if the water is used elsewhere in the house, unlike with a mixer shower, which is a definite bonus if you're living with family and don't like to experience varying temperatures when showering.
If you're looking for easy installation and energy efficiency, then an electric shower may be more suitable. Often found in both bathrooms and wetrooms, electric showers require no additional plumbing to set up, nor will waste hot water as they draw on your cold water supply, unlike power showers that draw on both your hot and cold water. Power showers can produce more significant water pressure which can lead to higher water bills. They can be double the cost of electric showers, so if you are opting for a wetroom or have several people living with you, you may want to consider how cost-effective using this type of battery will be for you in comparison to others.
3. A Mirror
Believe it or not, not all bathrooms have a mirror as a fixture. Mirrors are not only good to check out your appearance or look at your reflection if you are doing your hair, makeup or shaving. They can also be useful to reflect light and provide the illusion of a room having space. Therefore, if you plan to have a bathroom renovated, perhaps consider having a mirror fitted as an accessory. You could typically have one over the washbasin or a floor to ceiling one. The latter can add an elegant, luxurious touch to your bathroom - the choice really is yours to make.
4. Lighting
Of course, you want to be able to see what you're doing, regardless of whether being in your bathroom or bedroom. Good lighting is imperative, particularly when you're in a bathroom, especially if it has no window to let natural light in. This is even more relevant when you are doing things like shaving or your make up, as you want to see precisely what you are doing. However, you may not want a bright light when you are washing or if you need to use the bathroom at night. To cater to these differences, you may decide to opt for lighting that can vary in intensity, ranging from the brightness required to do the things mentioned earlier, and a more ambient one for other times, as opposed to one sole type of lighting.
5. Decor
Although we tend to feel invigorated when washing, it is also a time to relax and gather our thoughts. It is a great feeling to have a nice shower with warm water pulsating on our skin. The right colour scheme can also add to this. Although this is down to personal preference, generally speaking, the darker the colour, the smaller the room. In contrast, a lighter colour provides the illusion of a bigger room, with neutral colours adding a calming effect. Also, the lighter the colour, the less need for brighter lighting.
6. Flooring
Once you have decided upon your walls' colour, you can then choose the flooring that matches or complements it. With a wide range of materials to choose from, you need to consider what will be durable, easy to clean, anti-slip and fits within your budget. You made opt for porcelain or ceramic tiles, both of which are popular choices for a bathroom. However, if you're opting for a wetroom and your budget allows, perhaps pushing out the boat and getting a mosaic to enhance the overall decor will add extra panache and style to it. However, as with any permanent changes to your home, bathroom flooring is an investment because it will be repeatedly used, perhaps several times a day, and so must be able to withstand this use without being ruined through general usage.
7. Speakers
Have you ever started singing when you're having a shower or a soak in your tub? A whopping 89% more people sing in the shower than in the bath. Singing is known for relieving stress and happiness, so it may make sense to have ceiling speakers in your bathroom to make it a place where you can relax. A nice calming song or tune can induce calmness and make your bathroom a cosy place to unwind whilst showering. However, you can listen to more than music, perhaps an audiobook or favourite podcast? With the right sound in your bathroom, you will avoid the tinny echoey sound that poor sound quality can provide. Instead, you will enjoy the dulcet tones coming from the right speakers for your bathroom, which will add the ultimate experience to your washing routine.
Renovating your bathroom can be an unexpected, exciting experience, especially if making it cosy is at the top of your list of priorities. This is because there is so much choice available for you. Once you know your budget, you can create a bathroom or wetroom with a relaxing, calm vibe. Once this atmosphere is achieved, your bathroom or wetroom will no longer just be a place to wash; it will be a room where you can cosily wash in comfort.