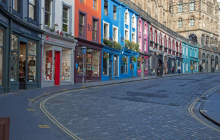 Let's take a look at the property situation in Scotland from the perspective of two very different sets of would-be buyers. The first are young families and the second are retired people.

You have a young family

1. Stockbridge, Edinburgh

Edinburgh has no shortage of neighbourhoods popular with families. Colinton, Corstorphine, Cramond, Leith, Morningside, and New Town are just some of the most popular hunting grounds for young families looking for a new home. However, we're focussing on Stockbridge. Once named the best place to live in the whole of Scotland, Stockbridge residents rate its strong sense of community, picturesque streets (with cobbles aplenty), village atmosphere, and last, but definitely not least, its highly regarded primary school. To anyone moving from south of the border, who may be used to a little more flex in school catchment areas, catchments in Scotland are much more important: almost everyone in state education attends their catchment school.

The popularity of the neighbourhood is reflected in its sold property prices and in keen competition for family-sized homes. Throughout 2020, prices in Stockbridge rose by 8 per cent, taking the average property price to £485,166. Encompassed by that average are a good number of seven figure homes, such as a seven-bedroom Georgian terrace currently on the market for offers over £1,950,000. At the other end of the scale, smaller families might hope to have a chance at buying a two-bedroom flat for offers over £250,000. In between these two extremes are a number of larger three- and four-bedroom flats and duplexes, many with private gardens.

2. Dundee

This small city is home to a population of around 150,000 people, who benefit from what is reputed to be one of Scotland's best work-life balances. The city's beautiful location on the Firth of Tay gives residents easy access to some of the country's best seascapes, while Dundee's job opportunities are far more extensive than its traditional reliance on "jute, jam and journalism" might suggest. Nowadays the video game industry has a firm footing in the city while the new V&A design museum has boosted both jobs and tourism. The city's small size makes it relatively easy to move around on foot, although public transport is also good. Over the last twelve months sold property prices in Dundee averaged £160,217, which represents a 5 per cent increase on the previous year. Housing stock is varied: in the city centre, the area in and around Baxter Park is good for spacious period properties, encompassing both houses and flats, while the West End is the place to look for Edwardian period properties. Hilltown is home to a number of new developments or, for those looking to live outside the city proper, Broughty Ferry is a popular, if often relatively pricey, seaside suburb. Meanwhile, Menzieshill is good for terraced homes and flats.

3. St Boswells, Scottish Borders

If home-working has the prospect of being a permanent fixture, St Boswells is well worth a look. Although too far for comfortable daily commuting to Edinburgh or Glasgow, this large village draws in those who want relatively easy access to both Scotland and England, and to picturesque surroundings with plenty of outdoor activities. Property prices currently average £180,833 and are more than 30 per cent down on the same period twelve months ago. However, as with many other similar locations across the UK, estate agents are reporting a higher volume of enquiries from buyers looking to relocate to more rural areas. Properties currently for sale include a four-bedroom family home overlooking the village green at offers over £475,000.

You're retired

1. St Andrews

Located in Fife on the east coast of Scotland, St Andrews is almost 80 miles north of Edinburgh by road. It's a small town, with a population of just 16,800. However, thanks to its university (Scotland's oldest), its ruined cathedral, its sandy beaches and its long-standing reputation as one of the best places in the world to play golf, it's a town with a truly international reputation. Perhaps unsurprisingly, it's also not a cheap place to live but, for those with the means, there's a good selection of accommodation.

Even throughout the difficult year that was 2020, sold property prices in St Andrews continued their upward trend, rising by 23 per cent to reach an average of £430,303.

Current properties on the market in the town include a two-bedroom penthouse (Price on Application) in Hamilton Grand overlooking the 18th Green of the Old Course.

Additionally, currently for sale are two one-bedroom flats in Argyle Court, a retirement complex in central St Andrews. One is listed at offers over £150,000 and the other at offers over £155,000. Needless to say, their relatively modest price tags reflect the fact that these are retirement homes, which the majority of potential purchasers will not be eligible to buy.

2. Tobermory

Well known to many parents of young children thanks to its reinvention as Balamory in the TV programme of the same name, Tobermory on the Isle of Mull is just as appealing to an older demographic. With a long history dating back to the late eighteenth century, rumours of the wreck of a Spanish galleon in the bay, superb wildlife including golden and white-tailed eagles, and, of course, the brightly-coloured houses that line the road towards the pier, the town's tourist information leaflets are jam-packed. Ferries connect the island to Oban, the Ardnamurchan peninsula, and Lochaline, although public transport on the island itself is sparse enough to make a car essential. With a property selection that includes flats, bungalows, and houses, Tobermory offers sufficient choice for most tastes—and homes with sea views come up for sale reasonably frequently. Current offerings include a seven-bedroom seafront maisonette at offers over £375,000. For those so inclined, building plots with planning permission may also be an option.

3. Moffat

This one-time spa town in the Annandale Valley is now best known for its walking, fishing, and for being Europe's first "Dark Sky Town". House prices currently average £193,376, which is broadly in line with the figure from twelve months ago. In addition to a number of very large detached properties, homes currently for sale in the town include several one- and two-bedroom apartments at the Moffat Academy development, which is aimed squarely at buyers aged 50 and over.
Nethouseprice newsletter
You can sign up to our newsletter and join Nethouseprice's community of over 160,000 members who get regular property tips, relevant offers and news, click here http://nethouseprices.com/auth/user-register
Source: Nethouseprices.com 08.02.21