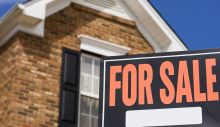 (and what you can do about it)

Deciding to sell a property is often difficult. Even if it isn't, the logistics and admin involved can be a real headache. As a result, few sellers relish the idea of having their property on the market any longer than absolutely necessary. Of course, sometimes this happens and a property refuses to shift. Let's take a look at why this might happen and what you can do about it.

1. You haven't waited long enough
Average selling times vary across the country and even between geographically-close neighbourhoods. As well as location, property type, whether it's a buyers' or a sellers' market, and the economic forecast are all relevant factors. If you're concerned, your estate agent should be your first port of call. Hopefully they can reassure you, but, if you're still worried, current average selling times (usually measured from date of listing to date of completion) are easy to find online.

2. Stamp duty holiday
With the stamp duty holiday due to expire on 31 March 2021, estate agents and industry analysts have been warning for some time that the window for benefitting from the saving the scheme offers is closing. At the moment, it's almost inconceivable that any buyer who is not already well underway with a purchase can benefit from it. Consequently, as a seller you might find that many buyers are currently holding off from making an offer until they know whether or not the government will extend the scheme. As a result, this is one situation where you may have to bide your time.

3. Unsatisfactory particulars
Poor property particulars are a common gripe among buyers. Whether it's dark, badly-staged photographs, an over-reliance on a fish-eye lens, a listing that omits a floor plan or room dimensions, or an accompanying description that swerves the factual in favour of the overly-effusive, there's a good chance that the particulars are deterring buyers from viewing. If you're concerned, compare your property's particulars to those of others on the market and perhaps ask a friend or colleague for their take on your home's listing. Don't be afraid to challenge your agent if something is amiss. Adding a floor plan or room dimensions is a relatively easy fix, but an agent should also be prepared to retake photographs if the current batch do not showcase the home to its best advantage.

4. Tired décor
While décor rarely boosts sold property prices, it absolutely can influence whether a buyer is prepared to view and/or offer on a home. For some people, the prospect of having to update and redecorate a property is more than they are prepared to tolerate. You may be willing to wait for the buyer who will see past the terracotta wallpaper or flaking paintwork, but, if you're not, a trip to the DIY store and a weekend or two wielding a paintbrush may just turn a viewer into someone who makes an offer.

5. The property is not selling a lifestyle
While you might be selling because you've outgrown your home, it's important to remember that you need to make someone else want it. Frequently, this means selling a lifestyle. For example, if yours is a small city centre flat, you're likely to be appealing to a young professional buyer. However inconvenient, this may mean temporarily removing toy boxes or even a cot, and perhaps staging the kitchen to suggest leisurely weekend brunches or evening drinks.

6. Too much clutter (or not enough)
Almost anyone who offers advice on how to sell a property emphasises the importance of decluttering—and with good reason. Many buyers are unable to see past someone else's clutter to imagine themselves living there. However, the opposite can also sometimes be true. A property that's been completely depersonalised can be just as unappealing. Adding a few homely touches, such as a couple of pictures, some books, and house plants, can help make an otherwise blank canvas feel like a home. If you're selling an unfurnished home, it might help to rent furniture; several businesses specialise in providing this service and can advise you on how to present your property to the best advantage.

7. Unkempt gardens
With outdoor space more important than ever, you might think that an unkempt garden is less of a problem. However, you don't want a buyer to think that your garden is too high-maintenance. Equally, a well-tended and attractive garden can be a deciding factor for a buyer interested in more than one property.

8. Parking
If your home doesn't have private parking, you may find it harder to attract a buyer. However, if this is not an unusual situation for your area, you may be able to make your property stand out from the competition if your listing highlights where parking is available. Perhaps there are garages to rent locally or guaranteed residents' parking in a nearby carpark. Whatever the situation, spelling it out on the property listing ensures it's one less thing for a buyer to wonder about. Mentioning easy access to good public transport might also swing the balance in your favour.

9. The wrong estate agent
All estate agents are not created equal. While their professional skills should be similar, their pool of potential buyers and their marketing reach can be very different. Think hard about where your property is being advertised and whether a different agent might help. For example, an aspirational property in a desirable area might attract buyers from a wide geographical area and so require an agent with national reach.

10. Too high an asking price
In many ways, this is the elephant in the room for many sellers. While many people have an idea of what their property is worth, this will not necessarily translate into what someone else will be willing to pay for it. Of course, although it's an estate agent's job to guide a seller towards setting an asking price that's in line with current market conditions, valuations can sometimes be inaccurate or the seller may be reluctant to accept a particular figure. If you think you might fall into this second category, it's important to be honest with yourself and open to the idea of lowering your asking price—unless, of course, you are not set on selling. Equally, if you worry that your agent has been overly optimistic, ensure you seek other valuations and also (if possible) compare your property's asking price to recently achieved sold property prices in the same area.
Nethouseprice newsletter
You can sign up to our newsletter and join Nethouseprice's community of over 160,000 members who get regular property tips, relevant offers and news, click here http://nethouseprices.com/auth/user-register
Source: Nethouseprices 12.02.21