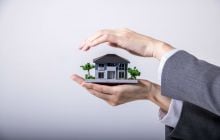 Whether you're renting a flat or already own the home of your dreams, you should have some protection in case things don't go as planned. While it's not a mandatory requirement, insuring your home will help protect your property from damage that is a result of theft, fire, flooding and other unfortunate circumstances. Finder reports that at least 6 million homes in the UK don't have home insurance. Aside from paying out-of-pocket costs for damages to your home, not having home insurance might also default your mortgage and deem you liable for any accidents that happen to your property.
If you're not familiar with the basics of home insurance, worry not! We've drafted up a quick guide to help you understand what home insurance is and how to choose the right one for your home.
What does home insurance usually cover?
Home insurance is split into two types: content and building. The coverage that you'll get is largely dependent on the type of insurance that you have. For contents insurance, the cost of repairing or replacing your furnishings and possessions (such as computers, TVs, furniture, jewellery, clothing) should be covered by your provider. On the other hand, building insurance covers your home's structure — and this includes the roof, walls, and windows, as well as permanent fixtures. However, your property's home insurance policy will only be activated in certain unfortunate situations. Fortunately it is easy to get coverage for everyday accidents and breakdowns. HomeServe highlights how you can extend the coverage of your insurance to protect your boilers, pipes, electrics, and appliances from accidental damage and repair mishaps. This is something to consider, since such appliances can be hefty investments, and having coverage ensures your home will continue to run smoothly despite unexpected issues.
How much does home insurance cost?
The Association of British Insurers (ABI) notes that the cost of contents insurance policies averages at £59.22 per year. They also approximate the total value of possessions owned by all UK households at £950 billion, with almost £266 billion in possessions unprotected. Meanwhile, buildings insurance, which covers the property and different fittings and fixtures, cost £111.83 a year. The price of buildings insurance has increased in recent years due to the more apparent environmental changes brought by climate change.
If you want to cut down the cost of your home insurance, the ABI notes that you should pay your premium in one go, maintain a no claims discount, and combine your buildings and contents insurance. You should also try to avoid getting additional coverage that you don't need, and be more precise in calculating the value of your contents.
How can I choose the right type of insurance for my home?
When choosing a home insurance policy, be sure to look around as this will increase your chances of finding a competitive deal from different insurers. Additionally, make sure that you understand what kind of property you have in order to figure out what kind of insurance you need. Your insurance can vary depending on if you're a mortgage holder, homeowner, renter, or student. Lastly, be sure to carefully read the terms of your policy, so you won't be caught off-guard if you make a claim.
Are you looking for more information on sold prices, for sale and rental property listings, or instant valuations of your home? We offer all of that, and more, here on Nethouseprices.