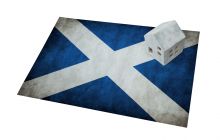 Even if you're an old hand at renting out properties, it's helpful periodically to delve into the ins and outs of what this entails. The law as it affects landlords in Scotland is rarely static and the onus is on you to keep up with any changes.

Q1: What are my legal responsibilities as a landlord?

A: You must:

- Register with the local council covering the area where your rental property is situated.

- Ensure the property has a current Energy Performance Certificate.

- Ensure the property meets all current safety requirements with respect to gas, electricity and carbon monoxide.

- Carry out a legionella risk assessment.

- If the property has a private water supply, comply with any legal requirements relating to this.

- Ensure the property meets the 'Repairing Standard'. In other words, it must comply with a minimum physical standard set out in the Housing (Scotland) Act 2006. This includes ensuring that the property is wind- and water-tight, that its structure and exterior are maintained, and that its utilities are in a good state of repair and working properly.

- If you have a tenement property, ensure you have suitable buildings' insurance.

- Check whether you need an HMO licence.

- Within reason, permit adaptations to the property to allow disabled people to live there. Your local council may be able to provide further guidance on what constitutes reasonable adaptations.

- Provide your tenant(s) with your name and address.

- Register your tenant's deposit with an approved tenancy deposit scheme within 30 days of the tenant moving into the property. Currently, Scotland has three approved such schemes: Letting Protection Service Scotland, Safe Deposits Scotland and myldeposits Scotland. You must also tell your tenant which scheme is holding their deposit.

- Provide your tenant with a signed copy of the tenancy agreement and ensure you keep another signed copy for yourself.

- Give your tenant the right information notes for their tenancy. This means all the terms that apply to your tenancy plus whichever is applicable out of either the 'Private Residential Tenancy Statutory Terms Supporting Notes' or the 'Easy Read Notes for the Scottish Government Model Tenancy Agreement'.

- Give the tenant the right notice (24 or 48 hours) before entering the property, and ensure you always respect their legal right to peace and quiet.

- Pay any income tax on the income from letting the property.


Q2: How do I increase my tenant's rent?

A: Whether or not you are permitted to do this—and how you can do so—depends on the type of tenancy.

- Tenants with an assured (fixed-term tenancy), typically for six or twelve months, are protected from rental increases until the end of the fixed term period UNLESS the tenancy agreement makes provision for an increase or the tenant agrees to accept one. After the expiry of the fixed term, you can give your tenant written notice of a proposed increase via an AT2 form. Each tenant can receive a maximum of one AT2 form each year. Alternatively, you can give the tenant a Notice to Quit and then give them a written notice on an AT1(L) form to change the terms of the tenancy, including the rent.

- Tenants without a private residential tenancy (those that started prior to 1st December 2017 and have not been subsequently converted to a private residential tenancy) are protected from rental increases.

- If your tenant has a private residential tenancy, you are allowed to increase their rent once during every twelve-month period. However, you must first give them three months' notice using a formal Rent Increase Notice. The tenant then has 21 days from receiving the notice to refer the proposed increase to the rent officer. The rent officer will respond by issuing a provisional order for the amount by which you can increase the rent although the tenant then has a further 14 days to request a reconsideration of the provisional order.

- If you are a registered social landlord, you must consult with your tenants about any proposed rent increase, take their views into account and then give them a minimum of four weeks' notice before allowing the increase to take effect.

- If the property you are renting out is in a rent pressure zone you must check how much this limits rent increases.


Q3: I know that if I want to end a tenancy, I must do so in the way prescribed by law. However, how has the pandemic affected this?

A: Go to Gov.scot to read the most up-to-date guidance for landlords and letting agents. It explains the effects of emergency legislation that temporarily extends the notice periods landlords must give to tenants. In the majority of cases, minimum notice periods now stand at six months. Certain exceptions to this include situations involving antisocial or criminal behaviour. You should also note that all grounds for eviction from private rental properties are currently discretionary. In a nutshell, this means that although you may have a valid ground to evict a tenant, the First-tier Tribunal for Scotland (Housing and Property Chamber) may still decide that it is unreasonable to issue an eviction order.


Q4: I'm nervous about sold property prices. How do I protect my property's capital value?

A: This is an understandable—and sensible—concern. Even if you're managing your property primarily to maximise its rental income, at some point you may want to sell it. This means that it's prudent to keep an eye on its capital value. Hopefully, this figure will appreciate, but, as with most investments, this is not guaranteed. While the wider economic picture plays an important role in your property's value, so too does keeping it in good repair and suitably decorated. This can be difficult to achieve in a tenanted property although many tenants are happy to accept a little disruption if it is to ensure that their home is properly maintained. Alternatively, some landlords slot the most disruptive (and obviously non-urgent) jobs in between tenancies even though this inevitably means losing some rental income. These periods can also be a good opportunity to ask an estate agent to value the property if you are thinking of selling it in the near future. While tracking activity in the local market and, especially, recent sold property prices can be a useful way of gauging your property's marketability, there is little substitute for seeking professional advice. An agent with a strong track record of selling to landlords (and perhaps also of managing rental properties) may be particularly well-placed to assist.
Nethouseprice newsletter
You can sign up to our newsletter and join Nethouseprice's community of over 160,000 members who get regular property tips, relevant offers and news, click here http://nethouseprices.com/auth/user-register
Source: Nethouseprices 19.02.21