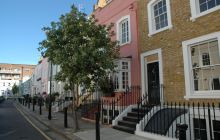 An unseasonably busy January, with estate agents reporting more enquiries from interested buyers than ever before and more homes going under offer…Average price rises of 10 per cent in the 12 months leading up to November 2020…Increasing competition for homes with private outdoor space…Homes with "Zoom-ready" home offices finding buyers faster.

The above give you the gist of just some of the most recent media reports looking at the state of the London property market. However, does this mean that 2021 is the right year to be buying in London? We take a look at some of the factors that may encourage buyers to go for it or, alternatively, might give them pause for thought.

1. Brexit
Although Covid-19 has perhaps superseded Brexit as the most immediate concern at the top of many minds, this does not negate the effect Brexit has had on the property market. The long-lasting uncertainty on whether or not the UK and the EU would reach a deal, and what it might look like, affected consumer confidence. The consequential stagnation in sold property prices in London was unsurprising as sellers proved reluctant to market their homes and buyers preferred to bide their time. However, early signs are that sellers are starting to return to the market despite ongoing fears that buyers might continue to exercise caution in light of prospective job losses in the financial services' sector.

2. Mortgages
While interest rates might remain low (averaging at 2.52 per cent) and buyers with healthy deposits and good credit records have access to some excellent deals, the mechanics of obtaining a mortgage are trickier than ever. This is thanks in no small part to a significant backlog that built up over the first national lockdown last year. As a result, the average sale is currently taking more than four months to reach completion. Meanwhile, buyers with less healthy deposits (10 per cent or lower) are struggling to access a good variety of deals. Some industry experts suggest that this situation will change when the stamp duty holiday ends and lenders switch focus to products aimed at first time buyers in anticipation of them making up a greater share of the market.

3. Furlough and job losses
With the furlough scheme due to end in April, it's possible that some of those currently using it to pay their mortgage may be forced to sell or rent out their homes. If this happens to any great extent, the London market could see an influx of properties, which, in turn, may push down both rental and sold property prices. Conversely, if the furlough scheme is renewed until lockdown is ended and employers are allowed to operate normally, the property market is likely to continue steering a relatively steady line.

4. Leaving London?
To a greater or lesser extent, London's population has never been stagnant. The capital inevitably attracts young people looking for work, while older ones, especially those with families, are more likely to move out in the search for more space and a quieter pace of life. Now, PwC is predicting a demographic shift that will see the capital's population actually drop for the first time in three decades. Inevitably, this will affect the demand for homes. However, this prediction ignores the possibility of younger people returning to London in large numbers once the pandemic is under control.

So, on the basis that the factors listed above are not so heavily weighted against buying and selling property in the capital, what are today's London buyers looking for from their new properties? London-based estate agents seem to agree on the importance of the following five criteria.

1. Interior space
Although something of a conundrum in one of the world's most densely populated cities, the need for dedicated workspaces for homeworking is driving many moves at the moment. Buying a property with a private workspace for each member of the family may be beyond many budgets, but a home that offers scope for at least one home office is increasingly seen as non-negotiable.

2. Outside space
With exercise outside the home no longer seen as a sure thing, many Londoners are rethinking their traditional reliance on their city's parks and garden squares. Homes with private outdoor space are now more in demand than ever, with some agencies reporting a 200 per cent rise in buyers listing this as a priority.

3. Views
Lockdown and the sudden imposition of homeworking means many of us are spending far longer at home than we could have envisaged only a year ago. As a result, the views from our windows really matter. Flyovers, blank brick walls and busy roads are out, with increasing numbers of would-be movers specifying that they want at least one window to enjoy a nicer view.

4. Local amenities
Less commuting means less time spent in Central London or other neighbourhoods away from home. Local shops and—for when they are allowed to open again—restaurants, gyms and the like are assuming an importance they haven't enjoyed for decades. And, for those homebuyers looking to purchase a property in a purpose-built development, the presence of an onsite gym, swimming pool and shared workspaces are increasingly common requests.

5. A quiet neighbourhood and a quiet home
Working from home can be hard for all sorts of reasons. However, busy train lines or roads, aircraft noise and nearby construction work are all giving some prospective buyers pause for thought. This is also the case for properties with poor sound insulation either within the property itself or its immediate surroundings.
Nethouseprice newsletter
You can sign up to our newsletter and join Nethouseprice's community of over 160,000 members who get regular property tips, relevant offers and news, click here http://nethouseprices.com/auth/user-register
Source: Nethouseprices 19.02.21