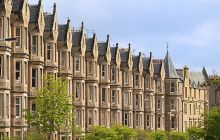 When thinking of Scotland's most expensive homes, it's perhaps remote shooting lodges and grand country estates that come to mind. And while these properties undoubtedly exist and can change hands for very large sums of money, the majority of the country's £1 million-plus properties are located in its cities.

At the start of 2020, the estate agents Savills reported that, during 2019, it had recorded 196 residential property sales of £1 million-plus properties in Edinburgh alone. This figure represented a 53 per cent rise on sales in 2018 and exceeded even the 145 recorded in the previous record-breaking year of 2007. Meanwhile, across the whole of Scotland, the firm recorded 287 sales in this category. Although many of the buyers were Scottish, Savills reported increasing interest from those elsewhere in the UK as well as foreign buyers, especially those from the USA, Australia and Japan.

Of course, only a matter of weeks after Savills made its findings, Scotland was feeling the first effects of the Covid-19 pandemic. However, contrary to initial fears, demand for the country's priciest properties did not wither away.

A recent report compiled using data from Registers of Scotland looks at all streets that have seen at least five property sales between January 2015 and September 2020, and ranks them according to property value. A cursory examination of the list is enough to indicate that the market for the country's £1 million-plus homes is buoyant although, obviously, it's necessary to look at the details of individual transactions to gain a clearer idea of how the pandemic year of 2020 has affected this section of the property market.


Regent Terrace, Edinburgh
The majority of Scotland's most expensive properties are located in Edinburgh, with Regent Terrace currently holding the crown for the most expensive street. With average sold property prices at £1.75 million, it's clear that buyers remain happy to pay a premium for one of the 34 3-bay terraces on this William Playfair-designed street. As well as sitting within the part of the city that's designated as a UNESCO World Heritage Site, all the properties on Regent Terrace are category A listed buildings. The majority are still single-use houses but a few are now subdivided into flats. As well as the history and the prominent location within the city, it's the protected views overlooking Arthur's Seat, Holyrood Park, Holyrood Palace, the Scottish Parliament Building and the Old Town that draw in buyers, tenants and holidaymakers.

Three of the properties changed hands during 2020: one 2-bedroom flat sold for £530,000 while a 7-bedroom house went for £1,750,000 and a second house fetched £2,500,000.


Golf Place, St Andrews
The current holder of Scotland's second most expensive street is Golf Terrace in the ever-popular seaside location of St Andrews. Close to both the castle and the university, the street also enjoys close proximity to the world-famous St Andrews Golf Course. Would-be buyers can expect to pay average sold property prices of £1,732,000 for a home here.

Four properties are recorded as having sold on Golf Place during 2020. Prices paid ranged from £925,000 to £2,000,000.

Benefitting from the same panoramic coastal views as Golf Place, the nearby street known as The Scores is St Andrews' second priciest property location. With homes averaging £1,104,000, The Scores only just misses out on a place in Scotland's Top 20 most expensive property locations. Two properties sold on The Scores during 2020. One fetched £827,835 and the other £1,200,000.

Drummond Place, Edinburgh
It will perhaps be of little surprise that, Golf Place aside, the other nine spots in the Scottish top ten most expensive property locations are all in Edinburgh. Napier Road in EH10 takes third place with average prices of £1,541,000. Next is Northumberland Street in EH3, which averages at £1,480,000. In fifth place is Ann Street in EH4 with an average price of £1,474,000.
Sixth place sees a new entrant: the EH3 location of Drummond Place. Properties there currently go for an average of £1,362,000. Perhaps some buyers are attracted by the fact that David Bowie once called this street home or perhaps it's the classic architecture or the enviable location that makes properties here so appealing. Unsurprisingly, like homes in the majority of streets in the million pound-plus list, properties in Drummond Place come up for sale relatively rarely.


Earls Gate, Glasgow
Glasgow's top entry in the million pound-plus property list comes in the form of Earls Gate in G71. Located in the affluent Bothwell suburb, the street is home to a number of prominent footballers. Average sale prices currently stand at £1,171,000. However, anyone hoping for a home there may need to be patient as this is yet another street on which properties rarely come to the market.


Manse Road, Glasgow
Away to the north-west of Glasgow in the G61 postcode, Manse Road is the city's other entry in the £1 million-plus top ten. The average prices are £1,162,000.


Rubsilaw Den South, Aberdeen
Although Aberdeen's property market has struggled somewhat in recent years thanks to the shaky oil market, it remains home to valuable postcodes of its own. Top of the Granite City's priciest list is Rubislaw Den South, where homes average at £1,133,000.

Leven, Fife
Property hunters looking for £1 million-plus homes outside the country's major cities may like to look in the Fife town of Leven. Homes in the popular Liberty area (postcode KY9) currently fetch average prices of £1,084,000.


Castles, estates and shooting lodges
As already mentioned, Scotland is also the location of a huge number of large rural (and often historic) estates. When these properties go up for sale, they frequently do so at prices that eclipse anything mentioned in the top ten £1 million-plus list. Take Seton Castle, for example. This 13-bedroom 18th-century Georgian castle in East Lothian, once said to have been a favourite of Mary Queen of Scots, went on the market last year for offers over £8 million. It's still waiting for its perfect buyer. Meanwhile, the Cassillis Estate in Maybole, Ayrshire, also has 13 bedrooms, a history that dates back to the fifteenth century and is for sale at offers over £3 million.
Nethouseprice newsletter
You can sign up to our newsletter and join Nethouseprice's community of over 160,000 members who get regular property tips, relevant offers and news, click here http://nethouseprices.com/auth/user-register
Source: Nethouseprices 25.03.21