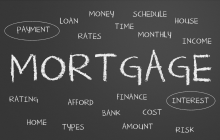 If, as for many people, you need a mortgage in order to finance a property purchase, you're bound to have questions. With a variety of mortgage products on the market, one of the most fundamental questions concerns what kind of mortgage you should choose and why. We look at some of the basics to help you answer this question.

To begin with, let's look at what your monthly mortgage payments go towards.

Repayment mortgage

With a repayment mortgage, every month you pay interest on your loan as well as repaying part of the capital. As the months and years go by, a greater proportion of your monthly payment will be directed towards repaying the capital loan. At the end of the mortgage term, you should have repaid the entire loan. You will then own the property outright.

Interest-only mortgage

With a repayment mortgage, your monthly payments represent only the interest accruing on your loan. You'll need to set up a separate scheme in order to ensure you can repay the capital when the mortgage term expires. In the past, many people used endowment policies to save up to repay the capital, even though there was no guarantee that the mature endowment policy would result in sufficient funds to repay the entire debt. Alternatively, some interest-only mortgage-holders would plan to sell when the mortgage term expired, even though this strategy can backfire spectacularly in times of falling sold property prices. Partly as a result of an endowment mis-selling scandal that has its origins in the 1980s, mortgage providers became increasingly uncomfortable with interest-only mortgages and they are now difficult to obtain.

Once you've decided on a repayment or an interest-only mortgage, you can tackle the next set of questions. In particular, do you want a fixed-rate or a variable rate mortgage?

Fixed-rate mortgage

With a fixed rate product the interest that you pay on your loan remains at the same fixed rate for a set number of years. Although typically most fixed-rate mortgages set that fixed period at two, three or five years, a number of 10-year fixes have also recently come onto the market. Perhaps it won't surprise you to learn that the lowest interest rates tend to correlate to the shortest fixed periods. However, many people are happier paying a little more for the peace of mind that they get from knowing exactly what their repayments will be over a longer period of time.

If you're tempted by a fixed-rate mortgage, you should remember that you won't benefit from any drop in interest rates. You're also likely to be subject to charges if you want to leave the policy before the end of the fixed rate and, similarly, you'll probably find that you can't make overpayments. In addition, you'll need to plan in advance when you're coming up to the expiry of your fixed-rate if you're not to end up on your lender's standard variable rate. As a rule, it's sensible to begin looking for a new fixed-rate two to three months before your current fix ends.

Variable rate mortgage

Repayments on variable rate mortgages rise and fall in line with interest rates. When rates are low, this has obvious attractions. However, when rates rise, a mortgage holder needs to be confident of meeting the increased repayments.

There are three main types of variable rate mortgages:

1. Standard variable rate

This tends to be the least competitive, and hence most costly option for a mortgage holder. It's the normal interest rate charged by the mortgage provider to its mortgage customers. Its chief attraction is its flexibility as it allows a mortgage holder to make overpayments or to switch products at any time. Set against this is its uncertainty. You have no guarantee that your interest rate will not rise.

2. Discount mortgage

This is a product that offers a discount off a lender's standard variable rate mortgage. Most discount mortgages penalise borrowers who leave during the discount period, which, in any event usually only lasts for a year or two. After this time, the rate rises to the standard variable rate although there's then nothing stopping the borrower from looking for another discount mortgage. All discount mortgages are not equal, and some lenders will inevitably offer more attractive products than others. Ferreting out the best ones can be tricky, involving considerable research, as available products can change daily.

3. Tracker mortgage

These mortgage products move in line with another interest rate (usually the Bank of England's base rate) plus another few percentage points. Most tracker mortgages have a limited shelf life of between two to five years, although it is possible to find some that last for the lifetime of the mortgage.

You might also want to explore capped mortgages (where your interest rate rises and falls in line with the lender's standard variable rate, albeit while subject to a cap that ensures it cannot rise beyond a certain level) and offset mortgages (whereby your savings are linked to your mortgage account and work as an overpayment that's designed to clear your mortgage debt early).

The type of mortgage you choose may depend on where you are on the property ladder, whether you're buying as an owner-occupier or a buy-to-letter and, of course, on your financial situation and appetite for risk.

First-time buyers and those moving up the property ladder

Applying for a mortgage is one situation where size really does matter. As a rule, larger deposits equate to lower mortgage interest rates. For maximum benefit, aim to have a 40 per cent deposit, although deposits that are larger than this will mean you need to borrow less, they won't result in further cuts to the interest rate that you're offered.

Buy-to-let purchaser

This is the category of buyer who is most likely to be interested in an interest-only mortgage. The caveats outlined earlier still apply, although a mortgage holder who intends to pay off a mortgage by selling is less likely to suffer when sold property prices fall, if they can realise the necessary sum by selling an alternative property from their portfolio.

Finally, if you're an existing homeowner who wants to rent out the property you currently live in, note that you'll need to notify your mortgage provider and that you're likely to need a specialist mortgage product.

Whatever your circumstances, there is little substitute for specialist advice from an independent mortgage broker.
Nethouseprice newsletter
You can sign up to our newsletter and join Nethouseprice's community of over 160,000 members who get regular property tips, relevant offers and news, click here http://nethouseprices.com/auth/user-register
Source: Nethouseprices.com 29.03.21