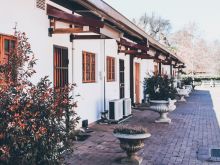 Hygiene has become a hot topic in the last year with not only how we interact with each other but how we interact with the world around us. This extends to our working spaces, new builds, buy to let properties and living spaces. In the future, an area of interest will be how new homes can be built with hygiene in mind.
Building Materials
Buildings are often constructed prioritising rapid turnover and low cost. This can result in poorly constructed buildings with issues such as mould, damp and other conditions which result in poor health. With more of a focus on global health than ever before, construction will shift to prioritise human health including easy fixes such as increased ventilation, better construction and use of less toxic materials.
Efforts are being made to prioritise physical health of the people who live and work inside the buildings. This includes maximising light, noise reduction, temperature control, better water quality and improved air quality.
Purpose-Built Layouts
Layouts have historically acted as a template for future design. Now, as homes double up as offices, schools and gyms, layout is becoming more flexible. People are starting to adapt their layout to suit their purpose. This could mean something as standard as knocking down walls to something more out of the ordinary such as placing bedrooms downstairs to optimise light. In addition, we may find more spontaneous hand washing stations (see Trovex) to be placed around the house, whether it is in entrances, garages or on the side of the houses.
Utility Rooms Revisited
Open-plan layouts have been fashionable over the last couple of decades. Yet, separate rooms are experiencing a resurgence. Purpose-built small rooms such as pantries and utility rooms are experiencing a renewed sense of value. It defines clear boundaries for different spaces and helps to stop cross-contamination between different functional areas of the home.
Designated Areas
Keeping paperwork, school backpacks, toys and outdoor clothing in a designated area will help to keep areas separate and keep indoor spaces more hygienic. The kitchen, for example, should be a space of food preparation only. Other items should be kept away from the kitchen in order to keep it at its cleanest and most hygienic.
Entering the Home
The entrance of a house is the greatest opportunity to bring outdoor dirt and germs into the home. Whilst practices such as taking off shoes and washing your hands have become fairly widely-accepted, there are other efforts than can be made to implement this practice of cleanliness. Building a small indoor porch in which outdoor shoes are removed is a good hygiene practice. Using a different material for this flooring can also be an additional step to separate the two zones. Surfaces which are naturally antibacterial, such as copper or cork, will help this space double up as an area of decontamination before entering the indoor space.
Contact with Surfaces
When we think of a sterile environment, our thoughts immediately turn to the artificial and clinical setting of a hospital. Yet, implementing sterility in the house to reduce the threat of contamination and disease does not need to look like a clinical space. Thus, we must think of ways to make the home sterile without sacrificing the sense of homeliness and comfort. Regularly wiping down surfaces, soap dispensers and high contact areas such as taps and door handles should be common practice. Implementing antibacterial or easy-to-clean materials for surfaces will also play a role in this.
Pets At Home
Keeping an animal in the house has clear implications for cleanliness and hygiene. Often overlooked, pet bedding should be regularly and thoroughly cleaned, just as you would with human bedsheets. These areas are a hotbed for dirt, fur as well as risks such as parasites and ticks. Washing them regularly will also reduce the level of dander and dust. Storing pet food carefully, and keeping it separate from human food, is crucial due to the potential health risks they carry. Washing pet food and water dishes regularly is key to stop the build up of saliva and mould. Also take care to keep the bowls separate from the tap when washing them.