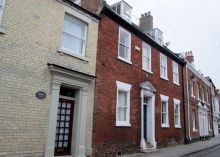 Picture this: you're ready to head to work, but the minute you step outside and hear the door click behind you, you realize that your keys were left inside. A frustrated "nooo!" will probably be your first reaction. Being locked out of your house is an extraordinarily inconvenient situation that can happen to anyone. These scenarios can happen when you're in a hurry because you're late or simply because you didn't get enough sleep last night and you're not fully focused. If you happen to face this problem, don't panic! Read on to learn six great tips on how to act when you get locked out of your house.
Seek Help
The moment you figure out that your keys are inside your house, you should contact someone to help you. Ideally, the first person you should contact is your landlord, your partner, or your roommate as they will obviously have a spare key. However, if your landlord isn't available or you live alone, contact a friend or a family member with whom you might have left a spare key. Additionally, don't be shy to knock on your neighbour's door and ask them to help you or offer a warm place to stay until you're able to get back into your home. Therefore, make sure that you're friendly with your neighbors in case you face a similar situation on a snowy evening.
Contact a Locksmith
If your friends bail on you or you find out that your neighbors are on vacation, don't break your door just yet. Look no further than your local locksmith services who are available 24/7 and will handle your situation promptly. Make sure you contact qualified and experienced locksmith services that can deal with your emergency, no matter how challenging it is. If you live in Southampton, UK, you can easily find trusted services. As suggested by the folks at Locksmith Southampton, you should look for one that offers great prices in addition to excellent and timely work. Furthermore, locksmiths have specific tools that help them deal efficiently with locked doors while keeping your door lock undamaged.
Check Your Windows
Being locked out of your house can be the moment you utterly wish that you left your windows open or at least one of them. Generally, leaving your windows open while you're away is a bad idea as it will make a perfect outlet for thieves to break into your house easily, you should always secure your home. However, if you're locked out of your home, an open window will be your way out of this problem. If your house has a back door, make sure you check it too.
Detach the Doorknob
Doorknobs come in various models that dissemble differently. You can unscrew the knob and hinge by removing all the bolts and screws using a screwdriver and paperclip. As soon as you enter your home, make sure you put everything back in place to secure your home from possible intruders.
Use Your Credit Card
Burglars and robbers found their way to break into people's houses using credit cards, so why shouldn't you? You can sometimes jimmy the door open while swiping your credit, debit, or visa card through the gap in your door lock. Make sure you jiggle the doorknob at the same time you're swiping the card to crack the door open. This process needs a thick card, so don't use loyalty or gift cards as they will break.
Break in
The last option you want to go with is breaking into your home, but you should do it if barging in is the only option you're left with. If you don't want to make a scene, especially if many people are watching, break in through the backdoor or a window. Giving a powerful kick to your door near the door handle is often enough to crack it open. Try not to break the window glass as this can have dangerous consequences.
It is extremely frustrating to be locked out of your house, but you can take some precautions to prevent this from happening again. Install a smart door lock that doesn't require a physical key since it can be easily controlled through your smartphone. Give a spare key to your trusted neighbor or a nearby friend who can quickly come to your aid, should you lock yourself out again. Keep the above tips in mind, and try not to forget your keys at home.