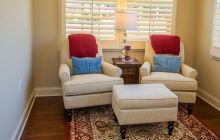 The difference between a regular house and a beautiful home is in the tiny details. The quality of a home can be easily elevated with simple, functional, and stylish skirting. It can add that extra fine finish to a home's interior as well as protect your walls.
What Is A Skirting Board?
A skirting board is a panel or strip that acts as a border or frame between the wall and the floor of your home. It comes in a variety of materials such as metal and the more popular wood. It has many functions. It is used as an adornment to add character to your interiors. And on the more practical side, it serves as a shield to keep the base of your walls from shoe bumps, water from mopping, and furniture dents. Another accessory that can protect your wall from furniture is a dado rail, also known as a chair rail. This is found roughly around the centerline of a wall, or chair height. You can also check skirting from Metres Direct as a great source of inspiration. Looking at a wide variety of skirting options will help you decide on what will best fit your wants and needs for your home.
Origins Of Skirting Boards
Ever wonder where some of our modern interior design aspects come from? Skirting boards, for one, were first evident in the Victorian era. They were used to add grandeur to the magnificent interiors of that generation while keeping the walls protected, and in some cases, even keeping their homes warm in the winter.
4 Main Purposes Of Skirting Boards
Cover Gaps
No matter how much you supervise the construction of your home, sometimes, perfection is just impossible. It could be the floor is a tiny bit uneven or other uncontrollable reasons. Skirting boards are the perfect solution to hide imperfections like gaps between walls and floors.
Protect Wall
As we have mentioned before, one of the main uses of a skirting board is to protect your wall from furniture, as well as shoe marks from foot traffic (this gave it the name 'kick boards'). One of the earliest uses of a skirting board is to shield the walls from water when people mop their floors, thus, it is sometimes called a 'mop board'.
Hide Electrical Wiring
Exposed electrical wiring in your home is not only an irritating eyesore but also a safety hazard, especially if you have small children and pets. One of the most practical uses of skirting boards is to hide these unsightly cables.
Adds Aesthetic Value
Transforming a plain and boring room into a chic and stylish interior is quite easy. It could be as simple as adding fine finishing touches such as classy skirting boards. It adds more depth to your design as well as making the room visually larger.
Put The Fun In Function!
Home improvement projects can be stressful at first. But looking at it from a design perspective can make it more fun! Enjoy picking out styles and colors for your interior, have fun with your project to turn it from being a have-to-do to a want-to-do!