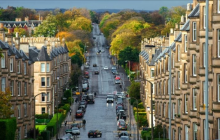 Recent news reports suggesting that Scotland is, if not exactly suffering through a housing slump, experiencing lower demand among buyers and less stellar sold property prices than elsewhere in the UK will have sparked alarm.

Two points may help calm worried would-be sellers. The first is the age-old fact that news reporters with columns to fill and copies to file may - sometimes (inadvertently) - end up making mountains out of mole hills. The second is that there are almost always positive steps that a seller - any seller in any market - can take to improve the chances of their property finding a buyer quickly.

So, first things first. If you're one of these people who argue that there's no smoke without fire, you'll want to try and assess the truth of these concerning reports. And, yes, it's true that the Royal Institute of Chartered Surveyers (RICS) reported a drop in interest from potential buyers in February this year. While this could perhaps be written off as something to do with seasonal demand, those of a nervous disposition may find that trickier, given that February also marked the fourth month in a row in which the number of new properties coming to market dropped. On the plus side, Scotland's surveyors noted that, on average, prices are rising rather than falling.

It's worth noting that in terms of neither number of new selling instructions nor price growth, Scotland does not take the crown (or should that be the wooden spoon?) for the UK's most lacklustre performance. In the first instance, Yorkshire takes first spot and in the second, it's London. So, as is almost always the case, it pays to drill down behind a headline to investigate the truth.

Next, it's probably important not to overlook RICS' assessment that the relaxing of Covid-19 restrictions is likely to boost property market activity over the next few months.

Finally, a number of exceptions to the generally gloomy Scottish performance highlight that the picture is not uniform throughout Scotland and, perhaps even more pertinently, that where one geographical area leads, others may end up following. In short: nil desperandum.

Pockets of resistance

Let's look at those areas that are holding up better.

1. Edinburgh and Glasgow

It's perhaps not very surprising that the perennially popular cities of Edinburgh and Glasgow are doing better than elsewhere. However, it's interesting to note that much of the activity in both cities is being driven by portfolio landlords seeking to divest themselves of at least some of their properties. This correlates with a drop in the number of available rental properties, which could stand to make life difficult for new renters or those looking to move.

By and large, industry professionals attribute the current situation to three main factors.

- Increasing numbers of renters looking for properties that are either outside large cities or that have private outdoor space plus adequate room for home-working. This is resulting in fewer enquiries for many properties and longer, costly void periods.

- The enforcement of Energy Performance Certificate standards plus new legislation that's driving up costs for most landlords and eating into their profits.

- Fewer students committing to rental properties as a consequence of uncertainty over when university teaching will return to face-to-face.

So, who is buying ex-rental properties in Edinburgh and Glasgow?

Anecdotal reports from estate agents themselves suggest that many of these buyers were looking for homes for themselves, and persisted in doing so even when faced with the logistical and administrative difficulties thrown up by the government's response to the pandemic. For example, even when in-person viewings of properties were banned during lockdown, virtual video tours came into their own, even if they were made using clips taken by clients themselves.

Meanwhile, Edinburgh and Glasgow estate agents made use of WhatsApp, Facetime and Zoom to communicate face-to-face with buyers and sellers. And, with many agents reporting multiple offers that exceeded the valuation in the Home Report valuation as well as plenty of properties proceeding to a closing date, it's clear that buyer activity has remained strong. The buoyant sold property prices in both cities are further confirmation of this: Edinburgh 2020 average prices are 7 per cent up on those for 2019 while Glasgow's are 6 per cent.

2. Coastal regions

Estate agents with a significant presence in coastal regions of Scotland are reporting a significant rise in demand for second homes. Despite current restrictions that prohibit travel in and out of Scotland, this demand comes from across the UK. Ever-popular honeyspots include St Andrews, Portobello, North Berwick and the fishing villages and towns of East Neuk. Island locations are also attracting interest.

Factors important to would-be buyers of coastal homes include:

- Flood risk. Although some buyers are happy to trade a certain level of flood risk for the perfect seaside location, the availability and cost of insurance should always remain a consideration if only from the perspective of a property's future saleability.

- Seasonality. While some places, particularly those within easy reach of major cities, remain busy throughout the year, others are more seasonal with certain businesses and services closing during autumn and winter.

- Broadband speeds. This is particularly important for those planning to home-work from their new property.

- Accessibility as respects road, rail, air and sea links - and their vulnerability to adverse weather conditions.

3. Rural areas

Following the UK-wide trend, Scotland's rural areas are experiencing an upsurge in interest from buyers who've previously been content to live in urban settings. Areas where properties are shifting particularly quickly include the Borders, Dumfries and Galloway, Elgin and Fraserburgh. With interested buyers currently outnumbering available properties, these are areas in which now is an excellent time to be selling.

However, as with coastal properties, sellers should not overlook issues such as broadband speed, transport accessibility and vulnerability to adverse weather conditions. Homes within reasonable commuting distance of cities such as Edinburgh and Glasgow are likely to continue attracting a premium. This may mean that there are (relative) bargains to be had elsewhere for those whose jobs do not require regular office attendance.
Nethouseprice newsletter
You can sign up to our newsletter and join Nethouseprice's community of over 160,000 members who get regular property tips, relevant offers and news, click here http://nethouseprices.com/auth/user-register
Source: Nethouseprices.com 06.04.21