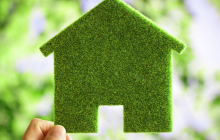 Many of us are now working from home, but is your home working for you? Spending extra time in your home this winter may have meant your heating has been on for longer periods, or you may be doing more cooking and washing up. This can be both expensive and detrimental to the environment. This article will help you to combat that and make your home more sustainable.
There are some fantastic money-saving tips here that will assist you on your way and help you to make those first valuable steps into an eco-friendly lifestyle.
Consider heating and insulation
Ensuring your home is well-insulated with roof and loft cladding and cavity wall insulation can make a big difference to how much heat escapes from your house. You want to make sure that any heat your radiators are producing stays inside to keep you toasty. You may also find that you no longer need your thermostat to be as high. Most houses have double glazing now but, if yours doesn't, you should seriously consider investing in your windows for long-term gains.
Another useful thing to do is tackle your radiators. This can often be a quick and easy fix if you keep on top of it. It's a good idea to bleed your radiators every couple of months. If they are working at full capacity, you will find you will be able to heat your home more efficiently, saving you money on your energy bills. It also means you are putting less strain on your boiler, so you are less likely to need to pay for repairs or a replacement further down the line too.
Try batch cooking
Cooking for the whole family, especially if they are all at home and needing three meals a day, can be a daunting and time-consuming experience. Why not batch cook several meals at once, and then refrigerate and reheat when you need them? This means you aren't heating your oven for long periods every day, cutting down on energy use as well as saving you time, effort and money. Plus, you will have ready-made meals for work lunches when you return to the office.
Good Housekeeping has some excellent batch cooking recipes and recommends: "Planning your food also means you waste less produce, since you use up all of the ingredients that you bought for a specific recipe, rather than odd ingredients here and there, bought for individual meals."
Flex your green-fingers
Growing your own vegetables and herbs (and using your food waste for compost) is a particularly sustainable method of living. Not only are you cutting down on your shopping bills, but you are also not using any of the packaging that supermarket products come in, so it is win-win all round. Plus, fresh vegetables straight from your own garden taste better too.
Check your cleaning habits
Once the cooking is done, there's the washing up. Using washable dishcloths rather than disposable ones is an obvious solution to help make it more environmentally friendly. But it is also important to let the dishes soak in hot water, then scrub and rinse with cold water, for added efficiency. Washing them as soon as they have been used, rather than waiting any longer than necessary, also means less hot water is required to shift any caked-on food.
Plenty of ethical and green companies provide sustainable cleaning products, including washing up liquid, laundry liquid and general household cleaners, as well as offering more lifestyle solutions to make your day-to-day living more sustainable.
Reduce your energy bills
Another way to keep track of your energy bills is to install a smart meter. Your supplier should be able to come round and fit you one free of charge, and then you can see exactly how much gas and electricity you are using, on a daily basis, and can change your habits accordingly if you feel you are using too much. Switching to a green energy supplier such as Ecotricity, Bulb or Octopus, can also help in the longer term, and you can feel virtuous every time you switch on the TV!
Energy-efficient appliances may cost more in the short-term, but their long-term benefit could see your bills reduce dramatically. Domestic white goods are notorious for ramping up the energy bills, with fridges, freezers and microwaves used on a daily basis, so anything that can be done to decrease consumption can only be a good thing – for your pocket and the planet.
Defrosting your fridge every six months will keep it in tip-top condition and it won't need to work as hard to keep cold. Putting your washing machine on a cooler setting can make a huge difference and significantly reduce energy usage. Hanging up your clothes to dry, rather than using a tumble dryer, helps too. Swapping standard halogen light bulbs for energy-saving LEDs is yet another simple way to make your home more sustainable; lighting up your life and your living room more efficiently.
The Energy Saving Trust says cutting showering time by just one minute will cut £15 off energy bills and £15 off water bills per person per year.
Final thoughts
Everything mentioned above is relatively easy to achieve, and in a fairly short space of time. As we become more aware of the planet around us, and the effect our lives are having on it, more and more sustainable products are coming to market. Soon, it will be the norm, with some particularly harmful products already being phased out. By getting ahead of the race now, you can sit back and relax, knowing that you are doing your bit, and saving those pennies.