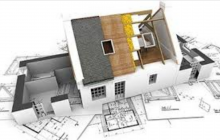 When building a new home, setting a budget is crucial before starting
There are many factors to consider in the initial design including the purpose of the build and how you can optimise the space
Make sure that your plan is realistic and in keeping with local guidelines in order to obtain planning permission
How Much Money Do You Want to Spend?
When considering building a new home, you will need to first consider the costs and whether or not this is an affordable project. Setting a clear budget and making sure that you are not overspending on certain aspects is crucial. It is not only the initial purchase of the land that you will need to consider but also the cost of the building itself, known as 'over capitalising' on all the materials and all of the labour costs.
For instance, you do not want to over-specify a kitchen or bathroom, since they do not add as much value to the house as other things like extra square footage, rooms or conversions.
Being realistic about this from the offset will save you a lot of heartbreak in the future - and speaking to professional property developers and house builders would be a good starting point.
It is also worth noting that you should be practical when allocating funds. Investing in infrastructure and fixtures, such as choosing the most durable building materials, will pay dividends.
Architect Plans for a New House
Building a house is a great opportunity to design to your specifications. The first decision would be whether you are opting for an original design or taking inspiration from something ready-made. Finding an architect in London who understands the needs of your project will help turn your ideas into a reality. The initial architect plans should include not just the basics (size, layout) but also consider things such as plumbing, main drainage system and services such as electricity, water and gas. More than ever before, environmental impact is coming into play with initial planning so your plan should consider this.
Needs and Specifications
Designing and building your own house means that the house can match your exact needs. If you are building the house for you to live in or as an investment opportunity to rent or re-sell, there will be different factors to take into consideration. For example, are you building a family house? Do you often receive guests? Think about the zones you would like in your house. For example, would you prefer a separate living and dining room or do you prefer an open-plan layout? If it is a family house, are there designated areas for the children such as a playroom?
You also have the luxury of taking advantage of things such as light when building your own property. You can maximise the light in the house, and subsequently reduce future electricity consumption, by choosing the most suitable orientation for the building.
Planning Permission
When building a new home, you have to obtain planning permission. This is permission from your local authority for the proposed building project and ensures that it is within local guidelines. Planning permission applies not just for new builds but any extensive changes to existing properties as well. It takes into account factors such as how your plans affect neighbouring properties, whether the style matches nearby buildings and if it impacts the external area such as roads or trees.
Who is Building It?
As well as finding the perfect architect, it is important to know who you are trusting with the responsibility of building your house. For this, it is often advisable to compare different contractors to get the most competitive rate and ensure that the builders are on the same page. When assessing builders, consider their competency, their trustworthiness (i.e. have they been recommended?), and whether they can match your proposed time-scale and budget.
Financing Options for Building a New Home
There are different options for financing when choosing to construct a new build that go beyond traditional mortgages. Development finance, for example, is a great option for those looking to build for investment purposes or bridging finance is good if you are looking to buy something under a tight deadline.
Both facilities are a good way of securing a large amount of funding up front in order to help fund both the initial purchase of the land and also the construction and material costs. For this type of funding, there is always a clear exit strategy be it resale or renting of the property. There is also the option of self-financing. For both of these options, setting clear budget expectations and time-scales are imperative.