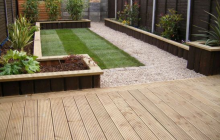 A garden deck is the best place to spend sunny afternoons firing up the BBQ or putting your feet up with a cold drink. Not only that, but a well-built deck can boost the value of your home if buyers can visualise it as a functional extension of your living space.
So, why don't more people have a garden deck? Lots of homeowners are put off by the idea of endless maintenance, repairs and upkeep to keep their deck usable - but that doesn't have to be the case! If you've been dreaming of sitting out on a garden deck, here are the things you need to know so you can spend less time stressing and more time relaxing.
Start with the right materials
Your deck materials will have a big impact on its maintenance needs and lifespan. Composite decking - made from a combination of natural wood fibres and plastic - is widely considered the best choice for a good-looking, low-maintenance deck. Even though it typically costs more than the alternative materials, on balance, it's usually worth the investment.
For example, pressure treated wood is generally the cheapest deck material, but it's lifespan is only 10-15 years, and it needs to be treated every 12 months. Even solid timber will only last 15-20 years unless you can commit to routine cleaning, oiling and staining. A composite deck won't ever need to be treated or painted, and should last 25-30 years.
Vinyl (PVC) and aluminium decking are both popular as low-maintenance and low-cost options, but will compromise how your deck looks. Vinyl doesn't offer the same elegance as wood or composite decking, and aluminium dents easily and is noisy underfoot (or even in heavy rainfall). They're both functional, rather than aesthetic choices.
If the environmental impact of your deck is a concern for you, use composite decking brands, like Trex, which uses 95% reclaimed timber and recycled plastic in their products. This means no felling trees, plus a longer lifespan and fewer chemical treatments when you compare the sustainability of a composite deck to other materials. Trex decking does not warp, or splinter and the boards do not require staining or painting. Importantly, it is fade, stain, mould, and scratch resistant.
Plan your design thoroughly
When building a deck, the adage "measure twice, cut once" applies both literally and figuratively. Your deck design can hugely impact the maintenance it needs, as well as how long your family will be able to enjoy it for.
For starters, check whether you need planning permission for your deck, so you don't end up having to remove it once it's installed. In most cases, a deck will be permitted development as long as it:
Is less than 30cm off the ground;

Does not result in more than 50% of your garden area being covered;

Will not extend past the front of your house;

Is not part of a larger extension that requires separate planning permission.
When choosing the position of your deck, factor in planned changes to your home or lifestyle in the next 5-10 years, as well as your current needs. Will a future renovation change the position of doors or windows? Will you want to add steps or railings for children or elderly people?
The next most important consideration is allowing for water run-off. Grooves or ridges will need to be directed away from your home, even if it means installing your deck at a slight angle. Planning to leave a 5-8mm drainage gap between boards will help.
The direction of your boards has an aesthetic value too; laying them alongside your home will make it seem wider, while placing them at a right-angle will draw the eye away. Experiment with how placing them diagonally, in a herringbone pattern, or in different sections could look.
Installation tricks for an easy life
You can DIY a deck if you don't want to pay a professional installer. If you take on the task yourself, consider these simple tips to reduce your long-term maintenance:
Concrete foundations will provide better long-term stability than building directly onto soil.

Allow some degree of airflow beneath your deck.

Lay a weed-control membrane on the ground beneath your deck to minimise plant growth.
Use galvanised or stainless steel screws to prevent rust stains.

Try to keep screws flush with the surface of your deck - tightening them too far will allow water to pool and lead to mould and dirt.

Trim back nearby trees to avoid leaves and residue falling on your deck.
Stick to a simple, low-effort cleaning routine
The secret to a beautiful deck is knowing when to clean it immediately, and when to clean it thoroughly. For example, taking care of spills when they happen, and quickly brushing away leaves or snow will prevent a build up of moisture or stains that will need more attention later. You should also check that drainage routes stay clear for the same reason.
Twice a year, give your deck a once over with a bowl of washing up liquid and a soft brush, rinsing it afterwards. This is really to remove the light layer of accumulated dirt, as well as to make sure there's nothing lodged in gaps. It's especially important to do this in autumn and spring, if you have trees dropping leaves and blossom.
Following these steps will mean that you can upgrade your garden with a beautiful deck, without the burden of constant upkeep. There's no better time to begin - the sooner you start planning your perfect deck, the sooner you can be outside enjoying the sunshine!