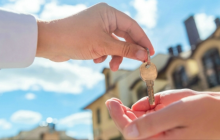 Announced at the Chancellor's Budget in March 2021, the 95% mortgage help to buy scheme has been designed to help both first time buyers and current homeowners secure a mortgage to buy a house of up to £600,000 – providing what is hoped to be a more affordable route to purchase property.
The temptation of just needing a 5% deposit to get yourself on the property ladder may seem too good to resist. But is it too good to be true? This post will look at the pros and cons of the new scheme to help you make an informed decision as to whether it is right for you.
Who is offering the 95% mortgage scheme?
The 95% mortgage is available from lenders on high streets across the country, with Lloyds, Santander, Barclays, HSBC, NatWest, and Virgin Money all launching new mortgages under the government-backed scheme, which runs until December 2022. But don't just get a quote from the bank with whom you have a current account; make sure to shop around for the best deal.
A mortgage advisor can assist you with this and using their services is an excellent way of helping first-time buyers navigate their way around the different options. The initial consultation takes about 30 minutes and is generally free of charge.
Gary Whitehead from Town & Country Mortgage Services said, "A mortgage advisor will run an affordability calculator based on your current financial commitments to gauge how much you could potentially borrow.
"They will then make recommendations on potential mortgage lenders based on your affordability and look to get an 'Agreement in Principle' together – this provides confidence for all parties going forward that you, as a buyer, meet the purchasing requirements."
Size of deposit vs. size of income
Don't be tempted to stretch yourself too far and go for a large mortgage you may not be able to afford in the long term. You want to make sure you are able to make the repayments and still have some disposable income available. It may seem great that having a 95% mortgage allows you to have a bigger and better house, but this shouldn't be your main consideration.
Uswitch makes the point that, "It will be the size of the repayments that will decide whether you can afford your mortgage on an ongoing basis. If you think the repayments put too much strain on your budget, then chances are you won't be able to borrow that much."
Manage your own expectations and see a smaller deposit as a way of keeping more cash in your pocket (which you could then use towards home improvements if you wished). The majority of 95% deals launched so far are available at up to four-and-a-half times your household income, but this is also based on factors such as other debts, your current outgoings, and your credit report.
Are interest rates artificially high?
Although 95% mortgages were available pre-2020, lenders were understandably reluctant to take on that risk while the world was in turmoil due to Covid-19, and they were reduced dramatically.
Consumer magazine Which states, "Before the start of the pandemic, it was possible to get a two or five-year 95% mortgage with a fixed rate of below 3%.The bunching of rates at around 4% shows that lenders are very much sizing up the market and gauging demand at the moment."
Many of these deals also have upfront fees of nearly £1,000 which will need to be factored in to what you can afford. However, it is expected that interest rates may be reduced as more banks add these low-deposit mortgages to their portfolios and competition is increased.
Lower interest rates may be available for those who can manage a 10% deposit, so it is worth weighing up the here-and-now with your longer-term finances and aspirations.
What other schemes are available for first time buyers?
The help-to-buy equity loan scheme is a loan from the government that you put towards the cost of buying a newly-built home. You can borrow from 5% up to 20% of the full purchase price, or up to 40% in London. This means you will need a smaller mortgage, which will be easier to afford in the long term. On the other hand, If you're looking to release equity use an equity release calculator to find out how much money you can receive. Now, let's look at the different schemes available:
Shared ownership allows you to buy a share of a new build or resale property – usually between 25% and 75% – and pay rent on the share that you do not own. Because the buyer only needs a mortgage for the share they are purchasing, the deposit needed is usually a lot smaller than for a standard home purchase, but it can be difficult to then buy out the rented portion later.
Rent to buy is a similar method, aimed at helping lower-income households onto the property ladder without a deposit. With Rentplus, you pay an affordable rent on a new-build home for between five and 20 years and use that time to save for a deposit to buy the property outright.
Family Assist mortgages are offered by a handful of lenders, which sees a full 100% mortgage, but a family member puts 10-20% of the purchase price into a designated savings account for a fixed term of 3-5 years, as a guarantee. As long as you have made all your mortgage payments during this time, the family member receives their stake back, as well as any interest it has accrued.
Final thoughts
Lenders often look at your spending in the three months before you apply for a mortgage, so if you know you're about to apply, try to live sensibly and well within your means for several months beforehand.
Not only will this look good to the mortgage lenders, but it will also allow you to save up more towards your deposit whilst looking on the property market - it also will determine if it is something you would be able to do on an ongoing basis.
Ultimately, there is no one-size-fits all when it comes to mortgages, as everyone's circumstances are different. Only you will know what option works best for you and your lifestyle.