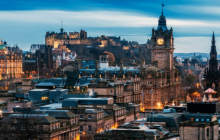 1. Finances

For many buyers, financing a property purchase requires a mortgage. While you may already have an idea of how much you can borrow, using one of the many online 'how much can I borrow. tools is a good idea before approaching lenders. Make sure you are as accurate as possible when estimating your income and outgoings.

The next step is to speak to mortgage lenders, perhaps using an independent broker as an intermediary. Your goal, at this stage, is a 'mortgage in principle'. You'll need one of these in order to be viewed as a serious buyer by sellers and their agents. You may need to pay a fee in order to reserve a mortgage in principle. Currently most fees are in the region of £100 - £250.

2. Legal representation

In Scotland it is essential for a would-be buyer to have legal representation lined up before making an offer on a property. This is usually a solicitor but could also be a qualified property conveyancer. You should expect your solicitor or conveyancer to:

- make the offer on your behalf
- negotiate and check the contract
- take responsibility for the transfer of the property's title and the sale fee
- carry out relevant searches on a property
- check for relevant planning issues that might affect a property

Some people choose a solicitor they've used before or follow a personal recommendation. However, the website of the Law Society of Scotland is an excellent resource for anyone needing a steer on finding appropriate legal representation.

3. Notes of interest

Once you've found a property you might want to buy you'll need to formalise your interest in it. This is done via a 'note of interest', which is something your solicitor or conveyancer registers with the seller's estate agent. A note of interest does not commit you to anything. Rather, it keeps you in the loop by ensuring that you'll be kept up-to-date with relevant developments, such as a closing date.

4. Home reports

Scottish sellers have a legal duty to put together a home report. This is a valuable resource and you should take time to examine it carefully. It has three main components:

- An Energy Performance Certificate
- A survey, which might also include a mortgage valuation
- A property questionnaire

5. Mortgage valuation reports

Assuming you need a mortgage to help finance your purchase, your lender will arrange a mortgage valuation. This is to protect their investment and ensure they will not lose out if you default on the mortgage. This means that it is not always an accurate reflection of sold property prices. A lender may choose to rely on the mortgage valuation contained in the home report or it may choose to commission an independent one. The latter option may cost you an additional fee.

6. Additional surveys

Comforted by the knowledge that a surveyor who prepares a home report has a statutory duty to both seller and buyer, many buyers choose not to commission an additional survey. If you do, you have three main choices:

- A home condition survey, best-suited to new-build or conventional homes. These surveys are unlikely to pick up any issues with a property.

- A homebuyer's report. This is more detailed than a home condition survey as it assesses the property's interior and exterior condition. It may also include a valuation.

- A building or structural survey. This is the most detailed option and should be the choice of anyone contemplating buying an older property or one that's of non-standard construction e.g. timber-framed.

7. Making an offer

If you've had a survey done, use that survey to assess how much to offer on a property. (If you haven't had a survey done, you may want to make any offer 'subject to survey'.) Your solicitor or conveyancer will use their professional expertise to guide you but factors to bear in mind include:

- Current asking and sold property prices in the neighbourhood
- what you can afford to pay
- The level of competition (if any) from other buyers
- Whether you want the sale to include particular fixtures and fittings

Once you've settled on an amount, your solicitor will draft a formal letter. If yours is the only offer, the seller may respond immediately. However, if more than one buyer registered a note of interest and the property has gone to a closing date, the seller's solicitor will delay opening your letter until after that closing date.

8. Qualified acceptance and agreeing the contract

If the seller accepts your offer, their solicitor will issue a qualified acceptance. They'll also pass over relevant information such as the property's title deeds. In order for the transaction to progress, the two parties must now agree the contract.

9. Conclusion of missives

Once the parties have negotiated and agreed the terms for the contract of sale, the solicitors will exchange letters. Known as 'conclusion of missives', this binds the parties to the sale. Backing out after this stage will incur hefty penalty fees. As the buyer, you may now need to pay a holding deposit of around £1,000. You must also ensure that the property is protected with appropriate buildings insurance.

10. Title burdens and the disposition

Your solicitor should discuss with you the 'title burdens' attached to the property. These can be anything from where you can store rubbish bins or whether you can hang out washing to whether and how you can use or alter the property. Official transfer of the title deeds is done via the 'disposition', which the seller signs.

11. Notifying your lender

If you have a mortgage lender, it's now time to notify them of your proposed date of entry. This allows them to ensure that the loan monies are in the right place at the right time on that date in order to ensure completion of the sale can go ahead.

12. Completion - and what comes afterwards

The sale completes on the date of entry agreed with the seller. After this, you'll need to pay your legal bill (which might also include any searches) and any Land and Buildings Transaction Tax (LBTT). Your solicitor should facilitate payment of the LBTT but Revenue Scotland's website is a good source of further information.
Nethouseprice newsletter
You can sign up to our newsletter and join Nethouseprice's community of over 160,000 members who get regular property tips, relevant offers and news, click here http://nethouseprices.com/auth/user-register
Source: Nethouseprices.com 28.04.21