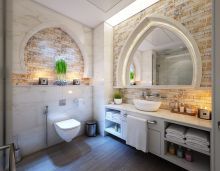 Renovating is always fun. When you crave some kind of change in life or feel like you're stuck in a rut, it's always a good idea to change up your living space. It can also change your perspective on life, and make you feel better just like that. But some rooms are a lot easier to refurbish than others. And bathrooms are one of the rooms most people struggle with, as you need to combine usefulness with cosmetics, and it's not the easiest task. Luckily, we present you with 8 incredible additions you should consider getting for your bathroom, just to spice it up a bit.
Make A Plan
Before you start to think of all the amazing things you can add to your bathroom you must create a concrete plan. Getting into a renovation without a plan can create enormous problems and can make you overspend so easily on all the potentially cool gadgets or decor that you might find interesting, and in the end, you have accomplished nothing. That's why creating a budget is the first and foremost thing you should do. It genuinely helps you figure out what you want and design the bathroom of your dreams right within your financial abilities. Planning is key. It also helps to create an expected timeline of the work that is going to happen. Bathroom renovation can be a hassle, and inconvenience you greatly, so keep that in mind!
Create A Mood Board
The next step when it comes to planning is creating a mood board where you will put all of your ideas regarding your future bathroom renovation. All the potential additions you might like, all the color schemes, and all the beautiful decor you might consider adding to your bathroom. Decorating your house, especially the bathroom, with intention is something that really shows, and lifts the entire room, making it look luxurious. That's why creating a mood board helps you sort out what kind of aesthetic you like, figure out a color palette, and just get that perfect look for your bathroom. You will easily fit your desired additions in when you have the general idea of the room planned.
Keep Yourself Warm
Finally, when you've figured out what it is that you might want and like in your bathroom, you ought to think of ways you can make your bathroom experience better. We spend a great deal of our time in our bathrooms, especially in London where it's cold. It's a place where we isolate ourselves and take care of our bodies. This is why you should think of keeping yourself warm and cozy even in that area. The professionals behind these Bathroom Radiators UK point out that there are different options to fulfill this need. No matter which one you choose, you can't deny that drying yourself with a warm towel after a cold shower just hits all the right spots. So don't forget about the heat!
Consider A Window
Keeping hygiene levels high in a bathroom is a top priority. It's a place that just absolutely needs to be clean at all times. And ventilation is one of the biggest contributors when it comes to the cleanliness of your bathroom. If the ventilation isn't good enough, humidity might cause mold to grow. And you certainly don't want that. That's why it's always a good idea, if possible, to provide some natural ventilation to your bathroom, and build in a window. It'll help keep your bathroom clean, while also giving you some wonderful natural lighting which is always a plus!
Utilize Your Space
As minimal design became a huge trend when it comes to home decor, it slowly spread to bathrooms as well. It became very popular as the clutterless bathrooms just ended up looking cleaner and overall bigger. Even if you're not someone who is into minimalism, taking some minimalistic ideas when it comes to utilizing your bathroom space is a good option. Minimalists use their storage smartly, and by doing so they manage to get a bunch of space they normally wouldn't. That's why investing in different storage options is great. For example, a recessed medicine cabinet could be a great storage option for your bathroom.
Invest In Good Lighting
Good lighting is so important. Humans are drawn to light, ever since we could remember. And now, when it comes to our homes good proper lighting, be it natural or not, is something we can't help but love. It elevates the look of our rooms and just lifts our mood. Sadly, bathrooms are often ignored when it comes to lighting, and that absolutely shouldn't be the case. It can set the mood, and be very useful, especially if you're someone who uses makeup and puts it on in the bathroom. So don't shy away from good lighting!
Waterproof Materials
Bathrooms are oftentimes wet and humid places. Getting rid of humidity is one thing, but water splashes around everywhere. And there's certainly nothing worse than just ruining a piece of furniture, or letting it develop mold just because it wasn't waterproof. That's why making everything in your bathroom waterproof will just take an annoying problem away and help your mind stay at ease. If you can buy things waterproof at the beginning, but if that isn't possible, not everything is lost. There are ways to make certain materials waterproof! So don't worry!
Baths Aren't Necessary
It's often so easy just to opt in for a bath because it's a safe choice. It's something we're used to and used to seeing. And we might even promise ourselves that we're going to take more baths, even if we usually just find showers more convenient. But you don't need to get a bath. Different shower options are worth considering, especially if an elderly person will be using the bathroom, as they can get easily injured getting in and out of a bath. Think outside the box!
As we've previously mentioned, it's so easy to get lost when it comes to bathroom renovations. But paying attention to certain additions can, and will, surely help you find out what's important to you. Ask yourself, what's your dream bathroom? Which of these additions does it have? And then finally, don't be afraid to chase your dreams. Best of luck!