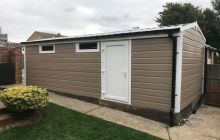 Have you ever thought about how your garage can add more value to your property? For homeowners and tenants a well-kept, functional garage can bring just as much utility (if not more) than a house extension.
In fact, garages can add as much as 11% of value to a property, here in the UK. Landlords even see greater-than-average demand, than other properties in the same area, as tenants use this extra space for storage or parking their car.
So, how can you squeeze 11% extra property value out of your garage? Here, we discuss 4 ways to get the most out of your house sale or rental.
Refurbish Your Garage & Create Kerb Appeal
A fully refurbished garage is rare, but it stands out a mile off. Most UK garages have held the same as when they were built decades ago. Roofs are now falling apart, moss & algae are growing on top, rust is forming on the garage doors – you name it.
One simple way of attracting more potential buyers and adding value is to refurbish.
You can do this by replacing old garage doors and replacing the garage roof. You can even wrap the garage in uPVC cladding to completely transform how it looks:
Repair & Replace
A garage that can't be used will be doing more to take value away from your property than add to it.
To prevent serious damp issues be sure to fix any leaks that may be coming from the roof or walls. Condensation in garage roof may also cause dampness and may even drip onto the floor or contents.
Garage door repairs may also be needed to restore access into the garage.
Asbestos is common issue in the UK for garages built pre-1999. Take measures to double check if your garage contains asbestos and remove this properly through a licensed contractor.
Introduce Personal Access
It is important that a garage is easy to get into and out of if it is to be used regularly by the occupier. Personal access doors or side access doors means a homeowner or occupier can easily get in and out of the garage without lifting a heavy garage door.
Additional features like garage windows also create natural light and help reinforce this space as a utility feature outside the house.
Convert into a Utility or Storage Room
Once a garage has been properly refurbished & repaired, you can convert this new space into an additional utility room. A place to hold home appliances will free up space inside the house and so make your property more valuable to potential buyers.
A functional garage can also be used as a place to store gardening or sporting equipment as well as personal belongings. Cars & motorbikes may also be stored in the garage overnight for security.
All these incentives are highly sought after by tenants. This will help you achieve higher-than-average rental prices for your property as well as increase your rental yield.