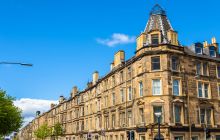 1. A good Home Report
Yes, a Home Report is a legal requirement, as are its basic components, but that's not to say you shouldn't think hard about what to include in it. Buyers frequently commission their own survey, but may be less likely to do so if they are convinced that the one in the Home Report is sufficiently rigorous. While this may not work for the oldest properties or those built using non-standard materials (for example, timber or concrete), it could really help a newer or more conventional home sell in less time than might otherwise be the case.

2. The right estate agent
Of course, this being Scotland, you may not necessarily pick a standalone estate agent. With many solicitors also operating as estate agents, sellers frequently choose them to market a property. The key is picking someone with proven experience in selling similar types of homes in your particular area as well as someone with ready access to a pool of potentially interested buyers.

The first criterion is relatively easy to research using the internet and/or asking around friends, neighbours and colleagues. However, ascertaining an agent's ability to market a home to suitable would-be buyers can be trickier. Obviously, you can (and should) question the agent themselves. In addition, you should also ask yourself some searching questions as to who your property is likely to appeal to. If it's local buyers - for example, families looking to move into the catchment of a particular school - a local estate agent might do very well at marketing it and may already have a list of potential buyers. Conversely, a property likely to be of significant interest to someone from out of the area (for example, a country home with land) may need more judicious marketing and an agent experienced in marketing properties across Scotland, over the border into England and potential also overseas. This isn't to say that a local agent cannot do this - the internet and agency networks clearly facilitate such efforts - but you should ensure you ask the right questions and gather marketing specifics before committing to an agency.

Finally, given that you're not buying your own house, remember to try and assess how your chosen agency will appear to a would-be buyer. Buyers want flexibility in estate agents (in terms of viewing dates and times) as well as ease of access (whether that's by phone and/or email).

If you find more than one suitable agency (as is likely), you should compare quotes to see which offers the best value for money. You may also find that an agency is willing to be negotiated downwards on price in order to secure your business. As is usually the case, if you don't ask, you don't get.

3. Setting the right price
Unlike other markets elsewhere in the UK, sellers in Scotland routinely need to decide whether to advertise their property for a fixed selling price, at "offers over" or "around" a particular amount. This can be confusing, especially for those with no prior experience of the Scottish system. Your solicitor (who may or may not also be acting as your estate agent) should guide you through the decision-making process but it may help to bear the following in mind:

-Getting an accurate valuation is vital. To some extent, the average seller can estimate their home's value by virtue of looking at local trends, in particular asking and sold property prices, the length of time homes spend on the market, and assessing any factors (for example, future nearby development plans) that might influence price. However, in almost all cases there's no substitute for getting a professional valuation (or three). As well as their professional expertise and insider knowledge of just what buyers are currently looking for, an agent will obviously be more dispassionate. They should also be able to advise on whether or not it's worth undertaking any structural work or repairs or major DIY in order to facilitate a sale. Finally, don't automatically choose the highest valuation. Some - not all! - agents may overvalue a property in order to convince the seller to market it with them. Inevitably, this is a tactic that can backfire if the property then fails to attract buyer interest and/or the seller becomes determined not to accept less than the inflated valuation. Unsurprisingly, the majority of sellers choose the middle valuation as a sort of happy average.

-Properties expected to attract significant interest are often best suited to being marketed at "offers over" or "offers around". This is largely due to the element of competition that the closing date (by which all offers must be received) that's inherent in this type of marketing generates among would-be buyers. While it's never guaranteed to result in higher offers than if the property had been marketed at a fixed price, received wisdom among industry experts is that "offers over" or "offers around" tends to result in offers that sit well, or even out-perform, current sold property prices.

4. Good marketing and photography
More than ever in this time where virtual viewings are increasingly common, it's vital that your property's marketing is as good as it can possibly be. This means ensuring it's shown off to its best advantage by excellent photographs (which will almost certainly cost more than a basic package) and that the property specification contains all the relevant information. For example, buyers frequently bemoan plans that omit room dimensions. Additionally, unless yours really is the sort of property that will be snapped up by a local buyer within hours of its marketing, you'll want to pay a little extra to ensure that it is advertised on the most popular online portals. Check exactly what your agent's marketing package involves before you sign on the dotted line.

5. Location
Although it won't help if you're selling a property in a less popular area, it'll be no surprise that location makes a real difference in terms of the ease and speed of the process. However, remember that when even a few hundred metres can make a difference in terms of a property's desirability, clever marketing by a canny agent can go a long way in terms of boosting appeal.
Nethouseprice newsletter
You can sign up to our newsletter and join Nethouseprice's community of over 160,000 members who get regular property tips, relevant offers and news, click here http://nethouseprices.com/auth/user-register
Source: Nethouseprices.com 01.05.21