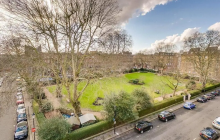 When it comes to garden squares, what's not to like? A home on one of these squares, with its private, professionally-tended garden, with the keys available only to residents, is the epitome of ideal city living for many people. Perhaps it's the combination of the secluded - and exclusive - green oasis, the small, often tight-knit community who enjoy it, and the easy proximity to shops and transport that makes up the magic formula.

Whatever the attraction, homes on the best squares, especially in London, rarely come up for sale. When they do, competition among buyers is usually stiff. As a result, bargains are rare and sold property prices often far higher than the local average. According to research from Savills, a central London buyer of a home on a garden square can expect to pay an average of £1,902 per square foot. This is a hefty uplift on the average £1,691 per square foot that the same buyer would pay for a similarly sized property on a gated or private road in the same area.

London

Perhaps more than any other city in the UK, it's London that's known for its garden squares. And whether it's young Queen Elizabeth II playing with her best friend in the private Hamilton Gardens behind her family's one-time London home, Virginia Woolf and her siblings strolling in the garden in Gordon Square or film-makers producing anything from Sherlock Holmes to Notting Hill, almost every one of the city's garden squares has a tale to tell.

The survival of the capital's garden squares into an era when the pressure on urban green spaces grows ever stronger is mostly thanks to the London Squares Preservation Act. Dating to 1931, this statute had its genesis in an outraged response to an attempt to build over Edwardes Square in Kensington. Ultimately, it provided protection to more than 400 squares and other green spaces in the city, although it could not halt certain developments in the buildings surrounding them. For example, on the Bedford Estates in Bloomsbury, many of the fine old houses were demolished to make way for hotels and university accommodation. In a similar vein, many of the garden squares lost the wrought iron railings that surrounded them when they were removed during World War II. Although the intention was to melt them down for use in the armaments industry, many of the railings were thrown away unused, and the gardens they came from remain mostly railing-less to this day.

Edwardes Square, Holland Park

Still as popular as when it was saved from being built over, Edwardes Square in W8 is high on many West London home-hunters' wish list. As well as mature planting and shady trees, its communal garden includes a grass tennis court and even a folly. There's even a pub, the Scarsdale Arms, that overlooks the garden. Average sold property prices for homes - mostly terraces - in the square currently stand at £5,925,500.

Elder Gardens, Spitalfields

Elder Gardens sits between a large law firm's London office and a modern development of flats built to be visually similar to the Georgian houses on nearby Folgate and Elder Streets. It's not a traditional garden square in the sense that access to it is not exclusive to the residents of the neighbouring flats - and it can get very busy indeed when nearby Spitalfields market is in full swing - but it's a real enticement for would-be buyers. Folgate Street flats, which are typically one- or two-bedroom properties with access to a private underground car park and a concierge service, currently fetch an average of £620,000. This represents a significant drop on the average £1,235,000 they fetched in 2015. The popularity of this area, just a stone's throw from both Liverpool Street and Brick Lane, makes it likely that prices will rise again once the pandemic subsides.

De Beauvoir Square, Hackney

One of the few London garden squares to contain both period properties and ex-local authority housing, De Beauvoir never has any shortage of interested buyers. Leasehold flats start at around £400,000, but the large terraced houses easily fetch seven figures. Overall, the average property on the square is currently selling for £2,250,000.

Canonbury Square, Islington

For literary connections, it's hard to beat Canonbury Square. Virginia Woolf, Evelyn Waugh and George Orwell are just some of the giants who've lived in the terraces surrounding the gardens. Mostly listed Georgian buildings, homes in the square are some of London's most desirable and always attract strong interest when they come to the market. Average selling prices currently stand at £2,525,000.

Garden Squares Outside London

Although far less common outside London, residential garden squares do exist elsewhere in the country.

Falkner Square, Liverpool

In Liverpool's L8 Georgian quarter, on the border between the city centre and Toxteth, Falkner Square is a peaceful green retreat that also boasts period street furniture, cobbles and a memorial to some of those who lost their lives in the Battle of the Atlantic. For a lucky few, the square is also their home. Flats in the surrounding terraces occasionally come up for sale (or rent). A leasehold two-bedroom apartment is currently on the market at offers over £260,000.

Queen Square, Bath

If anywhere other than London can claim to be known for its Georgian squares, Bath is a very strong contender. The listed Palladian architecture of Queen Square accords with that of the Royal Crescent and the Circus. Most of the properties are not residential, but flats and terraces sometimes come on to the market. For instance, a five-bedroom terraced home sold for £2,200,000 back in 2018. Currently, anyone wanting to live on the square might have to rent: a two-bedroom apartment is going for £1,700 per month.

St Paul's Square, York

Located in a conservation area close to both the medieval city centre and the railway station, St Paul's Square is a desirable address in a desirable city. Average selling prices for the elegant terraces and semis currently stand at £725,000, although this is a 20 per cent drop on the figures from 2018.
Nethouseprice newsletter
You can sign up to our newsletter and join Nethouseprice's community of over 160,000 members who get regular property tips, relevant offers and news, click here http://nethouseprices.com/auth/user-register
Source: Nethouseprices.com 23.06.21